Perth Festival 2020
Quarry Amphitheatre, 7 February
In the tranquil bushland setting of a limestone quarry amphitheatre, West Australian Ballet's 27th season at this unique venue elevates our spirits in a beautifully balanced triple bill offering a superb quality of neo-classical dance and choreography. "Light and Shadow" features works by distinguished Polish choreographer Krzysztof Pastor, acclaimed Australian choreographer Graeme Murphy, and in a co-production with Dutch National Ballet, a new work from up-and-coming Dutch choreographer Wubkje Kuindersma.
Opening the evening is a 25 minute excerpt from Graeme Murphy's Air and Other Invisible Forces staged by Bradley Chatfield and Catherine Goss. With a large cast, Murphy's finely crafted choreography and innate, visceral musicality evoke resonant emotion, and he creates extraordinary, entwined images with fluid weaving and unfurling of limbs and torsos, bodies forming stepping stones to a higher plane.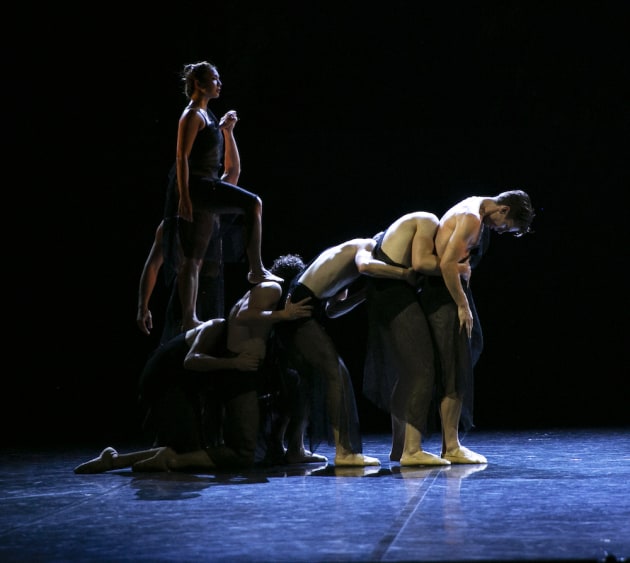 Damien Cooper's lighting designs enhance the work's ethos, and his striking illumination of bare backs and limbs creates beauty. Costume designs by Akira Isogawa echo dichotomies of strength and fragility in the use of gauzy flowing light-coloured fabrics juxtaposed to unyielding black. A recording of Giya Kancheli's composition Mourned By The Wind resounds with foreboding and contrasting soothing, lyrical symmetry. Amidst haunting, beautifully performed dance sequences, a breathtaking highlight was Chihiro Nomura and Ludovico Di Ubaldo in a pas de deux of yearning, anguish and despair for two lovers, and there were standout performances by Glenda Garcia Gomez, Matthew Lehmann, and Julio Blanes.
After a short interval, Wubkje Kuindersma's Architecture of Hope follows. Taking inspiration from her belief that "choreography creates a space in which human connection is established – not only between the dancers themselves but also between the dancers and the audience," Kuindersma also found musical inspiration in the first and fourth movements of Ezio Bosso's Symphony No. 1 Oceans and the concept that hope "comes in waves, like the waves of the ocean, reflecting human nature." The eight dancers enter carrying small, lit candle-lanterns (beacons of hope), and Kuindersma also designed their red (women) and maroon (men) lycra costumes.
Harmoniously lit by Michael Rippon, Kuindersma's choreographic language incorporates elongated limbs in arabesques and a constant outward striving, dancers connecting in duos, trios and groups. A highlight was Dayana Hardy Acunâ and Juan Carlos Osma's smoothly executed pas de deux with overhead lifts in accord with the ebb and flow of the music. Dancers Carina Roberts, Jesse Homes, Claire Voss, Matej Perunicic, Polly Hilton and Ludovico Di Ubaldo were all impressive in this work's première performance.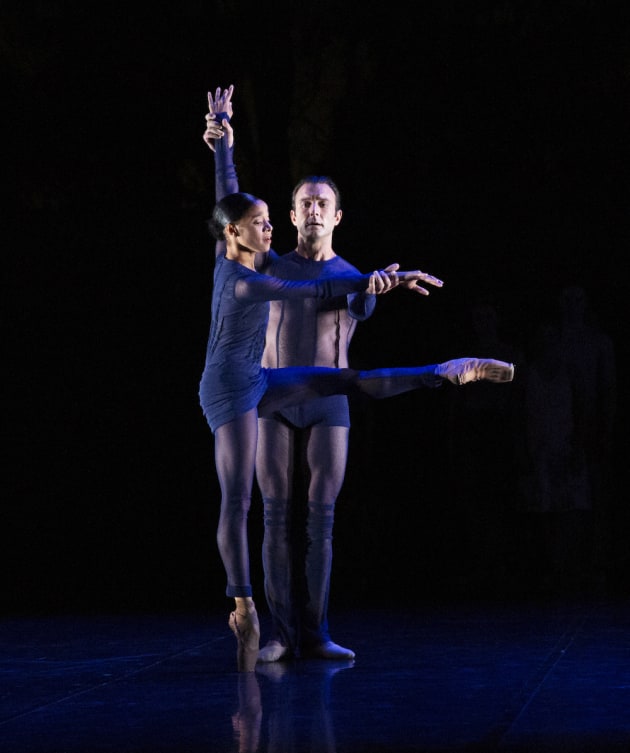 The pointe shoes were on for Krzysztof Pastor's In Light and Shadow, providing a fitting, sublime finale to the program, in an abstract work set to recorded music by Johann Sebastian Bach. Lit by Bert Dalhuysen, 18 dancers are in an inspired array of softly-coloured costumes – designed by Tatyana van Walsum – in varying styles and shapes save one, in bright red.
The work begins with a finely performed, mesmerising pas de deux danced by Dayana Hardy Acunâ, and Matthew Lehmann, to Bach's Goldberg Variations Aria, and continues to Bach's Orchestral Suite no. 3 in D major. Pastor's symbiotic, sensitive response to the music includes measured unison, lively athletic jumps, spins, eye-catching duos (Carina Roberts, Oliver Edwardson, and Candice Adea, Matthew Edwardson), a sequence of fun, fast, footwork by the ladies échappé-ing and relevé-ing, side-lit, only legs and feet illuminated, and the work's highlight, an entrancing, exquisitely danced and costumed pas de deux performed by Chihiro Nomura and Juan Carlos Osma, to Air.
Pastor's stage placements, creative configurations and imagery always engage, surprise and delight, and In Light and Shadow brings the evening to a perfect, joyous end.

Margaret Mercer
Pictured top: Juan Carlos Osma and Dayana Hardy Acuna in 'Architecture of Hope'. Photo: Sergey Pevnev