His Majesty's Theatre, 9 and 10 May
While staying true to Marius Petipa's original production and concept, and set in India (as was the 1877 production), choreographer Greg Horsman's engrossing, perceptive, re-imagined La Bayadère (The Temple Dancer) is an artistic triumph. Horsman pares back some of the plot's intricacies, losing none of the dramatic impact nor the many exquisite pas de deux sequences, solos and fascinating variety of ensemble dances. This makes the narrative easier to follow and shapes a story-line with historical and cultural reflections, humour, pathos and a myriad of memorable, visual delights.
A co-production between West Australian Ballet, Queensland Ballet and Royal Winnipeg Ballet, with a prologue, three acts with several scenes, and an apotheosis, this production of La Bayadère takes place in 1855. The armies of the princely kingdom of Cooch Behar and the British East India Company are at war, and a treaty is negotiated to end the hostilities. This treaty includes the arranged marriage of the Maharajah's son Prince Solor, to Edith, the daughter of the British Governor-General. (Her role is based-on Gamzatti in the original version). This artfully sets up the romantic triangle at the heart of the ballet, as Solor is passionately in love with Nikiya, a temple dancer.
For this production, the original Minkus score has been respectfully re-arranged by Nigel Gaynor drawing on Minkus's themes, adding some original music, making minor changes to melodies to echo musical scales of the East, and incorporating traditional Indian instruments. Conducted by Judith Yan, the West Australian Symphony Orchestra produced glorious, evocative rhythms, with a rich, resonant intensity.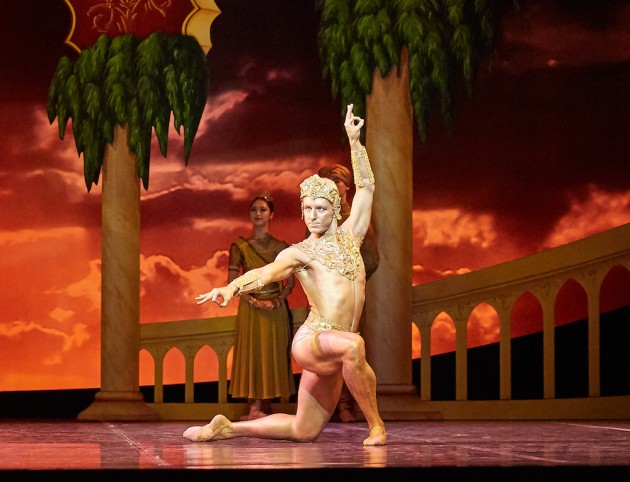 Gary Harris's consummate, historically-detailed designs embellish every scene, with colour, luxurious fabrics and jewels. Tropical lush-green, leafy legs and borders surround the stage throughout, creating a picturesque frame for story-telling set in distant times, exotic settings, with redolent, red-hued skies and a magnificent full-moon all superbly lit by Jon Buswell.
The Act II entrance of the Shades (spirits of temple dancers who have died for love) is legendary for its sublime music, beautiful images and extreme difficulty, as one by one dancers (nineteen in this production) descend down a high, extremely steep ramp, in a sustained, extended fondue arabesque sequence, crossing until they reach the stage. A few minor glitches to the Shades' entrance on opening night were remedied on Friday night as, with a steadier tempo from the pit, the Shades were as flawless as imaginable, receiving sustained, well-earned, applause and cheers.
On opening night, soloist Dayana Hardy Acuña (Nikiya) gave an outstanding performance and her sustained balances and control on pointe in fifths, and dreamy arabesques were breath-taking; principal Chihiro Nomura (Edith) demonstrated her much-admired virtuosity and a flair for comedy in revealing her character's indulged-brattish behaviour; and Matthew Lehmann (Solor) gave a convincing, nuanced, dramatic, entertaining performance, and partnered impressively.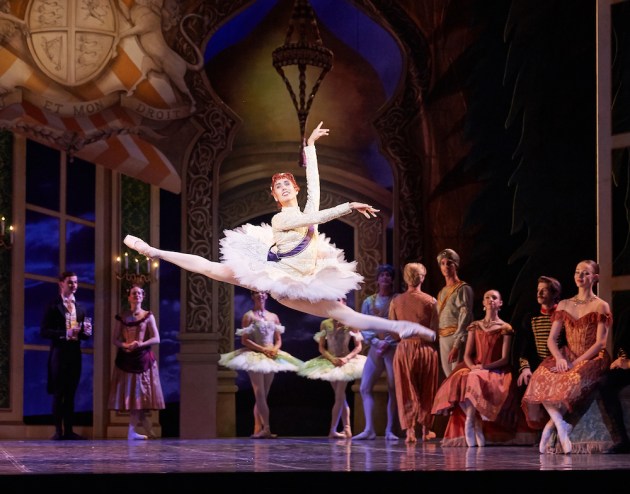 On Friday night, corps de ballet artist Alexa Tuzil (Nikiya, pictured top) seized her opportunity in a beautifully danced performance, and demi-soloist Polly Hilton (Edith) excelled technically, and found humour in Edith's haughty, privileged character. With a powerful and engaging stage presence, soloist Juan Carlos Osma (Solor) partnered strongly and produced some technical feats which thrilled the audience. Plaudits to Julio Blanes (Thursday) and Adam Alzaim (Friday) who both performed the challenging Golden Idol solo brilliantly; and seasoned artists Craig Lord-Sole (Governor-General) and Andries Weidemann (Maharajah) who brought maturity and experience to the stage in roles that were central to anchor the story-telling and dramatic sequences in the work.
Numerous ensemble dances in a variety of styles, blend seamlessly into the narrative in this production, and it was a joy to observe Horsman's exceptionally musical and inventive choreography performed with vigour, commitment, vitality and poise from the whole company in this technically demanding, rewarding work. Bravo to all!
Margaret Mercer