His Majesty's Theatre, 21 November
Expectations for choreographer Septime Webre's production of Alice (in wonderland) were high on opening night. Happily, Webre's Alice did not disappoint. Based on Lewis Carroll's Alice's Adventures in Wonderland and Through the Looking Glass, it enchants, entertains, surprises and impresses, and all the creative elements are in symmetry. Webre's is a modern interpretation yet is faithful to Carroll's timeless classic stories and zany, fertile, imaginative happenings. Carroll himself appears in this production.
In two acts, a prologue and seven mesmerising scenes, the story powers along in giddy style, growing "curiouser and curiouser" along the way. Humour abounds and the characters spring off the page in a plethora of dance, high tech magical effects, aerial work, puppetry, slapstick, vaudeville and cabaret. Premièring in 2012 in Washington, Webre's Alice toured throughout the US and was performed by Hong Kong Ballet in 2018.
His choreography and staging demand exceptional versatility, prowess, much stamina, a larger-than-life performance style, and a strong sense of the absurd. Marvellously musical, with nary a note of music escaping unutilised, the work traverses many styles of dance, and includes sly and not-so-sly send-ups of classical ballets, lyrical pas de deux sections, some fiendishly difficult lifts and partnering and a variety of preposterous duos for unlikely couples. Plaudits must go to répétiteur Johanna Wilt who had the herculean task of re-staging this mammoth production for West Australian Ballet.
Matthew Pierce's commissioned, made-to measure score has a contemporary flavour and seamlessly anchors and elevates an amalgam of dance and musical genres. Conductor Jessica Gethin gets into the spirit with gusto, and West Australian Philharmonic Orchestra's playing was a joy.
An outstanding, stylish, set design by James Kronzer creates inventive images and frames of reference embroidering every scene, and he also manages to create an illusion of breadth and space on His Majesty's Theatre stage. Clifton Taylor's lighting uses special effects, blends colours both soft and vivid, and creates breathtaking black night skies, conjuring magical, fantasy worlds. Liz Vandal's eye-catching feast of ritzy, witty, costumes with a 21st century edge is a triumph. Skilfully manipulated (by the dancers), puppets designed by Eric Van Wyk, principally an enormous Jabberwocky, complete this intoxicating, collaborative production.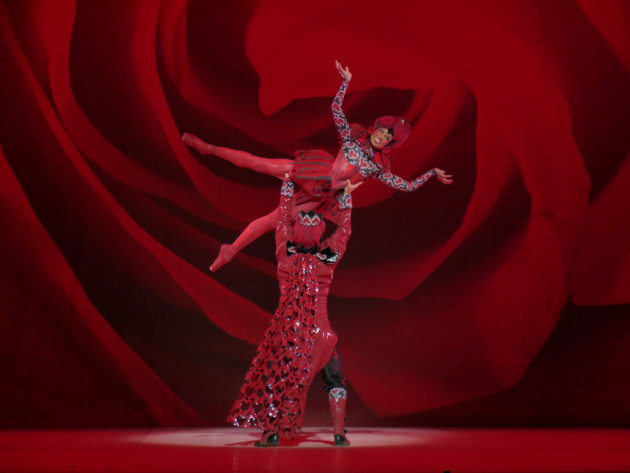 West Australian Ballet's thirty-one dancers and six young artists, – joined for this season by five dancers from the Western Australian Academy of Performing Arts – performed spectacularly well throughout. In a production of this scale, there must have been almost as much mayhem backstage as onstage with the number of quick changes going on. In addition, over twenty child "guest artists" performed in integral, dancing roles as flamingos, piggies, doors, sandwich cards and hedgehogs, all beautifully rehearsed by children's rehearsal director Evelyn Roberts.
Standouts include: Chihiro Nomura – exceptional as an adorable, spirited Alice in a beautifully danced, delightful performance; Glenda Garcia Gomez – in brilliant, comic turns as the ill-tempered Mother, and termagant, heartless Queen of Hearts; Dayana Hardy Acuña – an Eaglet, always lovely to watch; Alexa Tuzil – an eye-catching Caterpillar who transforms into a giant, flying butterfly; Matthew Lehmann – in first-rate depictions of ridiculous, brow-beaten men as the Father and the King of Hearts, and also a smooching Cheshire Cat; Julio Blanes – virtuosic and quirky as Butler and White Rabbit; Juan Carlos Osma – smoothly slinky and charismatic as eccentric Lewis Carroll and the Mad Hatter; Oscar Valdes – in fabulous form as Dodo Bird, Joker and head Jabberwocky; Matthew Edwardson and Christian Luck (en travesti) – Cook and Duchess, a star turn in their hilarious duo; Polly Hilton, Claire Voss and Alexa Tuzil – as exquisite dancing Roses; Mayume Noguromi – a delectable Doormouse; and Matthew Edwardson and Jesse Homes – Tweedledee and Tweedledum on a tandem bicycle, peddling around the stage or cycling by in the air as cool as rather demented cucumbers.
Margaret Mercer
'Alice in Wonderland' runs until December 15.