THE LAST SEASON
Force Majeure
Bay 17 – Carriageworks
January 7  
EXPLICIT CONTENTS
Rhiannon Newton
Campbelltown Arts Centre
January 8
 Understandably, the ongoing travel restrictions and uncertainty wrought by COVID-19 made it virtually impossible to bring a selection of performing artists, companies and shows from around the globe to Sydney in January 2021. In a bold move Sydney Festival chose to embrace the all-Australian content of a slimmed down range of performances this year by placing the "Australian Made" tagline front and centre in their marketing strategy. If every cloud has a silver lining, this one might just be that Australian artists and creatives are finally in the spotlight on their own turf – with the caveat that this sudden embrace of the local has been brought about largely by circumstance and not purely by choice.
Force Majeure is currently a resident company of Carriageworks which commissioned a visually striking dance theatre work called The Last Season. Directed and choreographed (in conjunction with the dancers) by Force Majeure's Artistic Director Danielle Micich The Last Season covers broad themes of environmental change and intergenerational inequity. This plays out amongst a cast of three experienced actors (Pamela Rabe, Paul Capsis and Olwen Fouere) contrasting with an ensemble of thirteen young dancers aged nine to 14 over 75 minutes with no interval. The dancers are members of Force Majeure's INCITE youth dance program, and look touchingly small and vulnerable within the vast concrete space of Carriageworks' Bay 20. Rarely is youth dance given such a prominent platform on which to display their work, but these dancers made the most of the opportunity, giving strong performances on the night.
Set to an original electronic/instrumental score composed by Kelly Ryall (played live on the night by the composer herself alongside three musicians) the score, like the work itself, has a cyclical structure following the seasons of the year with three seasons out of four each represented by an actor. Pamela Rabe plays a nurturing, yet anxious, mother figure in Summer, while Paul Capsis' Autumn has a bitter edge. In Winter, Olwen Fouere depicts the coldly inhospitable environment of her season effectively, with one especially striking scene in which the dancers appear to be blown away by her wintry breath, tumbling over and across the floor while tracing their individual trajectories with white chalk across the ground.
Damien Cooper's lighting design was excellent, especially the semi-transparent "curtain" of light that separated audience from stage as they entered the theatre and re-appeared between each section/season. Marg Horwell's set and costume design was quirky but effective – I particularly liked the glowing, cocoon-like structures from which the dancers emerged in the opening scenes. On the negative side, The Four Seasons seems, somehow, to be simultaneously heavy-handed and obtuse in its use of metaphors. This was particularly evident in the wording of the actors' monologues. Still, it is an interesting work with visually striking scenes that make the less successful elements worth sitting through.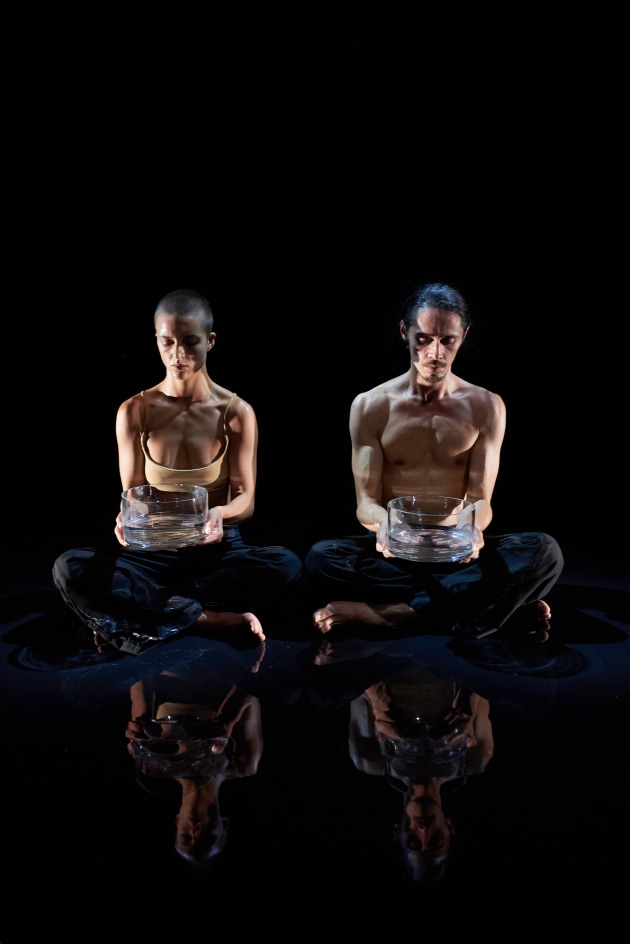 Explicit Contents is a one-hour work for two dancers choreographed by Sydney-based independent artist Rhiannon Newton. Commissioned and presented by Campbelltown Arts Centre in its Performance Studio, the intimacy and small scale of the venue brought audience and performers appropriately close together for what was a challenging but rewarding viewing experience. Dancers Ivey Wawn and David Huggins both showed themselves to be talented movers, with full kinaesthetic awareness of every muscular twitch of their respectively long, lean bodies.
Water played an important role in this piece, such as the droplets that fell from above and the bowls of water (one each) that the dancers balanced on their undulating abdomens, slowly tipping sideways to spill the contents onto the hi-shine black floor towards the end of the piece. There were sections where the dancers moved so slowly that time seemed to stand still. These contrasted effectively with the dynamism and excitement of the faster movements that followed.
Something as simple as watching each dancer consume a piece of fruit was heightened by magnifying the sounds of them slurping, sucking and swallowing by way of tiny microphones. The nudity that you might expect from a work called Explicit Contents came right at the end and was tastefully done, with low lighting and the dancers spinning themselves around and around on the wet floor as an alternating spotlight switched focus from one dancer to another.
In all honesty I don't feel I fully understood or engaged with every aspect of this work but I did get a sense of the blurring of boundaries between the dancers' bodies and their external environment, especially in the properties of water – which is known to comprise a significant percentage of overall human body composition. The sound (Peter Lenaerts), costume (Agnes Choi) and lighting (Karen Norris) design was unobtrusive but effective, leaving the emphasis solely on the dancers and concept of Explicit Contents.
­– GERALDINE HIGGINSON
Pictured in the gallery up top are scenes from 'The Last Season'. Photos: BRETT BOARDMAN