NAISDA Dance College: StoryPlace
Bay 20, Carriageworks, 22 November 2018
NAISDA Dance College's 2018 graduation performance "StoryPlace" put numerous short works with choreography, concept and musical compositions by NAISDA's own students on equal footing with those by guest choreographers. With a total of 12 different works, this structure gave the seven graduating diploma students, in particular, invaluable experience in producing and creating their own work as well as plenty of performance opportunities. The downside was that, particularly in the second half of the program, the end of one work sometimes blended into the beginning of the next – making it hard to know where one work ended and the next began. There were, however, a number of highlights.
To begin with, graduating diploma student Neville Williams Boney gave a sincere and engaging Acknowledgement to Country – a testament to his fine public speaking skills and the way NAISDA gives its relatively small cohort of students the individualised attention and support that enables them to thrive not just as dancers and performers, but as people.
This year, the audience was seated on both sides of the performance space, making the stage the meat in the sandwich and ensuring that all works had to be able to engage both sides of the audience. This was successfully achieved across the course of the evening, and effectively seemed to break down any real or assumed barrier between audience and performers.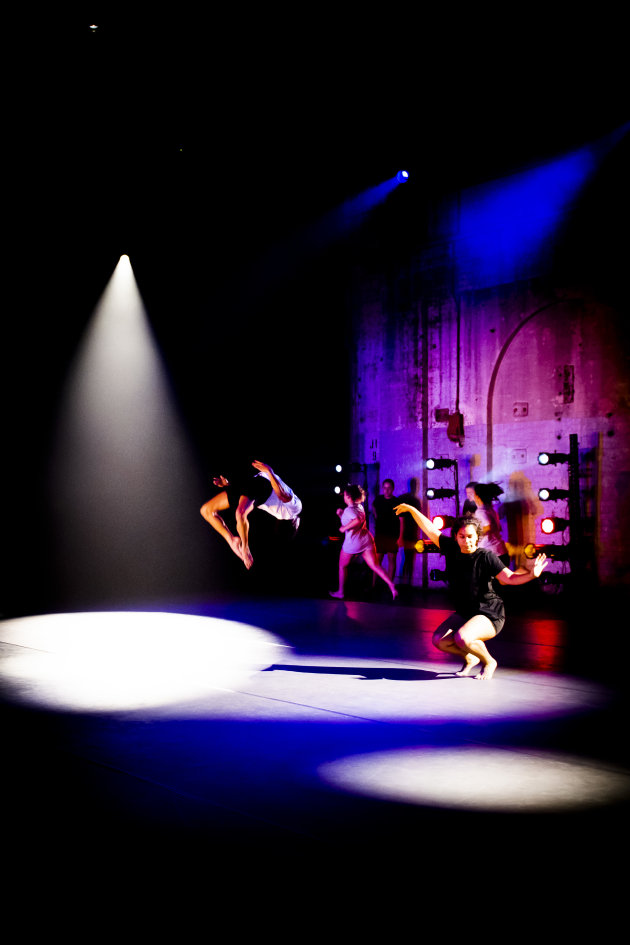 The first work on the program was Mash-Up, a literal mash-up of different styles with movement direction by Neville Williams Boney and NAISDA instructor Pamela Williams. Set to pop music, this was an excellent way to get the audience energised as well as a good introduction to the individual dancers' strengths and stylistic preferences.
Dancer Kallum Goolagong was a standout across the program, particularly in the self-choreographed solo which showcased his technical skill and expressive ability, while in a number of works I found my eye being drawn back to Emily Flannery. She shows the quiet commitment and determination of a future leader, and played a key role in Amy Flanney's My Version of a Heartbeat, a visually striking work for eight dancers and a bench. 
Also noteworthy was guest choreographer Louise Potiki Bryant's Kapehu (Compass), a work that reveals her ability to tell a highly specific story through dance. Although some sections are probably a little longer than they need to be, it is remarkable how accurately and carefully the written synopsis of the work is conveyed.
I enjoyed Kinship (concept and movement direction by Certificate IV and Diploma developing artists), with the spoken narrative and the lighting design making this work one of the most accessible of the program.
Graduating Diploma student Gusta Mara's Unwritten Story is dramatic and exciting to watch. Created for an all-male ensemble, it showed Mara as having, perhaps, the most distinctive and fully developed choreographic voice of the students who presented work on the night.
Finally, the cultural dances from NSW, as taught by Matthew Doyle, made for a strong end to the evening, taking us backwards in time from the future of indigenous Australian dance – as exemplified by NAISDA students – to its long, proud history.
- GERALDINE HIGGINSON
Pictured top is Louise Potiki Bryant's Compass.