Hermes Gaido: Un Poyo Rojo, AC Arts Main Theatre, 2 March
Semperoper Ballett Dresden: Carmen, Adelaide Festival Theatre, 9 March
Hofesh Shechter Company: Grand Finale, Adelaide Festival Theatre, 16 March
In what is being billed as Adelaide's most successful festival ever, Artistic Directors Neil Armfield and Rachel Healy have once again curated rich and varied dance offerings, ranging from recreations of classics to bold new works. Besides the two Meryl Tankard works, reviewed here by Alan Brissenden, three very different works make up the program.
Un Poyo Rojo is a two hander from Argentina, directed by Hermes Gaido, with choreography jointly credited to Nicolás Poggi and Luciano Rosso. The latter performs the work with Alfonso Barón. Set in a gym locker room sparsely furnished with battered blue lockers, a bench and a ghetto blaster, the work hones in on the complexities of male relationships.
As the audience files in, two very buff men in daggy track pants are going through their exercise routines, seemingly oblivious to each other. An intensely competitive awareness emerges as they take turns to strut their stuff: acrobatics, popular dance moves, martial arts, capoeira, even some ballet steps are pressed into service as each attempts to outgun the other. Latino pop blares as the tension mounts and the encounter swerves from hostility to homoeroticism. Live feed from Adelaide radio stations accompanies a hilarious cigarette number by Luciano Rosso, and wrestling turns to very comic groping on the part of Rosso who is clearly besotted with the apparently uninterested Barón. Both are remarkable performers, and their impeccable timing, outrageous facial grimacing and fabulous physical virtuosity make the work a joy from its beginning to its surprisingly tender ending.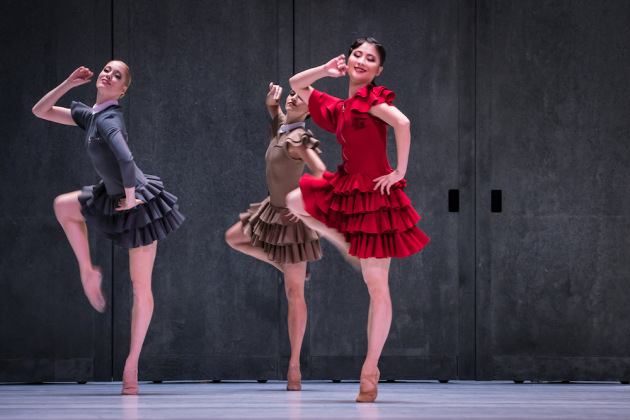 Johan Inger's two act Carmen has won many accolades since it was first performed by Madrid's Campania Nacional de Danza in 2015, including the Prix Benois de la Danse in 2016. This production by Dresden's Semperoper Ballett premiered in January this year, and appears as an Adelaide exclusive. Although utterly unlike Un Poyo Rojo in almost every way, it too focuses on masculinity in the form of the possessive violence of Don José, shifting the focus away from Carmen herself. The score is an amalgam of Soviet composer Rodion Schtschedrin's 1967 Carmen Suite, a ballet based on Bizet's opera created for his wife Maya Plisetskaya, with additional music by Marc Alvarez. Curt Allen Wilmer's set consists of large black boxes, mirrored at the rear, that are manoeuvred to form the different spaces in which the action takes place. David Delfin's first act costumes of vibrantly coloured dresses with short frilled skirts for the women and polka dot shirts for the men gives way to more sombre colours in the much darker second act, and the ballet is danced in flats rather than en pointe.
Inger uses the framing device of an adolescent boy (played on this occasion by Nastazia Philippou) who opens the work by innocently bouncing a ball, and follows the action throughout, ultimately witnessing Carmen's murder. There are two casts for the Adelaide season; the cast I saw was uniformly terrific, with Duosi Zhu wonderfully seductive as Carmen, Francesco Pio Ricci tormented and obsessed as Don José, and Joseph Gray a fabulously narcissistic Toreador. Inger's ballet-based movement vocabulary, strongly reminiscent of that of Jiří Kylián but with a Spanish inflection, was performed masterfully by the whole ensemble.
While the first act follows the opera's narrative fairly closely, the second act is a departure, exploring Don José's escalating possessiveness through fantasy and symbolism, contrasting his imagined happy family life with Carmen and the boy with the reality of her sexual adventurousness and his jealous rage. Masked black death-like figures torment him until he stabs Carmen. The abject figure he casts as she walks away, leaving him clutching her empty dress, is a highly topical comment on the destructiveness of male sexual violence.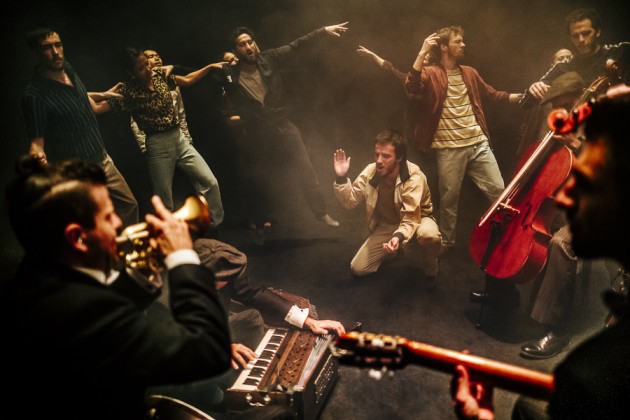 Hofesh Shechter's Grand Finale is a two act work that notches up the darkness to fever pitch. This is the first time that Israeli-born choreographer and composer Shechter, whose company is based in London, has presented a full-length work in Adelaide.
The curtain opens on a haze-filled, darkened stage, a single down spot picking out a monolithic black rectangle. A group of five musicians playing mournful music on violin, cello, guitar and percussion is gradually revealed, then ten dancers in a variety of drab shirts and trousers join them. Their movement is initially slow, but builds to a series of crescendos as the score—a mélange of classical pieces by Tchaikovsky, Lehar and Zaldwich with Shechter's electronics—becomes painfully loud. Essentially an ensemble work, in which single dancers and duos emerge only momentarily from the group, the movement palette is eclectic, drawing on pedestrian movement, rave culture, yoga asanas and a broad range of folkloric moves, including Greek, Israeli, Scottish and the hornpipe, with the occasional waltz and ballet step thrown in.
This is a dance of the dammed rather than a celebration, and the eclecticism of the movement seems to suggest that the whole human race is teetering on the edge of the abyss. Gently swaying queues of dancers with mouths open in a silent scream; heaps of collapsed bodies that are dragged about and piled up like garbage; grotesque duets in which the women are seemingly dead, are interspersed with frenetic scenes of conflict, carousing dance parties, and momentary reveals of motionless people enclosed, seemingly in prisons. Tom Scutt's set of movable black monoliths is essential to creating a sense of both hospitable and brutally inhospitable human spaces, and Tom Visser's minimalist lighting creates a sense of obscurity and doom.
Grand Finale is a stunning paean to the end of the world, danced with the utmost abandon and commitment by the company. It marked a fitting end to a truly fabulous Festival program.
Maggie Tonkin
Pictured top: A joy from beginning to end: Luciano Rosso and Alfonso Barón in Un Poyo Rojo. Photo: Ishka Michocka.