The prestigious international ballet competition, the Prix de Lausanne has just started in Lausanne, Switzerland. Dance Australia correspondent Emma Sandall is in Lausanne to bring you all the details of this exciting competition. Look out for Emma's updates over the next week.
Saturday 7th February
The day of the finals began for the non finalists. Each has a private meeting with members of the jury followed by a class before representatives of the partner schools. The schools are then able to offer places to students who interest them. This networking forum is a wonderful opportunity for both the students and schools. Often a dancer will have an idea of where they would like to go but that does not mean it is the most suited place. Similarly, schools are here introduced to a range of students they might not come across another way.
I spoke to Australians Olivia Betteridge and Cooper Cridland Hayes after their classes. Both received extremely positive feedback from the jury about their work, their training and their future prospects. Both have schools interested in offering them places. Olivia and Cooper were glowing and relaxed, and thrilled for the four Australian dancers in the finals that afternoon. Olivia told me that she had had one of the best weeks of her life. I remember feeling a similar thing. The Prix de Lausanne brings together the most passionate people from the world of dance for a week shared enthusiasm, instruction and delight in the art form. For young dancers, this is heaven on Earth.
The 20 finalists were a good mixture of nationalities. Along with the Australians there were seven Americans, three South Koreans, three Japanese, one Portuguese, one Swiss and one Norwegian. There are always questions about the jury's final choice but these young dancers danced their hearts out. Each and everyone deserved their place. Above others? At the end of the day you have to trust the nine jury members who have observed, marked and debated with great consideration all week long.
The finalists did their last class with Patrick Armand. The public entered. Debra Bull, former principal of the Royal Ballet, Prix laureate and board member, made the introductions and the finals began.
The jury's deliberation was prolonged after interval by the interlude performance: Glass Concerto performed by the Queensland Ballet Jette Parker Young Artists and Serenity by Forceful Feelings, an Armenian ballet troupe. Li Cunxin then spoke to Debra Bull about the Queensland Ballet Jette Parker Young Artist program and Greg Horsman commented on working with dancers in this transition phase between student and professional. How you have to encourage them to start to take responsibility for their work and the movement, but equally how much energy and openness they bring to the studio.
The jury then announced the winners. 6 scholarships were awarded. These are awarded in order of the candidates' scores.
The first scholarship and gold medal went to Australian Harrison Lee.
The second went to Jisoo Park from South Korea.
The third went to Mitsuru Ito from Japan.
The fourth went to Miguel Pinheiro from Portugal.
The fifth went to Rina Kanehara from Japan.
The sixth went to Julien MacKay from the USA.
The audience prize was awarded to Lou Spichtig from Switzerland.
The Best Swiss prize was awarded to Lou Spichtig.
The contemporary Prize was awarded to Miguel Pinheiro from Portugal.
Congratulations to all the candidates on a wonderful achievement.
Congratulations to the beautiful young Australian finalists Rebecca Blenkinsop, Bianca Scudamore and Navrin Turnbull!
Congratulations to first scholarship and gold medal winner Harrison Lee!
Pictured above: Australian contestants (from left) Rebecca Blenkinsop, Navrin Turnbull, Bianca Scudamore, Cooper Cridland Hayes, Harrison Lee, Olivia Betteridge.
Friday 6th
Today was the pre-selections for the Prix de Lausanne finals. After a week of classes and coaching, with layers of new information and new surroundings, the time had come to present to a full audience on stage, in costume and lights.
The stage, its solitude, like diving into a pool, for most dancers is the most familiar; where we come into our own.
First was the younger group of candidates. The jury filed in and were announced by Monique Loudieres. You can read the full list of this year's jury with their credentials and achievements on the Prix's website: http://www.prixdelausanne.org/competition/prix-2015/. Cynthia Harvey, one of my childhood idols, is this year's president of the jury. I watched her time and again on VHS dancing Don Quixote with Baryshnikov. For those who have not seen this production, you ought!
Five of the Australian candidates danced in this section and they performed extremely well under the pressure. After a break the second group presented their solos. The day was long. At 5pm the pre-selections came to an end and the jury withdrew to receive the tally of their scores and then make their decision on who should perform in the finals.
Meanwhile, six other Australians were preparing themselves in studio one. Greg Horsman, Queensland Ballet's Ballet Master, was giving class to the Queensland Ballet Jette Parker Young Artists who had arrived Thursday afternoon. Only a few years older than the candidates themselves, these six will be dancing a work by Horsman in the interlude performance – the intermission during which the jury debate and decide the final results.
At 6:30 all the candidates with their teachers and family members gathered backstage for the results. 20 dancers were chosen for the finals; Amongst them, four Australians: Bianca Scudamore, Rebecca Blenkinsop, Harrison Lee and Navrin Turnbull.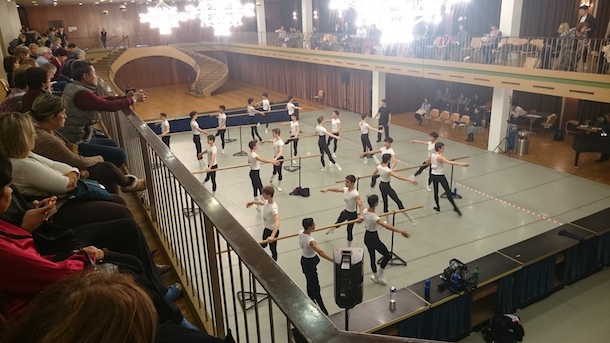 Thursday 5th
The jury watched the girls contemporary classes today. Tamas Moricz, teacher of the contemporary classes and former dancer of Ballet Frankfurt, was impressed overall but noted a different learning approach between the girls and the boys: "In the beginning the girls were getting the information really quickly, but in the end they didn't retain it as well as the boys." He added that the girls' classes before the jury, happened later in the week and therefore tension and expectations were also higher. This could have affected how they followed through with the information he gave them.
Goyo Montero (Director and principal choreographer Nurnberg Ballet), choreographer of "Vasos Comunicantes" - girls' solo, and "Desde Otello" - boys' solo, has also been impressed. He commented on the improvement he saw from one day to the next after his coaching. His message to the candidates and to dancers at large is to learn to see how all movement styles are interconnected. Contemporary feeds your classical understanding and vice versa.
Pressure is building and most people are sensing it. Tomorrow the candidates perform one by one on the raked Beaulieu stage, first their classical variation, then their free variation. The jury have been watching them closely all week and have now marked them twice in their class work. There is no redeeming that! But magic often occurs on stage. As a jury member, you want it to. You hope and you wait for the candidates to shine.
Outside it is simply colder and colder. But it all adds to the experience like heightened senses. And it seems right that it should build like this with the intensity!
Wednesday 4th
The morning began for the boys with their first official adjudication of the contemporary class.
Tomorrow it is the girls' turn. Each day we are edging closer to preselections on Friday when results of the week will be tallied and the finalists revealed. The boys' coach and teacher, Patrick Armand, Associate Director of the San Francisco Ballet School, USA, was on the stage coaching their classical variations. First the younger boys and then the older group.
They work one variation at a time so the information Patrick gives is heard by all doing that solo.
Each boy has ten minutes to run through the solo, receive one or two corrections and practise them.
This is Armand's fifth year coaching the solos. I asked what sort of corrections he finds most beneficial:
"They have been working on these solos for so many months you don't expect to change anything.
You can just give a few details to help them in a technical way. After that, too much information could confuse them." Armand also gives the boys' class and so he sees them in both spheres. Almost across the board he has remarked how they perform better in their solos, which they have rehearsed upteen times, than in the class, and blames a deficiency in their training for this. He told me how he no longer sees batterie, petit allegro, and care and quality around the steps, what comes before and after the step...
The balcony above studio two was filled with spectators watching the girls' coaching with Monique Loudieres, Etoile, Paris Opera Ballet, France. Her coaching is warm and animated.
Outside it has been getting colder and colder. Snow is forecast again.
Tuesday 3rd
It was my turn to be in focus. Today began with an interview. This year the Prix de Lausanne is working with Arte Concert livestreaming interviews and excerpts each day between four and five pm. Attending Prix laureates are shown videos of themselves during their finals and subsequently interviewed about their memories and experiences. It had been a while since I'd seen my performance, having been stored on obsolete VHS. Admittedly I was anxious as to how I'd find it. For those curious, you can see this interview and video here: http://www.prixdelausanne.org/fr/multimedia/live-streaming/
The nine jury members were in Studio 2 observing the classical classes again. Expectations were rising as one objective of a week-long competition is to try hard not to disappoint! The stage was occupied by choreographers and assistants coaching the candidates in their contemporary variations. This year there were six to choose from by three choreographers: Australian choreographer, Louise Deleur; Artistic Director of Nürnberg Ballet and 1994 Prix laureate, Goyo Montero; and the former Artistic Director of the Basel Ballet, Richard Wherlock.
I caught up with the Australian boys to see how they were faring. Harrison and Navrin were fresh out of class with Patrick Armand, the boys' coach. Both spoke glowingly:
"Patrick is an incredible teacher. Having worked with so many dancers for so long he brings a new light to our technique and also a different texture."
They were all feeling somewhat daunted by the long day ahead on Wednesday when the jury would start the official judging process.
Outside the sun was shining. Today was significantly warmer. I took a taxi home, driving through familiar spots from my life in Lausanne. I do remember 1994, my first visit, and taking a walk to the lake with my ballet teacher Nicholina Kuner. I was probably rather silent in a focused, not to be distracted way. That walk has stayed with me to this day.
Monday 2nd
Officially today was the first day of the Prix de Lausanne, the pleasantries and introductions over. Four groups of 67 registered competitors took their places in separate spaces of the Beaulieu complex. Studio 1 with contemporary class; Studio 2 with classical class observed by the jury; The stage for rehearsing classical variations and backstage for warming up and resting. The days all divide up like this, in rotation, and over the week the rotation changes to be fair.
Number-pinned beautiful young dancers mill about everywhere. The numbers work numerically from age and the groups are divided accordingly and by gender. The young scholarship prospectives are therefore side by side, and the money-prize, apprenticeship candidates are grouped. This year, there are notably more older candidates. It may simply be the turnout or perhaps this is a trend.
Our Australian candidates are on the younger side. Olivia Betteridge, being the youngest girl is number 101, Bianca Scudamore 102 and Rebecca Blenkinsop 108, almost side by side in class. Harrison Lee, is followed by Navrin Turnbull, 104 and 105 respectively. Cooper Cridland Hayes is 403, in the older group of boys.
I was curious about Rebecca's first experience of the infamous Beaulieu raked stage and how she was finding the ambiance in general.
"The first time on the rake was a bit nerve wracking but the second time I got more used to it. I felt I could improve a lot throughout the week...People are really nice. I've met a lot of girls my age. Most speak of them speak English".
I remember that first day when I was a competitor well, arriving at the stage door, Olivia Bell and me together. Olivia had a camera crew in tow. It was all exciting and impressive, media everywhere. We were made to feel special and celebrated in a way that dancers seldom experience and we realised, that dance is a highly respected and important art form.
Sunday February 1, 2015.
Theatre de Beaulieu is surrounded by clumps of snow. In lower Lausanne it melts when it falls. Here, however, it settles, is swept into piles, sits at the base of trees and on their leaves and branches. It is beautiful. In all the years I've lived in and visited Lausanne, I think this is the first I've seen it so whitened.
The 43rd Prix de Lausanne is about to take place. The Prix de Lausanne, for those who don't know, is one of the most prestigious and long running youth ballet competitions in the world. If you look back through the biographies of many great dancers you will often find that once upon a time they were finalists, placed or won a Prix. If not competitors, they most likely have served on the jury or come as a guest performer, speaker or teacher.
Today was registration day. Seventy tightly bunned heads and groomed locks of 18 nationalities sat in rows as the Artistic Director, Amanda Bennett, gave her introduction. They continued to sit attentively as Dr Bagutti, the Prix's physician, spoke of surviving the week in full health. Then they dispersed to their dressing rooms, began to get acquainted with each other, and prepare for a warm up class.
This is my fourth. I first came to the Prix as a competitor in 1994. I then performed as a guest in 2006. In 2012, I was a member of the jury. Now I am here to write. I look forward to bringing you little reports over the course of the week and finally pulling together the experience in an article which will look at it all in more depth - the outcome and how we arrived there; what it all means; and the importance of such experiences for young dancers.
Emma Sandall is a former scholarship (laureate) winner and, more recently, an adjudicator at the Prix de Lausanne.
For more information about which Australian dancers are competing at the 2015 Prix de Lausanne head here.
See more photos on our facebook page!
Photo: Emma Sandall