The return of Achilles

Karen van Ulzen talks to Lloyd Newson on the eve of his revival of his groundbreaking 'Enter Achilles' at the Adelaide Festival.
Interviewing Lloyd Newson requires a willingness to take a walk on the dark side. Our phone conversation covers topics ranging from gang grooming, gang violence, misogyny, rape, homophobia, racism and most of all, male violence. It is all to the purpose of explaining the motivation for his 1995 work, Enter Achilles, which is being presented at the Adelaide Festival from March 13 to 15 by England's Rambert Dance Company.
 Newson has never been afraid to tackle difficult subjects. Since forming his company, DV8, in London in 1985, this Australian-born choreographer has developed a repertoire that has delved into AIDS ( My Sex; Our Dance (1986); necrophilia (Dead Dreams of Monochrome Men, 1988) and homophobia, intolerance and religion (To be Straight With You (2007-9), to mention a few. He does not go gently, forcing audiences to confront some of the most ugly aspects of human nature and society. Nor does he take the comfortable leftist angle expected of most artists – he is far too aware of the complexities of the topics he raises, riding roughshod over "politically correct" views, sticking his toe under rocks and thrusting aside veils of cultural and religious sensitivities, and upsetting many people on the way.
 Enter Achilles is very British. It is set in a British pub and centres on eight "lads, a stacked jukebox and a skinful of lager" (not to mention a blowup sex doll), who egg each other on to increasingly nasty behaviour.  Newson says, "with the advent of #MeToo and Brexit, it's a timely moment to revisit the work". The core of the work – "how men, these men, police one another's behaviour for weaknesses and deviations from what's considered traditional masculine norms" – can apply to male behaviour in most societies, especially our own. The original show toured the world, including to the Adelaide Festival in 1996, has been made into a film and won numerous awards. It is an extremely coherent and successful example of his style – mixing physical theatre with easy to follow, brutally honest and unambiguous storytelling.
 Newson traces the evolution of Enter Achilles back to a botched surgery on his snapped Achilles tendon many years ago which became infected and left him with "a hole in the back my leg for about a year". While he was recuperating his female friends were able to offer him emotional support, but his male friends didn't know how to respond. "They couldn't come and just sit and be." It made him "reassess male relationships and what it means to be a man". "That's when I started thinking about issues of male relationships and reflecting on my father's working-class background and my cousins - many of them were either coal miners or tradies."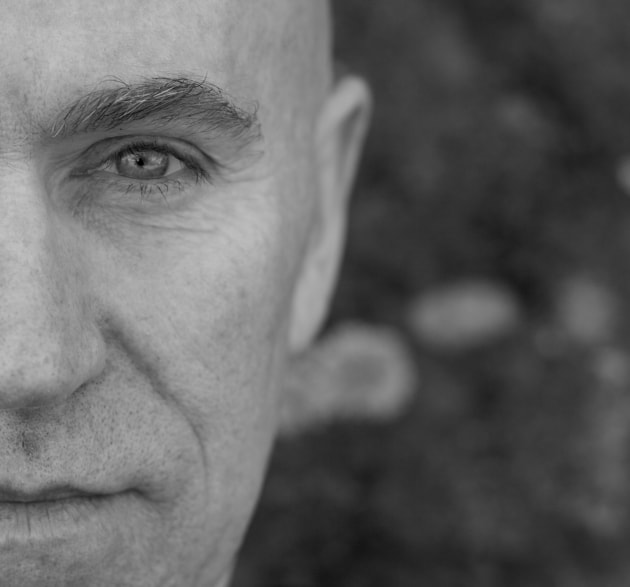 Lloyd was born in Albury, Victoria. His own father, he says, "lost his parents very early in life, and was raised by my grandfather, who knocked his teeth out when he was about eleven. So he had a very complicated background. And then he joined the Air Force as a mechanic, and then he later went on to Vietnam at one point and came back with PTSD. And he then became a coal miner. So he's had a very rough life in many ways, but he's been a very good father."
 Newson saw in him an example of the pressures and conflicts that go into being a "traditional" man and the way male stereotypes and ideals are counterproductive to the individual's mental health and society as a whole. He also recognised the direction his own behaviour might have taken him if he had not taken stock.
 Newson has spent most of his life living in England, and his outlook is shaped by English culture and politics. The examples he raises during our interview – of football gang violence, of the "activist" Tommy Robinson and the Football Lads Alliance, of organised "gang grooming" of underage children, are not familiar to the Australian experience. Nonetheless, he can easily counter that "toxic" male culture is similar here, even if it is manifested in different ways, with our shameful rates of domestic violence and suicide rates that are equally bleak in both countries.
 "Bleak" is a word that comes to my mind when viewing Newson's work. I'm not alone. "Too bad to be true," one English critic said of Enter Achilles when it was premiered. He focuses on the negatives and doesn't allow for the positives – the great catalogue of human achievement, scholarship and endeavour that paradoxically grows alongside our failings. When I put this to him, he disagrees. "I would actually say the opposite. I would say that in making To Be Straight With You [for example], which is about the three Abrahamic religions and homosexuality, I'm trying to support LGBT people and looking at the negativism of religion.
"I would actually say that by looking at the detail and at difficult areas that often I'm trying to suggest a positive route out of that dilemma . . .There are lots of assorted issues and I'm trying to find a way through it. So I make the work and I research very thoroughly, in order to try and actually suggest better solutions. . . I would argue most of my work is to try to get people to treat one another better."
 Unlike many contemporary dance choreographers, Newson has defied the trend towards abstraction. He tells stories and his works are highly adaptable to film. During his eight years as a dancer in various companies, he was left frustrated by the speed at which danceworks were created, their lack of depth  and the "often highly pretentious and frankly dishonest program notes that accompanied them. I couldn't believe some of the things that the critics were saying about these works - they really had just projected what they wanted to on the work largely because the work with abstract. I felt that was conning the audiences.
 "And so it seemed to me that it was a responsibility to try and make work that actually said something as opposed to just shapes. I wanted to make work that was about the world around me. Look at films - how many films that make the major screens or television are abstract? Almost none. Because people really want to understand the world. We all spend time trying to make sense of things. We're having that conversation, trying to make sense of masculinity. So I feel that's what I want to do with movement."
  Newson stepped away from DV8 in 2016 and the company has been in abeyance ever since. The current resurrection of Enter Achilles by Rambert is the first time Newson's work has been performed since he left. It is also the first time he has allowed his work to be performed by a company other than DV8. He was ultimately persuaded to revive the work because Helen Shute, the Chief Executive and Executive Producer of Rambert, allowed him a luxurious six months rehearsal time and carte blanche on choosing his dancers. He was able to audition in the UK, Spain, Holland and Australia, where he hired Richard Cilli and Nelson Earl. (Australians Ross Hounslow and Robert Tannion were in the original cast.) The production is presented jointly with Sadlers Wells in London, where it will receive its UK premiere in May.
 Although Newson's departure from DV8 was described a little ambiguously as "time out to reflect on his future", Newson has decided he will choreograph no more. He has returned to Australia and is living in Sydney with his partner of 25 years and is enjoying life too much to return to the hard yakka of directing a company. The conversation takes a brighter turn. "I have such a nice life not working in the arts," he says. "As you approach 60, you look at your life and take stock and you go, do I want to keep working six-and-a-half days a week from eight in the morning to nine at night? And the answer was a resounding no. And the joy that I feel being sort of semi-retired and taking back control of my life has been brilliant, really."
Has this fierce firebrand of dance possibly mellowed?
 'Enter Achilles' is on at the Dunstan Playhouse, Adelaide Festival Centre. Bookings:
https://www.adelaidefestival.com.au/events/enter-achilles/