Moving Australians: Ashley Wright
Independent artist Ashley Wright has carved out an eclectic career overseas.
Since leaving Australia on an audition tour many years ago, Ashley Wright has made her life overseas. Now living in Berlin,
she has spent most of her career in Europe. Over that time she has developed her skills and experience and explored her art form in a wide range of manifestations and possibilities. When I ask how she would describe herself now if she had to fill out an employment form, she smiles slowly.
"Slash, slash, slash," she replies, indicating that there are many strings to her bow. But definitely a dancer first. "Dancing is my profession, I've been a dancer since I was seventeen. But now dancer/choreographer/composer/…" she shrugs.
She admits she is lucky in that projects have rolled in fairly regularly since she became a freelance artist.
But to rewind a bit: Wright trained at the Australian Ballet School and the Victorian College of the Arts before joining the Royal Ballet of Flanders in 2006, where she was taken under the wing of Kathryn Bennetts, the Australian artistic director of the company from 2005 to 2012. She then moved to l'Opera de Lyon until 2015 and from 2016 was a guest artist with the company. Since leaving the Opera she has freelanced, including as a regular dancer with the project company, Emanuel Gat Dance and also with Frankfurt-based Cyril Baldy. She also undertook a course in music production and sound design.
Early on in her career she began to show promise as a choreographer, beginning with Better Left Unsaid, for the Royal Ballet of Flanders in 2009. The piece was awarded 2nd prize and Audience Choice Award at the Copenhagen International Choreographic Competition that year, and sparked a number of commissions, mostly in Lyon. In Australia, she created Ten People in the shape of a Lemming for Austinmer Dance Theatre and NOT A PARTY TOO SOON for Sydney Dance Company Pre-Professional Year students, both in 2018.
It was at the PPY production that she had an epiphany of sorts, realising that it was with music composition that her future path lay.
"The first time I composed for dance was when I worked for PPY SDC, for a show at Carriageworks. I commissioned two female Australian electro-acoustic artists to work alongside and accidentally ended up creating a section myself. When I heard it on the amazing sound system in this theatre, I had goosebumps. I realised this was the direction I wanted to go."
It made absolute sense. Music had always been an integral part of her life, from the piano in the ballet classroom from the age of four to the electronic music scene she immersed herself in Antwerp. "I've always been curious at what dance brings to our lives and how we are able to change people's moods and bring people to another world and music does exactly the same thing. Music is a huge part of my life right now, especially with this present situation."
With Germany and much of Europe, like the rest of the world, in the grip of the pandemic, music has been source of consolation as well as a creative outlet. She is steadily building a reputation as a composer for dance and other theatrical performances as well as her own solo body of work, under the alias Civic Grace. She completed three albums, Emissaries of Delusional Optimism, A blush of romance and As it happens last year. She describes her work on her website as "a mix of oneiric soundscapes, deep dub and delicate drone."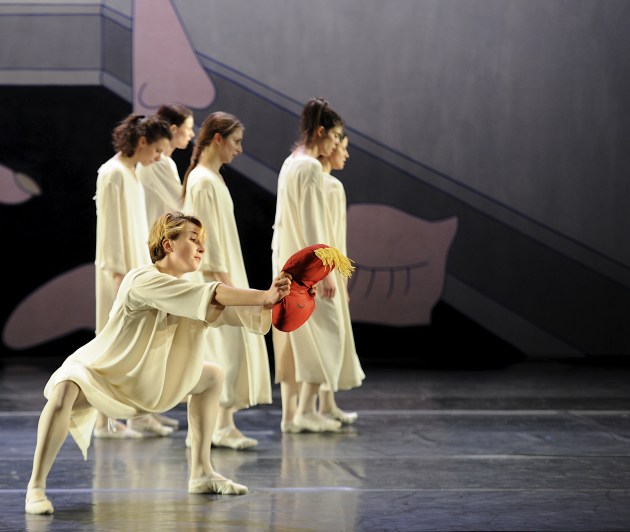 Despite the gloomy outlook for live dance performance, Wright has some projects confirmed for the year. One is with fellow expatriate Thomas Bradley in Brussels and one is with Craig Davidson in Zurich, another Australian she knows from her days when they were both in the Royal Ballet of Flanders. And in May/June she is due to premiere another new creation, as a dancer, with frequent collaborator Ersan Mondtag, a rising German theatre director.
She is also heading for Stockholm to dance in a work by Swedish choreographer Orjan Anderssen which will premier in October.
"I feel as if I am at the peak of my career, in terms of knowledge and experience foremostly. I have been very nourished up until this point. I now find myself in a beautiful place where I am really able to put my body of history to use in a liberating, resourceful way and pass that on with excitement to other dancers, teaching and also collaborating. It feels, in this moment, that everything starts coming together and making sense. I carry my art with confidence."
– KAREN VAN ULZEN
You can find out more about Ashley and listen to her music here.
This article first appeared in the April/May/June issue of Dance Australia. Subscribe here and never miss an issue!
Buy from your favourite dance retailer our online here.! Sign up to our e-news here. It's free!