Brown shoes matter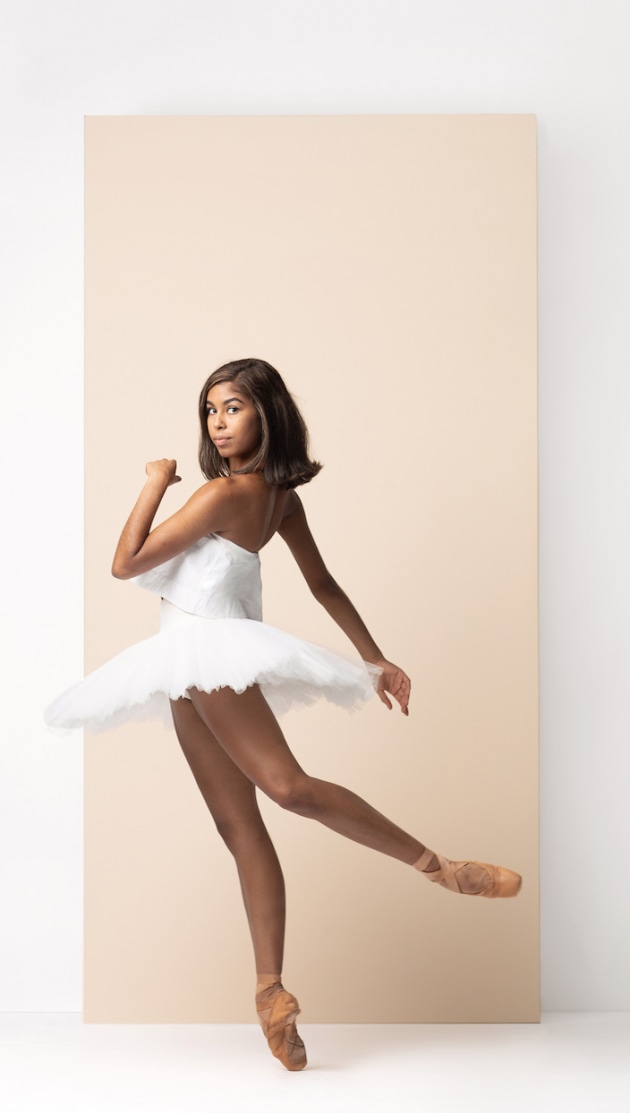 Demand for pointe shoes in a wider range of skin tones is growing. Taylor Venter explores the issue and its relation to diversity in ballet.
For Tene Ward, Australian corps de ballet member of the National Ballet of Canada (NBC), trying on her first pair of pointe shoes matched to her skin tone was a "momentous occasion". This moment, late last year, was filmed by fellow NBC company members and shared on Ward's Instagram account (@Ward_ward), receiving an outpouring of support she never expected.
Ward, who was born in Sydney, identifies as Sri Lankan and African-American. Before joining the NBC in 2018, she trained at Canberra Festival Ballet School, the Australian Ballet School and the Dutch National Ballet Trainee Program; she describes her experience as a BIPOC (Black, Indigenous and People of Colour) ballet student as "generally, tough". "No one looked like me," she reflects, "It was hard to have any form of inspiration to draw from, or anyone to look up to."
Ward's video of her putting on the shoes is both joyous and poignant, highlighting the need for increased diversity in the ballet world, and improved support for BIPOC dancers. "Even though the pointe shoes seem like a small thing for people that maybe aren't inside the ballet world, it's a huge thing for me," Ward explains. "It's a level of acceptance I've never felt before."
Stephanie Hutchison, Pointe Shoe Manager of the NBC, felt grateful to have witnessed the meaningful moment. "It was just this rush of emotion when I realised how much it meant to her that she was going to have her own shoes. She was like, 'Oh, I finally have my own shoes! I finally belong!'" she recalls, "That's heavy, when you're looking at professionals who are accomplished ballet dancers."
Ward's video was reposted by Misty Copeland, Principal Dancer of the American Ballet Theatre, and Lauren Anderson, former Principal Dancer of the Houston Ballet, two significant influences throughout her training and career. "If people could understand how BIPOC dancers feel when they actually see themselves and they're actually included, then maybe we would have a better chance of enacting change faster," Ward says, describing the support of her idols as "incredible".
Pointe shoes matched to darker skin tones first became available in 2017, when Gaynor Minden released two new shades of satin named "Cappuccino" and "Espresso". Globally, dance brands are following their lead; in 2018, long-standing shoemaker Freed released two new shades of pointe shoes with matching ribbons and tights, named "Ballet Bronze" and "Ballet Brown". They were created in collaboration with Ballet Black, a London-based ballet company celebrating dancers of black and Asian descent, and were lauded as a historic moment in British ballet history. Ward hopes that dance brands will continue to expand the range of shades available in shoes and tights: "People are more than just two or three tones. How many shades of makeup do we have?"
The iconic pale pink shade of pointe shoe satin hearkens to the invention of pointe shoes in the early 1800s, the Romantic era of ballet centred around stories of willis and sylphs. "We haven't been in the 1800s for a long time," Hutchison laughs. She hopes that the standardisation of pointe shoes and tights matched to dancers' skin tones will help to bring classical ballet into our modern times. "They offer uniformity potentially in classical productions. Just like the upper bodies are different shades, the legs can be different shades." "How beautiful would it be if in, say Giselle or Swan Lake, to have everyone in their own skin tone of tights and pointe shoes," Ward adds. "I think that would be a beautiful expression of our community."
While deeper shades of satin have only become available in recent years, dancers have been creating their own version of skin toned shoes for over 40 years through a process known as "pancaking". "I don't have to dye my shoes anymore!" Ward exclaims in her video; the dying of pointe shoes with paint or makeup to match the dancers' skin tone is a laborious trial and error task, especially for BIPOC dancers with darker skin tones. "For me to pancake shoes, it takes probably three hours," Ward explains.
"I have to do a layer, let it dry, do another layer, make sure it matches … With all those layers, the paint dries and it hardens the shoe, then it shrinks the shoe and it isn't the same shape." Hutchison agrees that pancaking is a challenging task which can distort the look and feel of pointe shoes. "If you pancake shoes just before you wear them, they're going to get really soft really fast, and sometimes the shoe just doesn't feel the same."
Pancaked pointe shoes were first worn in the 1970s by company members of the Dance Theatre of Harlem, and have become an established convention of contemporary dance performed without tights. "It was really accessible and people loved it, and you'll see it all across the dance world with anything being done that's contemporary," Hutchison says. "But it still feels like, when you're a little girl and you get your first pair of shoes, something is missing, or was missing, for a large group of people."
Ward and Hutchison point to the momentum of the Black Lives Matter movement in the US as a catalyst for change across the ballet world. "Sadly, sometimes it takes this awful moment in history to make people go, 'OK, we're going to do it'," Hutchison says. "We're being called out, and we're being called to change and action." While skin-toned pointe shoes and tights are a striking visual representation of inclusion, ballet's diversity problem runs much deeper. "As much as we like to uphold traditions in ballet, we shouldn't be upholding racism as a tradition," Ward states. "The image of a ballerina for so long has been a thin, white woman, and that image in general has to change."
Hutchison reiterates a need for more diverse narratives in ballet. "We don't have to stop doing classical ballet," she says. "Create new stories. Revisit old stories." While ballet companies such as the NBC work to dismantle racial inequality through education and outreach programs, Hutchison and Ward emphasise that improved diversity in ballet starts in training. "It starts in our schools, because we're not something that can be trained in two to three years," Ward explains. "You don't start ballet when you're 18." Hutchison agrees. "It needs to happen in training. Little children going into professional programs; being able to do that despite race, religion, creed, money." "I think that the ballet world needs to very quickly move forward or it's going to be left behind," Ward warns. "People aren't going to be able to appreciate it if they can't also have a connection with it."
Ward hopes that her video can inspire younger BIPOC dancers, and push dance brands toward expanding the availability of products matched to a range of skin tones. "Maybe younger dancers will see it [the video] and realise there is actually an opportunity for them to be in this industry and in this art form, and not to shy away from it because of what it used to be." The sense of belonging the pointe shoes have given her is unmistakeable, "I feel like this is actually a space I'm included in. It's not like I'm fighting to be in this space."
Other shades
In Australia, the demand for pointe shoes in colours other than pink is quite small, making it difficult for retailers to stock them. However, most pointe shoe manufacturers are responding to global demand and shoes can be obtained through special order.
Capezio's CEO and President Michael Terlizzi (whose US head office received a petition of 300,000 signatures demanding greater range of colours) told ABC News (US) that the company is embracing the issue as an opportunity to contribute to change for the better. "The conversation we had internally was 'how did we miss this?' We have to find out how we can meet their needs and help them feel included and not neglected." Like many dancewear manufacturers, Capezio does have a range of products, such as tights and ballet flats, to match different skin tones, but until now its pointe shoes have only been available in pink. The company is presently working on different shoe colours, one called "Maple".
Grishko has for some years had shoes in colours "Latte" and "Espresso". Bloch has plans to continue expanding its range both in terms of colour options, and in particular pointe shoes. "The expansion of darker colour selections in the pointe shoe range has now commenced production and we hope to launch this in the first quarter of 2021," the company says.
This article first appeared in the Jan/Feb/Mar print issue of 'Dance Australia'. Have you seen our Easter subscription offer? Treat yourself to 30% off here.