Audition trail and travails
This dancer's audition trail ended sooner than she expected.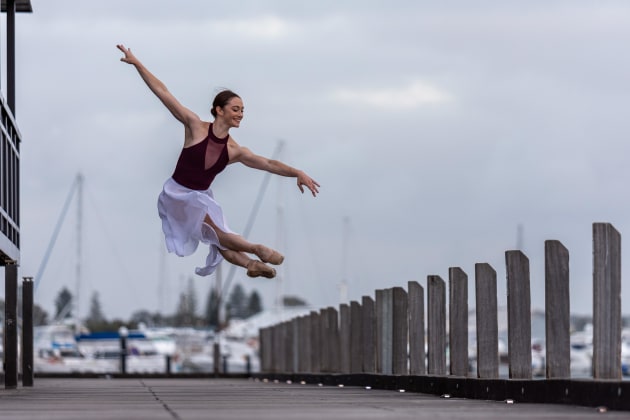 Early in 2020 Sara Ouwendyk did what thousands of dancers before her have done – she set off on an overseas audition tour. She chose the wrong year. Two short months into her trip the pandemic was placing its ugly grip on the world and her plans were brought to an unexpected end.
Ouwendyk hails from Perth and had spent a happy year at the West Australian Ballet before trying her luck overseas. "From as long as I can remember," she says, "I always wanted to take it outside of Australia and see the world." 
She took off for Europe on January 8 with about five auditions lined up. As she explains, most companies don't confirm their auditions with applicants until two or three weeks before the date, so the majority of her trip was organised on the go. She had already left Australia by the time she learnt about Covid-19 crisis, and "it didn't start to make a real impact in Europe until mid-February, and everything started getting quite crazy. Companies started emailing back and saying they were cancelling auditions due to restrictions and by the end of March 50 per cent had cancelled."
Luckily for her, one of the companies she was keenest to join, Grand Theatre de Geneve (GTG) in Switzerland, offered her a contract in just her second week of travels. "I was shocked! I thought my audition was terrible, I was so disappointed in myself, but I got an email the next day offering me a contract!"
With three months in Europe still ahead of her, she decided to keep travelling and auditioning for other companies, as a way of taking class and keeping in shape, but soon the companies were turning strangers away. By March she received the news that Australia was shutting its doors and that flights into the country were closing. She raced home. Listen to her describe her journey home: 
Her contract with GTG started in August, but because of delays in processing her visa and passport and Australian government restrictions, she wasn't able to return until September, three weeks later. (Switzerland, however, had no restrictions on Australians arriving – "Australia is not on anyone's radar as compared with most countries it has zero cases," she explains.) Since then, her time with the company has been stop-start, with Switzerland plunging in and out of lockdowns.
What is the situation like there now?
"Not very good," she sighs. "The special thing about GTG is it's a touring company, but with covid and the restrictions it makes it very hard to perform. The last tour was cancelled on Wednesday last week, we were supposed to go to Spain, but so far we've had no performances for this season at all."
She describes Switzerland's present status as a "semi-lockdown". "Switzerland did a lockdown last year around April and then after that they did the big one like everyone else, then after that they said 'no more lockdowns', because the country was struggling like everyone else. So every now and again we do these semi lockdowns. Most people work from home and all the shops are closed, except for supermarkets and pharmacies. We had a full semi lockdown in January, and we've done two months semi-lockdown now and its looking like we won't open for March." When the company locked down over Christmas she tried to come home but Australia wouldn't let her in.
She says the dancers have remained upbeat, focussing on the way ahead, and at the time of the interview the company was providing morning classes and afternoon rehearsals with a visiting choreographer. She admits though that it has been "a little bit hard" for her. The thrill of being one of the select few chosen for the company, of having a new job and artistic challenges, the achievement of her goal of travelling and living overseas – all not quite what she must have hoped for. "When you've travelled all of this way to do this one thing and you can't do it – but what can you do, you just have to keep going."
– KAREN VAN ULZEN
This interview was conducted in February. At the time of posting the theatre was still closed. We wish all dancers and dance companies around the world a speedy return to normality.