MADDIE and MACKENZIE Australia & NZ Tour

Eatons Hill Hotel, Brisbane, July 3
For teen and "tween" fans especially, the opportunity to see, hear and also meet their idols represents a dream come true.
So it's not surprising that in Brisbane hundreds of young dancers inspired by the Ziegler sisters were jumping for joy at attending the "Maddie & Mackenzie Australia & New Zealand Tour 2018", which dangled the extra carrot of a masterclass with and performances by the pair, who shot to fame on TV show Dance Moms.
Choreographer Marko Panzic generated a fun, energetic and enthusiastic atmosphere in the masterclass, which also gave each participant a chance to shine.
However, Maddie and Mackenzie didn't actually lead the class as the description implied.
Instead, Panzic and his small crew The Dream Team taught the routine to participants (150 aged 11 and under in the morning; 200 12-plus in the afternoon), and even though the lines weren't rotated, everyone seemed to keep up. There was little, and only general, correction, regarding expression since the jazz choreography was strong and stylish but not particularly technical.
After students were put in smaller groups, Maddie and Mackenzie made their first appearance onstage to watch, before a dozen-plus standouts were scouted to perform the number onstage. During the first session the sisters appeared a little awkward standing looking-on; when they sat on the stage's edge in the second session they looked more comfortable and engaged.
Maddie and Mackenzie did do the routine once, with The Dream Team, but for the junior session only and not instructively; offering some tips or feedback to all groups would help meet the promoted expectation. However, Maddie's bestie Charlize Glass's solo demonstration of the senior class's routine, hitting every move to the max and oozing sassy style, constituted a masterclass in itself.
The sisters' live appearances were introduced by three video highlight montages featuring the pair together and individually. Although their dance solos weren't as virtuosic in composition as I expected, they nonetheless included high points for the fans to cheer. There were bonuses in Maddie's playful duo with Glass, choreographed by Brian Friedman, and Mackenzie beautifully singing a self-taught ukulele version of Jessie J's "I Got You". The afternoon dance performances were more dynamic, perhaps feeding off the audience's vocal intensity. Given the amount of floorwork, the live camera feed could be projected so this isn't missed from the auditorium level.
Most impressive though was the event's personal component showcasing the girls' personalities and ethos in a question and answer session, followed by a meet and greet photo opportunity. Having become famous at such young ages, it's hard to believe that Maddie is still only 15 and Mackenzie, 14. They appear preternaturally mature and insightful without being precocious, appearing as well-adjusted and "normal" as one can be in the unusual circumstances of being working professionals in an adult environment.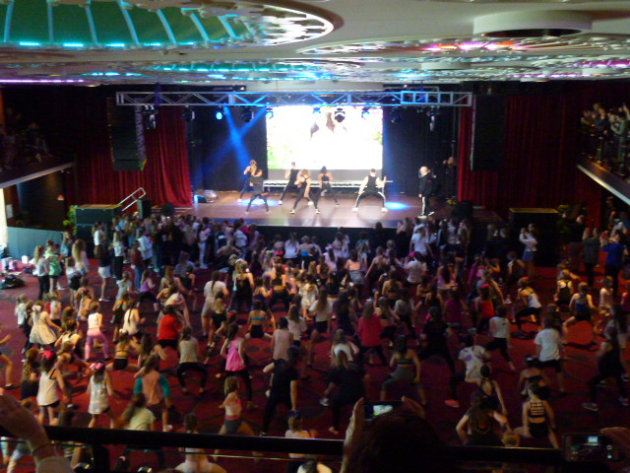 Responding to their fans' pre-submitted questions, they emphasised having fun (humorously playing off one another), enjoying eating, hanging out with friends and doing typical teen things. Importantly, they sounded humble and shared some of their vulnerabilities. They encouraged their audience to believe in their dreams, work hard, and most of all, to stay true to themselves – sound advice.
Their mother Melissa Gisoni was refreshingly candid in her informal and intimate Q&A (a rewarding optional extra), dispensing invaluable perspective on the Dance Moms phenomenon, revealing the real and the unreal of what viewers saw and believed.
Changing the photo queuing method and other tweaks made between sessions suggest openness to feedback and improvement to give fans the best experience possible; hopefully remaining discrepancies will be addressed.
My concern whether the event would deliver real value was allayed – it was a positive and affirming experience that increased admiration for these inspiring young role models.
- OLIVIA STEWART
"Maddie and Mackenzie Australia and New Zealand Tour 2018" continues to Melbourne, Adelaide and Auckland till July 11.


DATES:
THE CENTRE – IVANHOE, MELBOURNE
9AM, SATURDAY JULY 7 (AGES 11 & UNDER)
2PM, SATURDAY JULY 7 (AGES 12 & OVER)
THEBARTON THEATRE, ADELAIDE
2PM, SUNDAY JULY 8 (ALL AGES)
BRUCE MASON CENTRE, AUCKLAND
9AM, TUESDAY JULY 10 (AGES 11 & UNDER)
2PM, TUESDAY JULY 10 (AGES 12 & OVER)
2PM, WEDNESDAY JULY 11 (ALL AGES)
Read more on the tour here.
https://maddiemackenzietour.com/
Photos by Olivia Stewart.