The Ziegler Sisters up close!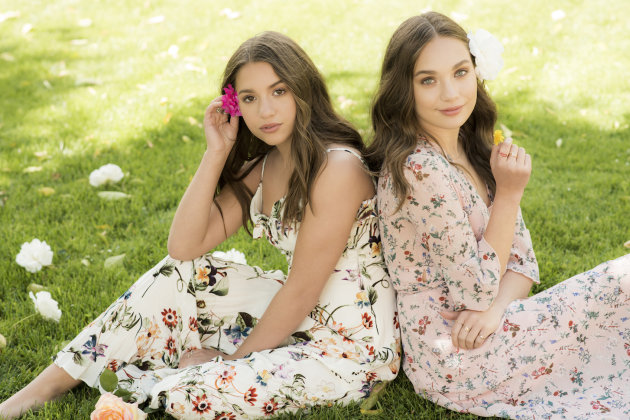 Maddie and MacKenzie Ziegler are possibly the most famous young dancers on the planet. Maddie became an overnight internet sensation after appearing in singer-songwriter Sia's Chandelier music video in May 2014. Since then Maddie has starred in four more of Sia's videos with over three billion views worldwide, joined her on tour and performed on Saturday Night Live, The Ellen DeGeneres Show and the 2015 Grammy Awards. She shows no signs of slowing down, expanding her resume to include actress, model, fashion designer, and New York Times Best-selling author.
Following in her older sister's footsteps, Mackenzie has been dancing since the age of two. In 2011, Mackenzie, she, her sister and their mother Melissa Gisoni were cast on Lifetime's hit reality TV series Dance Moms, which allowed Mackenzie to grow as an artist and pursue other passions such as acting and singing. Mackenzie's music videos have received collectively over 150 million views to date. Her debut album soared to #1 on the iTunes Pop Charts. 2017 marked the start of live touring for Mackenzie as she embarked on the Day & Night tour with Johnny Orlando. She can currently be seen starring in the Youtube series Total Eclipse for the digital network Brat, on which she also serves as an executive producer. 
Collectively on social media, Maddie and Mackenzie have over 25 million followers and certainly are positive role models for young women everywhere.

Now the Ziegler Girls are returning to Australia, with a new, up close and personal experience with their fans that will include a dance masterclass, Q&A, "meet & greet" and an ultimate fan event. They are being presented by Live Nation Entertainment.
The show is being choreographed by Sydney-based Marko Panzic, artistic director of The Dream Company. The sisters will be joined by his The Dream Creative, a junior Dream Company project for dancers 17 years and under. Marko is one of Australia's most successful choreographers and has worked with many of the world's finest recording artists including Ricky Martin, Jason Derulo, Jessica Mauboy, will.i.am, Delta Goodrem, Dami Im and many more.
Together they will take their fans through "The Ultimate Dancer Masterclass" – an enjoyable and unique training opportunity for young dancers of any age. There are also fan/meet & greets and GA Spectator tickets available and a Q&A with ultimate "Dance Mom" Melissa Gisoni.
Dates:

THE ROUNDHOUSE, SYDNEY
9AM, SATURDAY JUNE 30 (AGES 11 & UNDER)
2PM, SATURDAY JUNE 30 (AGES 12 & OVER)
2PM, SUNDAY JULY 1 (OPEN AGE)
EATONS HILL HOTEL, BRISBANE
9AM, TUESDAY JULY 3 (AGES 11 & UNDER)
2PM, TUESDAY JULY 3 (AGES 12 & OVER)
HBF STADIUM, PERTH 9AM, THURSDAY JULY 5 (AGES 11 & UNDER)
2PM, THURSDAY JULY 5 (AGES 12 & OVER)
THE CENTRE – IVANHOE, MELBOURNE
9AM, SATURDAY JULY 7 (AGES 11 & UNDER)
2PM, SATURDAY JULY 7 (AGES 12 & OVER)
THEBARTON THEATRE, ADELAIDE
9AM, SUNDAY JULY 8 (AGES 11 & UNDER)
2PM, SUNDAY JULY 8 (AGES 12 & OVER)

Tickets and information: here and here.