David H Koch Theatre, Lincoln Centre, New York, 18-19 April
Along with nine days of competitions, Youth America Grand Prix (YAGP) also presented two sensational gala performances of an almost identical program.
The gala – an annual event – gives a chance for "stars of tomorrow" to dance in the same program with and be inspired by current luminaries of dance; many are YAGP alumni. It's also a chance for the New York public and visiting students and their teachers to see a culmination of the YAGP as well as a stunning program of diverse short excerpts and new works.
The gala was pretty astonishing in terms of the quality and range of dancing and choreography (and yes, quantity – the show ran for two and a half hours without an interval). A traditional grand défilé featuring around 300 young YAGP finalists headed up the program. It was complex and lovely and joyous with some breathtakingly mature work shown especially by the younger male dancers. Following this, we were treated to half a dozen solos hand-picked from the finals. Dancers ranging from age 11 to 18 enchanted with their precocious talent and artistry.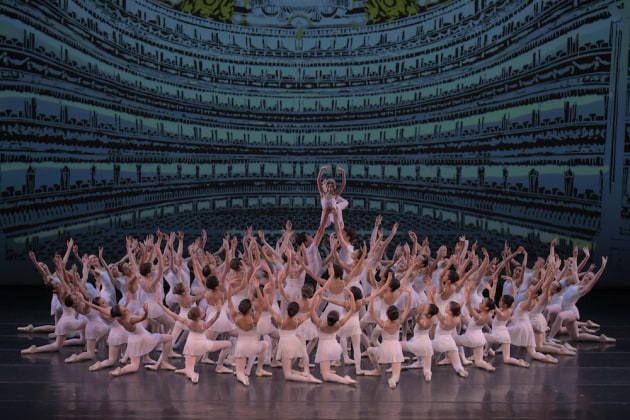 Without a pause (except for thunderous applause) we were on to the seasoned professionals. They danced everything from world premieres to virtuosic repertory favourites. Porte Rouge (pictured top), choreographed by YAGP alumnus Melanie Hamrick caused a bit of a sensation. Not only was it set to music by The Rolling Stones, specially orchestrated by Mick Jagger, but the man himself announced it in voice over and attended the event. The piece is a very up-beat and high-energy work in three parts, full of non-stop dynamism. It was danced by YAGP alumni with Christine Shevchenko (American Ballet Theatre) and Daniel Ulbricht (New York City Ballet).
Another world premiere was Nothing Left, a touching duet danced by Derek Dunn of Boston Ballet and choreographer Juliano Nunes from Royal Ballet of Flanders. The audience went wild for this emotional and nuanced expression of love.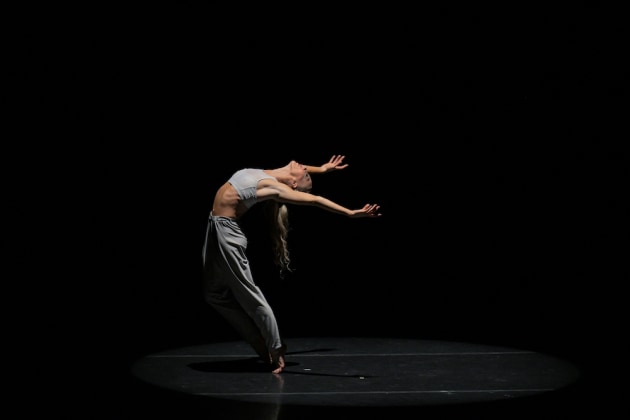 A stand out for me was Caught, danced by Zoey Anderson of Parsons Dance with choreography by David Parsons. This was not only dazzlingly performed – what a talent – but featured a truly perfect use of strobe lighting. It represents fabulously judged design without the gimmicks. Throughout the work, the single dancer was literally captured in frozen air-born poses – like photographic negatives or a series of stop-motion frames. It was ingenious and exciting. Each short section of the piece had the dancer re-set, facing off to the audience in a position of unassuming neutral rest.
Light Rain by Gerald Arpino and danced by Lucia Lacarra of Victor Ullate Ballet and Fabrice Calmels of Joffrey Ballet was a beautiful pas de deux of unfolding high extensions and tightly woven partnering. Danced to a rhythmic pitter-pattering score, it was complex and lovely.
Olga Smirnova of the Bolshoi Ballet, partnered by Kimin Kim of Mariinsky Ballet were a formidable pair in the Black Swan pas de deux from Swan Lake. Smirnova displayed effortless fluidity and attack. She was coolly seductive; spell-binding but efficiently aloof. Smirnova will dance in the Bolshoi's season in Brisbane mid-year.
There was a most spectacular Paso Doble danced by Catherine Hurlin (American Ballet Theatre) and world ballroom champion Denys Drozdyuk. What wondrous fluidity, suppleness and attitude were on display in this. Very exciting dance, indeed.
The finale was a wonderful Don Q Jubilee, danced with brilliance by a number of YAGP alumnus. This was such a thrilling end-note to the packed program. The dancing was glorious featuring spectacular precision, bravura jumps and turns. The male lead had the most amazingly elastic ballon. It is difficult to find adequate words for this – after a full program, I could have gone on watching it forever.
- Susan Bendall
Pictured top: Christine Shevchenko (American Ballet Theatre) and Daniel Ulbricht in (New York City Ballet)'Porte Rouge'. Photo: VAM Productions.