His Majesty's Theatre,
September 14
Based on F. Scott Fitzgerald's 1925 novel of the same name, The Great Gatsby is choreographed by Northern Ballet's artistic director David Nixon and was first performed in Leeds in 2013. It captures the heady excesses and moral atrophy of a bygone time in America amidst the affluence, glitz and glamour of the 1920s, the consequences of which seem perilously relevant today. An ideal fit for West Australian Ballet, this entertaining, two-act production showcases the diversity, versatility and vitality of the company's dancers and is a winner.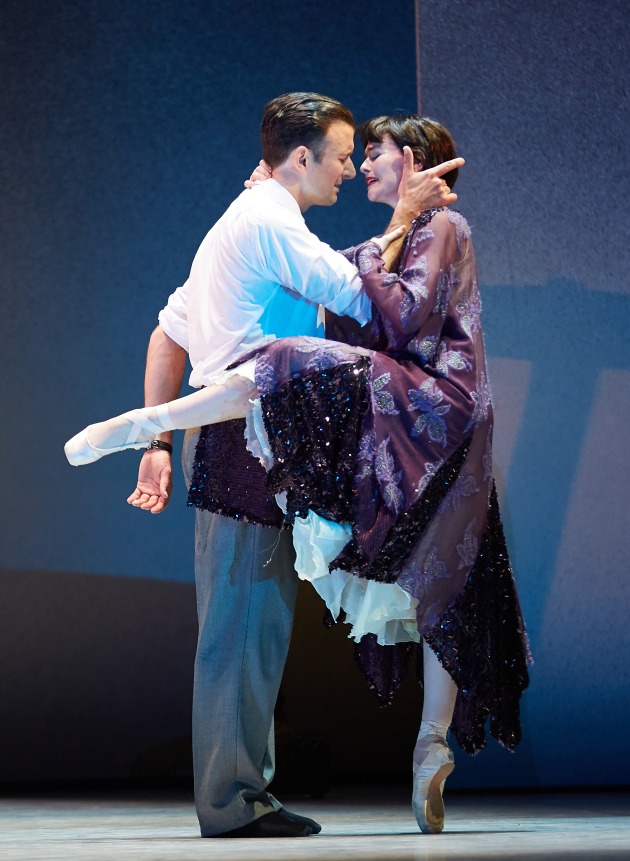 Music by Richard Rodney Bennett, brilliantly orchestrated by John Longstaff, perfectly serves the ballet's narrative and free-wheeling ambience with piano music (pianists Graeme Gilling and Adrian Soares), excerpts from Bennett's film scores, a lively Charleston, tantalising tango, jaunty jazz, and live singing by Myrtle (Melissa Boniface) channelling her inner Judy Garland to recorded Irving Berlin song "When the Midnight Choo Choo Leaves for Alabama." Crowded New York street scenes are saucily set to Bennett's Billion Dollar Brain, and musicians from the West Australian Symphony Orchestra led by maestro Myron Romanul, were definitely into the Roaring Twenties' groove on opening night.
Jerôme Kaplan's contemporary set designs with sleek, modish, movable screens enable seamless multiple scene changes creating sensational rooms, views, interiors and exteriors and a long jetty, scenic bay and vast ocean. The lush green of Jay Gatsby's light-decked garden and his rooms with large reflective mirrored-windows, and Daisy and Tom Buchanan's home with billowing white curtains, silver trays and crystal champagne glasses are in stark contrast to Myrtle and George Wilson's grimy downtown garage and Nick Carraway's less opulent cottage. Tim Mitchell's inspired lighting enhances and colours the settings and moods.
David Nixon's shiny, chic costume designs fill the stage with an exotic, multi-hued 1920s visual feast of sensuous flowing fabrics, feathers, sequins, black and white clad maids and waiters, black-clad gangsters, and white tie, black tie and tails galore.
Gatsby's dreams and memories are cleverly staged by Nixon with the addition of two extra 'characters' who weave in and out of the story throughout; a young Daisy in a blue dress and hat clearly belonging to an earlier time, and a young Gatsby in World War One military uniform. Flashbacks reveal them meeting and falling in love and they reappear unchanged as Gatsby remembers his past.
Distinctive choreography reflects the edginess of the time and is demanding, with elongated arabesques, rapid-fire chaînés and recurring flying jumps. Dazzling, stylish, slickly performed ensemble pieces are juxtaposed to swooning romantic pas de deux (with willowy reflections in the mirrors). And angry physical confrontations within several pas de trois and pas de quatre sequences effectively establish the heightened emotional tension and relationship duplicity amongst the characters. A final farewell pas de deux between Gatsby and Daisy becomes a poignant pas de trois in Gatsby's mind, as young Daisy weaves in and around them. Some slower sections seemed a trifle long, and initially identifying characters was a challenge, however a helpful, comprehensive synopsis is available to read.
Gakuro Matsui as Gatsby danced and partnered immaculately and his interpretation revealed a courteous, enigmatic man unable to suppress his love for Daisy; Chihiro Nomura as Daisy was technically impressive and appealing in her portrayal of a weak-willed yet captivating young woman; Matthew Lehmann gave a masterly performance as Tom, a wealthy, bored playboy with a vicious side; Melissa Boniface, in a standout performance, found light and tragic shade as beguiled, giddy Myrtle; Liam Green displayed athleticism and heartbreak as George Wilson; and Brooke Widdison-Jacobs was a sparkling, glamorous Jordan Baker. Also exceptional were Carina Roberts (Young Daisy), Matthew Edwardson (Young Gatsby), and Oliver Edwardson (Nick Carraway).
On opening night the rapt audience rewarded the company with a very well-deserved, rousing ovation.
Margaret Mercer
'The Great Gatsby' plays His Majesty's Theatre until 30 September.
Pictured top: Gakuro Matsui, Chihiro Nomura and Oliver Edwardson in 'The Great Gatsby'. Photo: Sergey Pevnev.