The Australian Ballet School: "Showcase 2016"
Joan Sutherland Theatre, Sydney Opera House, 4 December
As the Australian Ballet School is based in Melbourne, it was a rare treat to have their "Showcase 2016" performance presented in Sydney. One would expect the students to display a high level of technique and skill in classical dance and they certainly did. What made this performance extra special was the warmth and excitement emanating from the audience and reflected back into the audience by dancers who communicated the expressive potential and vibrancy of dance.
There was a good range of choreography on show, and each choreographer has their own links back to the Australian Ballet School, the Australian Ballet or both – keeping it in the family so to speak. The program opened with Stanton Welch's A Time to Dance (1990), set to music by Dvorak. Welch's choreography combines some stylistic elements of character dance with classical virtuosity and the costumes (courtesy of Houston Ballet) contributed greatly to the overall 'look' of this piece. Graduating students Yuumi Yamada and Saki Isonaga were both outstanding but in quite different ways despite their similar build and appearance. While Yuumi Yamada is elegant with a sparkling vivacity, Saki Isonaga has a softer, yet radiant quality. Yichuan Wang was also very good in a "mazurka" style solo.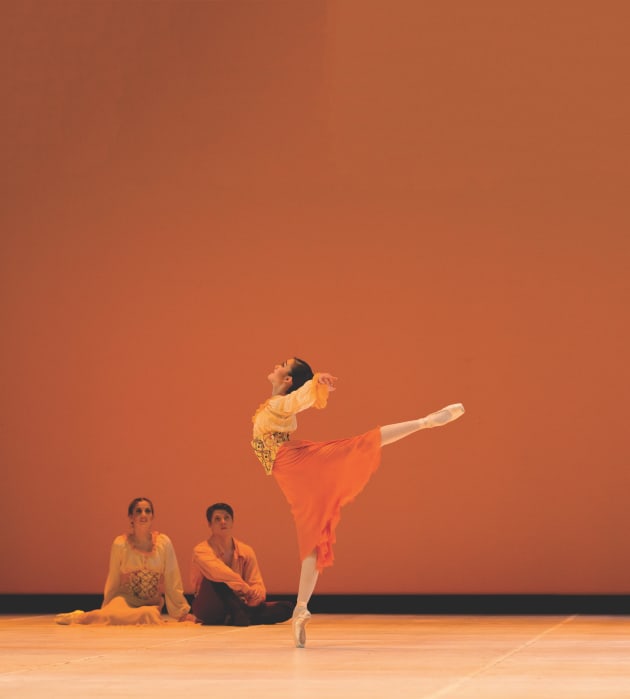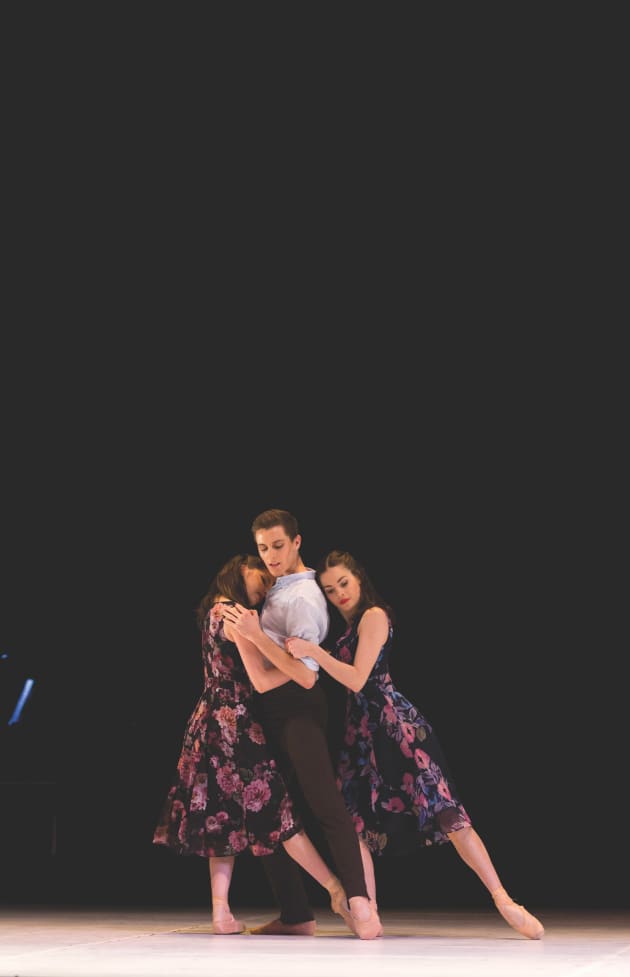 Graeme Murphy's Almost was created on and danced by the students of Level 7 (still one year from graduating). It is a dramatic work for five dancers with some innovative partnering manoeuvres that are characteristic of Murphy's choreographic style. All five dancers gave mature performances with particularly strong work from Serena Graham, Joseph Romancewicz and Dominic Possingham in the final trio. The music, by composer John Tallis, was played live with Stefan Cassomenos (piano) and Monica Curro (violin) visible onstage for the duration of this work. Seeing the musicians play nearly always adds something to the experience of watching dance, and it certainly did in this instance.
Margaret Wilson's Invisible Icon (pictured top) was the only piece that did not utilise pointe-work. With a cast of eight young men and one central female (danced here by Tene Ward), Invisible Icon was a nice contrast to the classically oriented program and brought a change of pace both musically and choreographically. With her sinuous arm movements and charismatic stance Tene Ward made the solo female role her own. Jackson Fisch and Tyson Powell danced a moving duet and Xavier Pellin caught the eye with a jazzy, impish charm.
Following interval, A Singular Sequence, choreographed by Stephen Baynes, brought a cool, neoclassical edge to the program. This feeling of being stripped bare; pared back to the essentials of line; where the simple turn of a head, or lift of a shoulder could mean so much was enhanced by the simple, yet stylish costumes - two toned leotards and unitards in light and dark grey (designed by Peggy Jackson and made by Keto). On the female dancers this leotard design gave the illusion of an off the shoulder style, highlighting their upper body movements while retaining the support of a stretch garment. The cast of twelve dancers managed the choreography well, with Saki Isonaga and Yuumi Yamada standouts in this work.
The program ended with a large scale classical work that incorporated younger students from the lower levels and finishes with all dancers onstage. Divertissement, by Simon Dow, was notable for its large cast and rapid sequence of exits and entrances. The younger dancers performed relatively simple phrases of movement with care and control, leading up to a series of solos by this year's graduating students that were much more demanding. In a way this work exemplifies the development of a young dancer moving upwards through the levels of the Australian Ballet School (or indeed any ballet school), culminating in their final graduate year. Very enjoyable.
- GERALDINE HIGGINSON
All photos by SERGEY KONSTANTINOV. Top photo features Tene Ward and Level 7/ 8 Boys in Margaret Wilson's Invisible Icon.