The Australian Ballet: Nutcracker – The Story of Clara
Joan Sutherland Theatre, Sydney Opera House, 2 May
Some twenty five years since its creation in 1992, Graeme Murphy's Nutcracker – The Story of Clara is as fresh and relevant as ever. The late Kristian Fredrikson's set and costume designs are a big part of this production's appeal but its biggest strength is the way in which it blends the historical with the personal – telling Clara's story as a Russian ballet dancer who eventually settled in Australia as a tribute to all those who did stay, forming the nucleus of the Borovansky Ballet prior to the formation of the Australian Ballet in 1962.
It's a fairly radical re-imagining of the traditional Nutcracker storyline and suffice to say there is no toy soldier who comes to life, no Land of Sweets or Sugarplum Fairy. There is, however, a flesh and blood soldier, a series of pas de deux that tell the story of Clara's love and finally, heartbreak, on his account; and a joyously swirling Dance of the Snowflakes that takes Clara back to her childhood in Russia.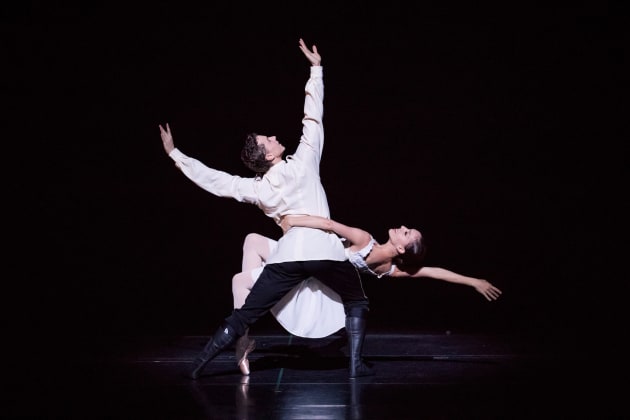 In the lead roles of Clara, the Ballerina and her Beloved Officer, Leanne Stojmenov and Kevin Jackson drove the story forwards with confidence and aplomb. Leanne displayed beautiful epaulement and a willingness to take risks in order to make the performance feel exciting and spontaneous. Supported by Kevin Jackson, together they mastered the considerable choreographic and technical demands of Murphy's duets – holding the iconic poses just long enough for those watching to take a mental snapshot, but without losing the dramatic flow of movement.
As Clara, the Elder, Ai-Gul Gaisina gave an authentic and believable interpretation of the retired ballet dancer, and the guest artists who appeared as her Russian friends served up some much appreciated laughs in Act I. In the role of the child Clara, Amelia Soh danced with technical strength and charm. In fact there is something in the way this production brings together a range of budding, current and former dancers from different generations that makes it feel especially truthful. As a professional career, a ballet dancer's life is short but their involvement with dance can certainly encompass and influence their whole life.
The projections (film collage by Philippe Charluet) were a key part of this Nutcracker's success. Especially effective was the blown up footage of Clara dancing that was projected across the set at her party, and how accurately it tied in with Clara's final, farewell, performance at the end of Act II. Under the guidance of music director and chief conductor Nicolette Fraillon, the Opera Australia Orchestra gave a soulful and enchanting rendition of Tchaikovsky's famous score. This is one of Graeme Murphy's best full length works – see it if you can.
- GERALDINE HIGGINSON
Nutcracker - The Story of Clara plays the Sydney Opera House until 20 May and Arts Centre Melbourne 2-10 June.
Pictured top: Amelia Soh, Leanne Stojmenov & Ai-GulGaisina. Photo: Daniel Boud.