Arts Centre, State Theatre, Melbourne, 8 June
It seems that too much is never enough in Christopher Wheeldon's Alice's Adventures in Wonderland. Such talent and imagination has gone into this work, originally co-produced by the Royal Ballet and the National Ballet of Canada in 2011. In this latest rendition by The Australian Ballet there were lovely solo moments for Ako Kondo as Alice and raving high-camp megalomania from Valerie Tereshchenko's Queen of Hearts. Ty King-Wall as the hapless, sweet Knave had everyone barracking for him to keep his head against the demented tyranny of the blood-thirsty Queen. Adam Bull's White Rabbit was suitably twitchy and disconcertingly elegant by turns. But this Alice is a series of visual flights of fancy that are a bit overwhelming to the point that the dance seems to be serving the design.
The ballet is a rabbit-hole of collective visual memories of the Alice story. Although it is rigorously made to incredibly high production values, the images and visual tropes fly at the audience relentlessly. They are not situated in a coherent visual language but echo versions of versions – Lewis Carroll, Monty Python, Pancake Parlour graphics, Disney animations; there's a hint of Beatrix Potter and a nod at The Wind in the Willows. Projection meets elaborate set design, Victorian-style etching collides with surrealism. Enough!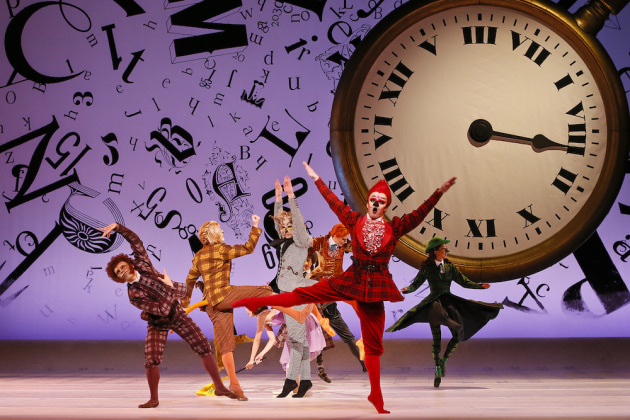 The ballet begins rather charmingly at an Oxford garden party. The fanciful characters of Alice's adventures are foreshadowed in Alice's friends and family. Lewis Carroll transforms into the White Rabbit and soon he and Alice are plunged into Wonderland via an enormous jelly. The first act, at around fifty minutes (it was seventy in the original staging) cannot let go of any ideas. It also takes rather a leisurely approach to narrative in the first scenes, taking a while to get into Wonderland and lingering over the projections of the rabbit hole vortex and tiny and enormous doors. Here it feels a bit bogged down.
There are some real high points, though, in this production. The second act is quite enchanting – and dare I say? – references classical ballet considerably. There is a lovely corps de ballet dance of flowers – large, brilliantly coloured blooms – waltzing and allowing us to focus on just them. The Cheshire Cat appears – a beautifully jaunty rendering. It is realised using puppetry where segments of the puppet are controlled by individual puppeteers, allowing the creature to break apart, reorganise itself and then reassemble. A sheer delight. The Caterpillar, with legs animated by a group of dancers, slinks across the stage. Here Andrew Killian brought a needed touch of sensuality to the ballet. Alice finally finds her knave and they dance. Suspense is created by the arrival of the Queen of Hearts and her murderous entourage, just before the curtain closes on Act II. She is encased in a high-gloss armoury.
The final act brings the inevitable show-down between the baddies and the goodies. Again, generous homage is given to the classical repertoire with the Queen attempting to court a series of unwilling, petrified suitors, a la Rose Adagio with a twist. The game of croquet is played with flamingos and hedgehogs and these are almost my favourite characters. The little hedgehogs are the cutest things possible while the flamingos are elegant and apt. Playing cards give us some striking ensemble dancing.
However, in all this tumult, Alice gets a bit lost. She is flung from pillar to post, and often seems to disappear in the riot of colour and motion. Ako Kondo held her ground, but the ground was slippery beneath her. Kondo is a consummate artist but the narrative often distracted attention from her, which is a shame. Even so, she managed to create a clear enough characterisation for Alice – light hearted but curious – and her dancing is always enchanting.
It is great to see new and ambitious repertoire being performed by our national ballet company. It is also essential to embrace crowd-pleasing narrative works that both broaden the audience for dance and keep existing fans refreshed. The audience on opening night revelled in the absurdist riff on the Alice story and seemed to love the humour and escapism offered. Still, it could be a better show if it resisted teasing out every narrative possibility, cut and shortened some scenes, and simplified some of the visual riot.
- SUSAN BENDALL
Alice's Adventures in Wonderland plays until June 22.
Pictured top: Shaun Andrews and Lucien Xu in Alice's Adventures in Wonderland Top photo: Jeff Busby.