Lyric Theatre, QPAC, 14 November
Giselle has always been held in reverence, perhaps because of its religious connotations of forgiveness and redemption. Its principal roles are also coveted for the breadth of emotion required, particularly by Giselle, across both acts. It is, in dramatic terms, the Hamlet of ballet, and therefore the perfect vehicle for La Scala Ballet to showcase its command of the classics.
This is French ballerina Yvette Chauviré's 1950 restaging of the ballet, which is now performed by La Scala in homage, since her recent death. A true classicist, Chauviré adheres to the Coralli-Perrot choreography in a breathtakingly beautiful production, enriched by the original 1924 set and costume designs of Alexandre Benois.
The designs are, therefore, traditional. The first act has autumnal tones that are reflected in the women's costumes of pale peach with flashes of blue, which tie with the pale blue of Giselle's dress. Act II is, conversely, deeply melancholic with its luminous gravestone, church ruins and dark looming trees conveying a foreboding that differs from other more pastoral interpretations.
This performance was remarkable for the clarity of its delivery both technically, and more importantly, dramatically. Giselle is a tale of love, betrayal and redemption, and, adhering to the conventions of classical mime, it was told with spontaneity and conviction.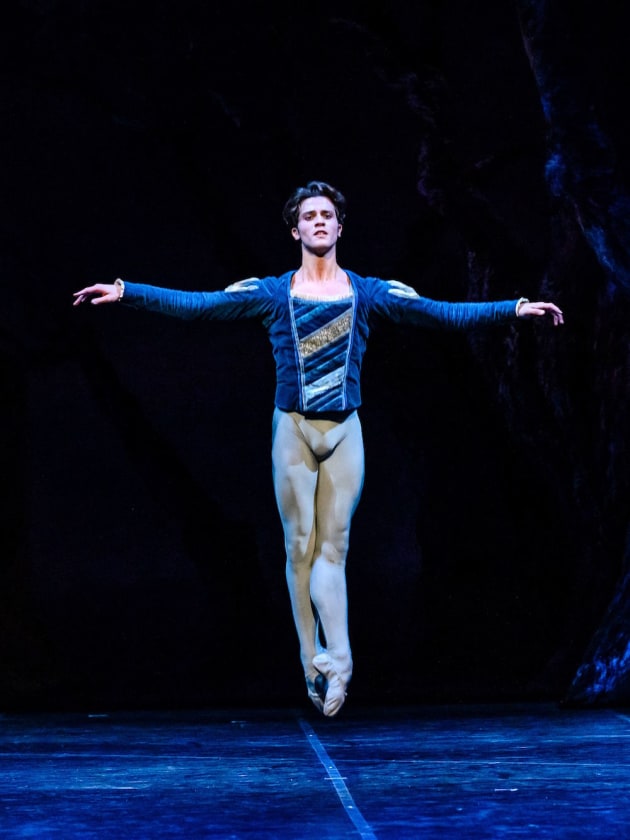 Its key protagonists were utterly believable. Maria Eichwald was a shy and naïve Giselle, totally enamoured of Albrecht, the handsome young man she falsely believes to be Loys. Claudio Coviello, who is only 27, plays Albrecht as a young aristocrat, not fully understanding the ramifications of his cavalier flirtation with Giselle until it is too late. These dynamics between the two worked beautifully.
Eichwald was entrancing, with an ethereal lightness, beautifully articulate footwork, and exquisitely held balances in her solo, which she directed mostly to Albrecht. Her descent into madness and death was a clearly described progression that was galvanising. Coviello also has a commanding presence and, although there is little dancing for him in the first act, he delivered a well-rounded interpretation of a young man out for a good time, but then devastated by the consequences of his actions.
The gamekeeper, Hilarion is often played as a bit of a brute, but Marco Agostino described him as genuinely besotted with Giselle, and made the character believable. His modest bunch of wildflowers left unnoticed on the windowsill of her cottage, was a poignant sign of the futility of his love.
Martina Arduino and Nicola Del Freo performed the full version of the Peasant Pas de Deux with crisp agility. Arduino was particularly vibrant, with effortless balances, while the charismatic Del Freo showed immaculate double tours and sharp batterie. He was a little behind the beat in the coda's final petit jetés en tournant section, but it was nevertheless a charming divertissement.
In strong counterpoint to the first act, the second has a pervasive air of otherworldly foreboding. The Wilis, so youthful and beautiful looking in the purest of white, are conveyed as irresistibly vengeful by their immaculate lines, laser-sharp in their symmetry. There is a military precision to their soft romantic poses, chiselled into a ruthless looking conformity. The strength of the company's corps was evident here.
As Myrtha, Queen of the Wilis, the statuesque Maria Celeste Losa had a commanding, but unearthly stillness, showing extraordinary control, especially in a completely motionless fifth position en pointe. Her courrus sped with a rapid fluidity across the stage and her grande jetés cut through the space effortlessly. She was an impassive, impervious, and unrelenting Myrtha.
Eichwald, so light on her feet, seemed to hover, wraith-like, over the stage as the ghost of Giselle. Appearing weightless in Coviello's arms, their central pas de deux was mesmerising, as they seemed to breathe almost as one. Coviello made Albrecht's dance to the death a controlled but believable descent into exhaustion, until saved by the arrival of dawn, he is left alone – forgiven, but forever changed.
This was a Giselle that left you breathless at its conclusion. It was quite wonderful!
– Denise Richardson
Pictured top are Maria Eichwald as Giselle Claudio Coviello as Albrecht. Photo: Darren Thomas.