Roslyn Packer Theatre, 1 May
Sydney Dance Company's "Orb" opens with guest choreographer Cheng Tsung-lung's Full Moon. Apparently he is the first Taiwanese choreographer to work with SDC, and his connection with Taiwan's Cloud Gate Dance Theatre (he is currently Artistic Director of Cloud Gate 2) brings a new style of movement to SDC's repertoire. On opening night, the cast of eight dancers looked to have mastered the challenge, and they performed Full Moon with an understated simplicity and attention to detail that underscored Cheng Tsung-lung's choreography. This was SDC's dancers as we have not seen them in the recent past, with a focus on each dancer's individual qualities rather than their unity as an ensemble.
The connection between the work's title and its content was not immediately apparent. However on closer inspection of the programme provided, notes by composer Lim Giong and costume designer Fan Huai-chih revealed the link between them and really enhanced my understanding of Full Moon. Fan Huai-chih's costume designs are exquisite, with loose fitting shapes and long, swirling folds of fabric that add an extra dimension to the dancer's movement. Instead of fully revealing the dancers' bodies; they partially obscured each dancer's line and form, throwing focus on the dynamism and direction of their movements. Damien Cooper's lighting design was also very effective, moving from the clarity of hard light (eight massive downlights from each side of the stage), to a softly glowing framed background light, in the vein of artist James Turrell's Shallow Space Constructions.
Review continues after image.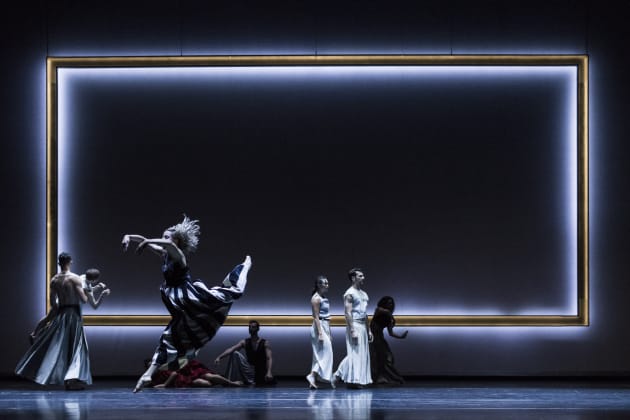 Like Full Moon, the second work of the evening – Rafael Bonachela's Ocho (meaning 'eight' in Spanish) is also a work for eight dancers that focuses on each dancer as an individual. As artistic director of Sydney Dance Company, Rafael Bonachela's works form the backbone of SDC's current repertoire and the intense physicality and virtuosity of his choreographic style in Ocho was an interesting counterpoint to Full Moon.
David Fleischer's set design makes the stage look like a grey concrete bunker with a small glass-walled room set into and dwarfed by the surrounding structure. In the beginning, all the dancers appear trapped inside, behind the glass, and their movements are indicative of a type of claustrophobia/cabin fever. One by one they exit the glass walled room, and there is an air of aggression, conflict and desperation in their movements, especially in the way they relate to each other. Eventually, the final escapee, danced by Charmene Yap, is alone on stage, lit while darkness covers the set. When the lights come back on, the rest of the cast are back inside the glass-walled room as if they had never left, and the audience is left with a sense of déjà vu, wondering if they ever really got out. As we watch the work unfold, seemingly all over again, it is the little differences that stand out. Their psychological distress seems to have intensified and there are now intimations of violence between them.
Ocho has a dark, dystopian feel. There is an abstraction in the unspecified set and situation that creates distance, but a familiarity in the costumes (an assortment of athetic wear that you might see in a rehearsal) that brings it uncomfortably close. Costumes are designed by David Fleischer, and realised by Aleisa Jelbart. Nick Wales's score adds greatly to the atmosphere and Rrawun Maymuru's vocals in the final section (used with permission of the Mangalili Clan) are a highlight. Damien Cooper's lighting design gives the ending a note of hope as rays of yellow light stream onto the stage. There were so many expressive, powerful performances from this cast that it seems unfair to single any particular dancer out. Ocho really packs a punch.
- GERALDINE HIGGINSON
Top photo: L-R Charmene Yap, Petros Treklis, Izzac Carroll (front) & Cass Mortimer-Eipper in Orb. Photo: Pedro Greig.