Roslyn Packer Theatre, 27 March
In their 50th Anniversary season, Sydney Dance Company's (SDC) "Bonachela/Nankivell/Lane" triple bill presents a satisfying mix of contemporary dance to audiences old and new. With two world premieres (Bonachela's Cinco and Nankivell's Neon Aether) the program is rounded out by the return of Melanie Lane's WOOF which first premiered as part of SDC's "New Breed" season of short new works in 2017.
The premise of the program is that without a company like SDC, new works like these would never have been commissioned in the first place – and the title of this program bears that out, making the choreographers the stars. But the program also serves the talent of SDC's dancers, giving a selection of relatively newer company dancers the opportunity to shine alongside company favourites like Charmene Yap.
Gabrielle Nankivell's Neon Aether is a work for eight dancers, and is probably the most interesting and atmospheric (no pun intended) in and of itself. This is a work that is about air; physically – the way we move through it – through to those most distant and rarefied parts of our earth's atmosphere, and the ideals of exploration and progress that have underpinned our civilization's expansion into space. I attended a free information evening about the program, prior to opening night, and was fortunate to hear choreographer Gabrielle Nankivell and composer Luke Smiles talking about their work and delving into the details of one section in particular – the orrery.
An orrery is a clockwork model of the solar system that represents the relative movements of planets and their moons around their sun and it was fascinating to see the dancers on the outer fringes co-ordinate their larger movements in response to the smaller, more intricate movements of the dancer or "sun" at the centre. Luke Smiles's musical score is cinematic in its scope and expressive range, utilising a series of spoken radio components that sound as if they come from a real space mission to give the impression of really being out there in space. The work switches between the technology-dependent human reality of space travel as we understand it and the sublime simplicity and quiet of space without us. Harriet Oxley's costumes capture the loose outlines of a space suit, with harness-like detailing around the dancers' waists and torsos. The cast of eight worked seamlessly together to realise Nankivell's choreographic vision.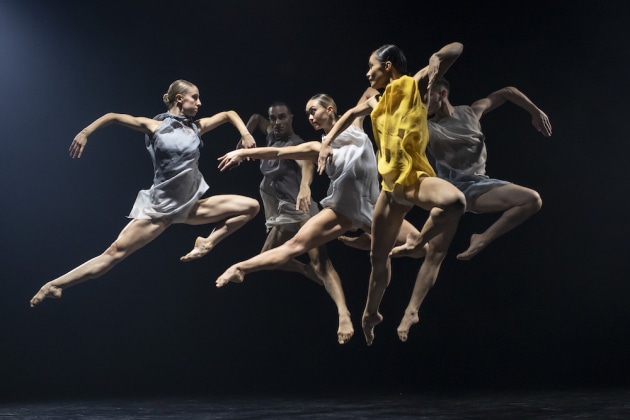 Bonachela's Cinco is a work for five dancers, set to a string quartet composed in five parts (by Alberto Ginastera) and it moves between states of calm and frenetic activity. Dancers Holly Doyle and Chloe Leong provided an interesting counterpart to each other; Doyle – with more force, and sharper, more dynamic energy contrasted with the lyrical, soulful quality of Leong's movement and expression. Charmene Yap was the work's anchor, and Davide di Giovanni and newcomer Riley Fitzgerald partnered them all with expert precision. Fashion designer Bianca Spender's costumes were beautifully draped and gathered, each with slight differences, and caught the air as the dancers moved quickly in a dance of their own.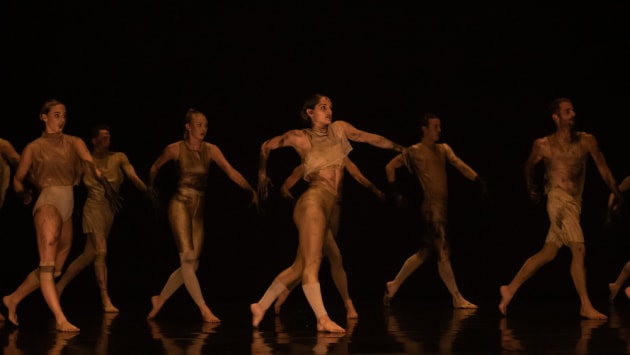 Melanie Lane's WOOF seems simple on the surface; we see the same steps being repeated and quickly observe a specific repertoire of movements that are combined and recombined again and again. It is interesting to watch the progression of dancers in their flesh coloured costumes (designed by Aleisa Jelbart) with their hands and wrists covered in black make-up. At the beginning their costumes are clean and unmarked, but by the end of the work, the black make-up from their hands has smeared and smudged the dancer's costumes and bodies in distinctively different ways according to the movements each dancer has performed and they way they have been partnering/partnered by others. So, for all that a sense of ritualised togetherness is emphasised in the choreography, it is a visual reminder of the differences that we are left with. I loved, too, the way this work ends, with the dancers pulling aside a heavy black curtain far upstage and passing through it into a glowing orange haze.
- GERALDINE HIGGINSON
Pictured top is Gabrielle Nankivell's 'Neon Aether'.
"Nankivell/Bonchela/Lane" plays Sydney until April 13, then tours to Canberra May 8-11 and then tours to Victoria, Northern Territory, South Australia and Tasmania, May 16 - August 17.