Review: Under Siege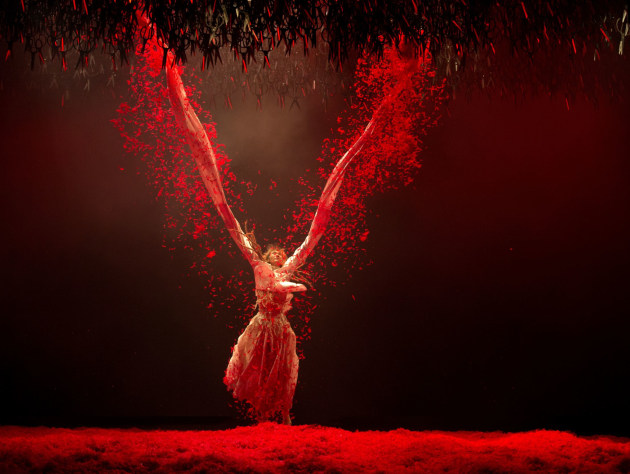 Yang Liping Contemporary Dance
The Playhouse, QPAC
September 27
Under Siege, while promoted by Brisbane Festival as a dance work, draws from an eclectic mix of performers and performance styles – Peking Opera, hip-hop, ballet, contemporary dance, and Chinese classical and folk music. Choreographed and directed by Yang Liping (renown throughout China for her 1986 dance piece Spirit of the Peacock), it has designs by Academy Award-winning Tim Yip (Crouching Tiger, Hidden Dragon) and Chinese American installation artist Beili Liu.
Under Siege is Liping's reimagining of the epic tale of Chinese lore and opera known as Farewell My Concubine. It tells of the final climactic Battle of Gaixia between the Chu and Han armies that changed the course of Chinese history in 202BC, whilst also embracing the love story between the besieged warlord Xiang Yu of the doomed Chu army, and his self-sacrificing concubine Yu Ji.
The work is a triumph of breathtaking imagery. Thousands of scissor blades hang suspended in dense rows above the stage, at different times descending to form different shaped arches that hover ominously over the action, framing it on the stage. An amplified clinking of metal accompanies their movement, adding aural texture to the striking visual effect. Throughout, a woman sits downstage left behind a froth of paper, cutting it into shapes, which as the work progresses she reveals as Chinese letters, underscoring the narration.
The work begins with a rather long introduction of traditional music on Chinese guitar. A white-robed narrator, as the great statesman Xiao He, enters and begins the story. Brief English translations are projected onto the proscenium throughout.
Liping weaves elements of Peking Opera into the work, giving it a very episodic construct with many scenes. The narration also has a very heightened inflection and intonation, which is often punctuated by musical percussion. The elaborate headdresses also pay homage to this distinctive genre.
A chorus of male and female dancers wear traditionally styled black pants, tops and helmets. The movement is often highly physical, with a strong martial art influence in the high kicks, leaps and acrobatic somersaults, interspersed by moments of more contemporary styled phrases.
Several beautifully configured scenes or tableaux are created throughout: large heraldic flags in a colour palette of gold and silver are moved into different striking configurations; there is another clever section with acrobatic movement using a sedan chair; and the final moments of the bloody battle are evoked by the now, near naked dancers writhing knee deep in a swirling mass of blood red feathers. This was a high-octane finish to the work, the air thick with smoke and the dancers spinning, leaping and flying into the floor, to the relentless drumming and clashing of cymbals.
Unfortunately there was no cast list supplied, but all the principals were male, including the dancer portraying the concubine Yu Ji. He was mesmerising. Initially clad only in a flesh coloured support, his extraordinary suppleness, and his fluid, seamless coiling into and away from the floor, oozed sensuality. His final duet with his defeated lover, Xiang Yu, was also exquisitely moving.
This was one of the few times when I felt a connection with the characters on an emotional level. The story, so familiar to the Chinese, is less so to Western audiences, and even with the brief translations and program notes, it was difficult at times to discern the finer points of what was happening on stage.
The dramatic action is highly stylised, and unless you are familiar with the conventions of Chinese traditional theatre, the 1 hour 40 minute running time, without an interval, could prove a challenge. However, Under Siege is undeniably an extraordinary feat of theatre. Visually spectacular, the work's breathtaking imagery stays with you long after curtain down.
– DENISE RICHARDSON
'Under Siege' now moves to the Arts Centre, Melbourne, and will run from October 5 to 8.