REVIEW: 'Convergence', Australian Dance Theatre.
The Odeon Theatre, Adelaide
Reviewed May 8.
Supported by the Tanja Lietdke Foundation, Australian Dance Theatre's International Centre for Choreography has fostered choreographic initiatives locally and internationally for the past five years. Pre-Covid, these included residencies and creative development opportunities at ADT for the prize winners of the International Choreographic Competition Hannover: ADT's Artistic Director, Garry Stewart, is on the judging panel.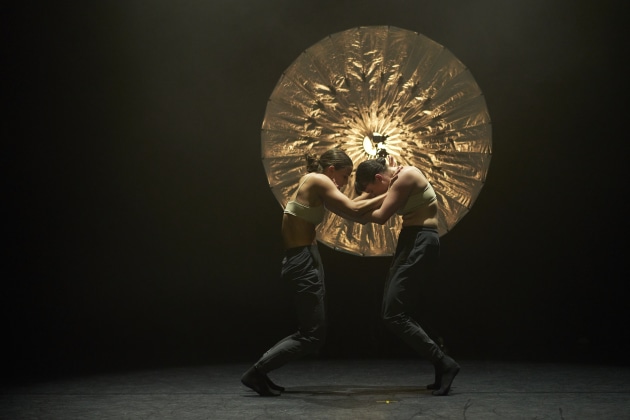 In making their works for Convergence, the three most recent Hannover winners had to use teleconferencing technology from their home bases in South Africa, Germany and the Netherlands to connect with the ADT dancers in Adelaide. This perhaps accounts for their pieces all taking the form of duets. This program of five short works also featured two local indigenous choreographers: Adrianne Semmens, Associate Artist with ADT in 2021, and Gina Rings, leading the newly formed South Australian First Nations Dance Collective (SAFNDC). 
Inspired by seeing two humanoid robots debating the future of humanity at a tech show, Phillipe Kratz's O plays with notions of artificial intelligence and robotics. With a reflective silver photographer's umbrella positioned at the back of the space like a giant flower, two female dancers (Sophie Stuut and Zoe Wozniak) enter to the sound of a voice-over. Clad identically in grey pants and tops, their movements are jerky, momentarily breaking into lyrical classical port de bras. A fast-paced motif of rapidly swivelling hip movements propelled by tiny steps on demi pointe recurs throughout, with the pair moving at times synchronously, at others manipulating the other's limbs robotically, creating a sense of dialogue. It's a highly enjoyable work, danced expertly.
Tu Hoang's Trial starts with two dancers (Mason Kelly and Darci O'Rourke) standing at the back of the stage, dressed in shirts and pants. O'Rourke begins with tiny precise hand movements accompanied by guttural exhalations. Kelly mimics her exactly, and the movement patterns, which draw on T'ai Chi and martial arts traditions, gradually involve the whole body and accelerate until one or the other breaks the synchrony. The tension between the two is riveting, as they break apart and reunite to a pounding soundtrack, Loscil's Rorschach. It ends, after an astonishing running sequence by O'Rourke, with the pair looking at each other intently, before reverting to the tiny gestures and breath sounds of the beginning. This mesmerizing piece was given an exceptionally fine performance, especially by the brilliant O'Rourke.
Road, by South African Oscar Buthelezi, explores the idea of the journey through a male duet of great tenderness and strength. Wearing only Lyrca briefs, the dancers (Kimball Wong and Rowan Rossi) step into a pool of light to take turns to dance, as if showing each other their stories and where they've been. As they watch and gesture to each other intently, the duet builds through a series of lifts and larger movements culminating in fast-paced head stands and floor work. Although it loses focus slightly towards the end, this is another powerful work. 
Gina Rings's ITI, inspired by the music of Electric Fields, featured young dancers from SAFNDC alongside ex-ADT dancer Thomas Fonua. It explores the emotional journeys of Aboriginal men and women of the Stolen Generations. A lone seated female dancer moves her torso expressively to Kaurna singing. Three others join her, swaying in unison as they stand shoulder to shoulder. Projections of country wash over the dancers as they enact scenarios of grief and resilience through an amalgam of indigenous and contemporary moves, with white ochre from a bark coolamon smeared over faces and bodies. Although perhaps too driven by the music, ITI is moving and was performed with great commitment by its young cast.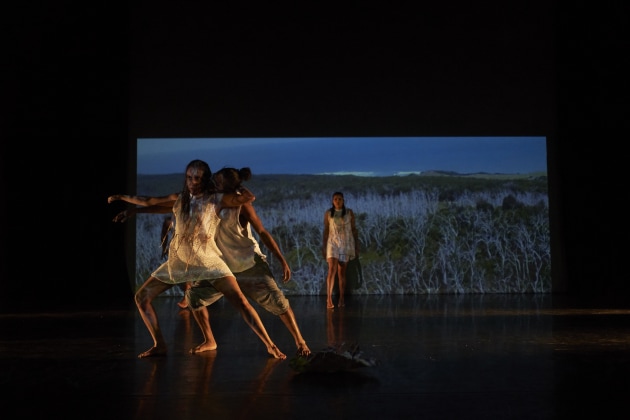 The program concludes with the longest work, Adrienne Semmens's Immerse. As the name suggests, the work is inspired by water, with particular reference to indigenous relationships to fresh and salt water country. Yarn, unspooled and pulled across the floor, represents watercourses and songlines that the dancers follow as they mimic the motions of water.
Dressed in aquatic tones of blue and grey, the entire ADT ensemble wrap themselves together languorously in groups from which individuals are expelled like liquid jets; at other times they move in waves and counterpoint like the currents of a river. Exquisite slow motion ensemble work is a high point, as are sequences of flicking water from hands and wringing it from hair. Semmens uses Sascha Budimski's watery soundtrack to great effect, and is clearly a choreographer of great promise, able to realize complex ideas through movement.
Bursting with choreographic talent, this excellent program is danced superlatively by the ADT dancers. It's enough to give you hope in these dark times.
- MAGGIE TONKIN 
Sign up to our e-news here. It's free!