The Lyric, QPAC, December 14
What's not to like about The Nutcracker, unless of course you have a Scrooge-like aversion to the festive season? The ballet has become synonymous with Christmas since the mid-1960s, especially in the Northern hemisphere, where it more accurately reflects the season. It seems sub-tropical Brisbane has also embraced the tradition, courtesy of Queensland Ballet (QB) and Ben Stevenson's charming version of the ballet.
All froth and bubble, with an exceedingly thin plot line, this ballet's popularity is due largely to Tchaikovsky's glorious score. So familiar and comforting in parts, it is impossible, in others, not to be swept away by the music's soaring majesty. As usual the Queensland Symphony Orchestra with the Birralee Choir, under Music Director Nigel Gaynor delivered a marvellous interpretation.
Stevenson's Nutcracker is a perfect fit for QB. Carefully crafted and quite enchanting, its frantically busy and detailed opening scene – a rustic Christmas setting of browns, red and green – immediately captivates with its finely tuned attention to dramatic and comedic detail.
Some new faces inhabit the old familiar characters this season, including Company Artist Lou Spichtig, a very perky and youthfully exuberant Clara, who anchored the action throughout the two-act ballet with natural ease.
Notable among the usual gathering of relatives at the Stahlbaum's Christmas party was Rian Thompson's riotously funny Grandfather, partnered by Sophie Zoricic as the delightfully bossy Grandmother. Along with Mia Heathcote, who embodied eccentricity as Auntie, they made up the trio of tippling octogenarians.
The comedy was again always timed immaculately to the musical beat for maximum impact, while still seeming spontaneous and fresh. The entrance of the rats, en pointe, never fails to raise a laugh, and their ensuing fight scene led by King Rat (Jack Lister), and the sword-wielding Nutcracker (Kohei Iwamoto) with his troop of look-alike soldiers, remains more pantomime than high drama, performed by all with wit and style.
This scene's transformation, opening out and up to reveal the Land of Snow's frosty white and blue setting, is still captivating. Neneka Yoshida, ably partnered by Victor Estévez as the Prince, was a regal Snow Queen, with pure lines and rock solid balances. Together their pas de deux of soaring lifts was musically and choreographically an exquisite confection.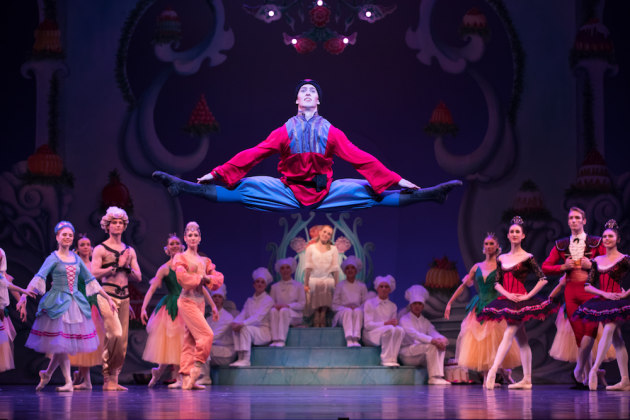 The second act, Kingdom of the Sweets – a powder blue setting of art nouveau inspired swirls – is little more than a series of divertissements and needs to move at a cracking pace to keep the audience engaged.
This it did, beginning with a tightly executed Spanish pas de six, followed by Lisa Edwards reprising the sensuously acrobatic Arabian Dance with Joel Woellner. This is such a party piece and guaranteed maximum applause, with Edwards always quite mesmerising.
Chinese Dancers (Ze Wu and Suguru Otsuka) followed, and were convincing martial arts comedians, while Tamara Hanton, Mia Heathcote and Liam Geck, all sparkled as the Mirlitons, with Geck's flying batterie looking particularly crisp.
D'Arcy Brazier performed the Russian Gopak with precision and pizzazz, and the divertissements were rounded off with beautifully even work from the corps in the Waltz of the Flowers, in a swirling bouquet of pinks, apricots and green, led by the charismatic partnership of Lina Kim and Alexander Idaszak.
Lucy Green made an exquisite Sugar Plum Fairy, partnered with princely aplomb by Estévez in a sparkling grand pas. Her expressive upper body coupled with needle sharp footwork and whipped turns, dazzled. Estevez's calm but princely stage demeanour also impressed with lovely pliant finishes to soaring leaps and tours.
This is the sixth annual season of The Nutcracker for QB, with the next already being promoted. There's no denying it's a tonic for many at the end of a busy year, but also a guaranteed box office bonanza for the company. What's not to like?
– Denise Richardson
The Nutcracker plays QPAC until December 22.
 Pictured top: Company Artist Lou Spichtig, a very perky and youthfully exuberant Clara, with Kohei Iwamoto as the Nutcracker. Photo: David Kelly.