Queensland Ballet: Swan Lake
The Lyric, QPAC, 5 May
Queensland Ballet last performed Swan Lake in 2011, in a production that steered well away from a traditional interpretation. Artistic director Li Cunxin however, has embraced tradition by mounting Ben Stevenson's production of the timeless 1895 classic.
With a sumptuous Renaissance inspired set and costumes, originally designed by the late Kristen Fredrikson's for Royal New Zealand Ballet (RNZB) and borrowed for this season, Stevenson's version, neatly condensed into two acts, adds freshness and modernity, and a dramatic cohesion that makes more sense of the implausible story.
A short prologue (sometimes seen in Russian productions), showing the young maiden Odette being captured by Von Rothbart, effectively sets up the drama that follows. Act I introduces Siegfried (Joel Woellner) as a student prince, in a somewhat tortured relationship with his emotionally detached mother, the Queen (Zenia Tatchèva). The music commonly used for Siegfried's introspective solo, is more effectively used here to describe this relationship as he baulks at the idea of marriage, before leaving alone to go hunting.
Throughout, the mime scenes were carefully and clearly articulated, while the company as a whole, delivered the story with conviction and energy.
In Act I the Tchaikovsky waltz becomes a pas de six, including Siegfried, who partnered the fetching Mia Heathcote. Tamara Hanton, Teri Crilly, Alexander Idaszak and Camilo Ramos made up the six, delivering with joyfulness and technical acumen.
The pas de trois was a light and buoyant interpretation by Lucy Green, Lina Kim and Victor Estévez. Green, a recent recruit from RNZB, showed clean, crisp beats, pinpoint accurate turns, and glorious ballon.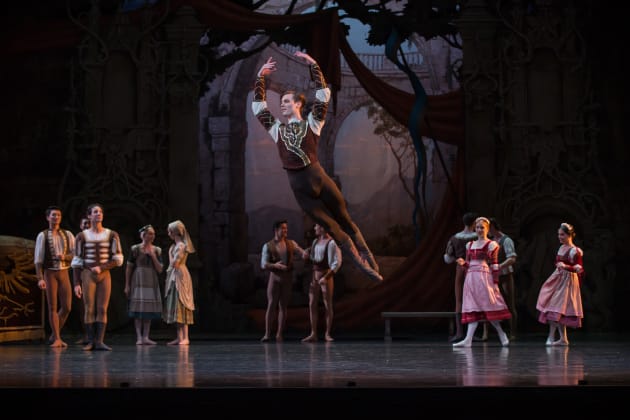 Woellner (a company artist but surely destined for promotion) fleshed out his characterisation of what can be a rather nondescript role, to engender real empathy; his regal but sensitive bearing and long-legged physique adding to his princely demeanour as Siegfried.
In the duel Odette-Odile role, Yanela Piñera, was a technical tour de force. Probably more effective as Odette, where she showed fragility but also a regal bearing, her pas de deux with Woellner was breathtaking in its controlled delivery, while his partnering was superb.
The corps of 24 plus swans was drilled to a conforming perfection, with expressive use of the eyes and face conveying a real sense of their plight. The four cygnets, with perfectly matched physiques, also danced as one in a flawless performance of the iconic piece.
The ballroom scene dazzles with opulence; its layers of metallic gold, silver, red and black also reflected in the richness of the costuming. In a neat touch Siegfried dances with princesses from each of the countries represented, as prospective fiancées. They then lead the character dances.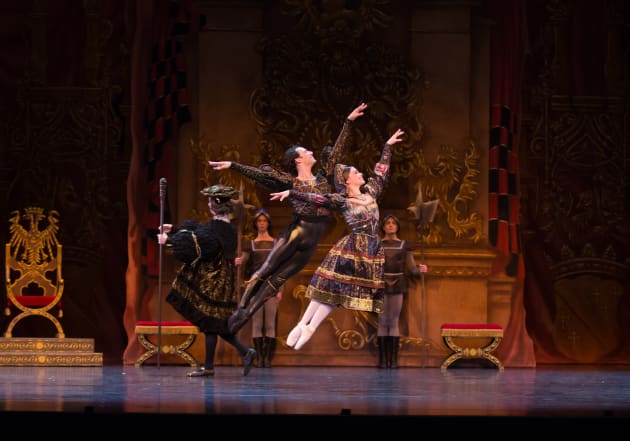 Green, partnered by Jack Lister and Rian Thompson, was a firecracker Spanish Princess, while Crilly with Ramos in the Neapolitan, lit up the stage with her usual vivacity. Georgia Swan and Shane Wuerthner, leading the Czardas, and Kim and Idaszak in the Mazurka were similarly vibrant.
Piñera, with her finely chiselled muscularity, was a more glittering than smouldering Odile. Her solo with the difficult double en dehors attitude turns and en manège finale was delivered with panache and style. Woellner's solo was also seamless, with tours and turns always landing cleanly.
In a breathtaking coda, Piñera stole the show with fouettes that were whipped to perfection; she tossed triples into the mix precisely on the break-neck musical beat - a rarity these days - making them all the more exciting.
The Queensland Symphony Orchestra under Nigel Gaynor was an essential component to the thrill of this moment.
Vito Bernasconi as Von Rothbart added the necessary gravitas to a role that requires little dancing, but oodles of presence. In the final scene his character is destroyed in a stormy ending that sees both the lovers reunited after death. It is a satisfying conclusion to a production where the attention to dramatic detail is what sets it apart from so many other Swan Lakes.

– Denise Richardson