Queensland Ballet: Dangerous Liaisons
Playhouse, QPAC, 22 March
Queensland Ballet (QB) Artistic Associate Liam Scarlett's first commission for the company, Dangerous Liaisons, is a tightly woven, beautifully crafted piece of theatre. Based on Pierre Choderlos de Laclos' sultry 18th century novel about the aristocratic elite in pre-revolutionary France, Scarlett has turned its epistolary structure and multiple viewpoints into a cohesive two-act ballet that conveys the passion, intrigue and betrayal of the original tale with breathtaking conviction.
In a damning portrayal of the French aristocracy of the 1700s, the story revolves around the relationship between a wealthy widow, Marquise Isabelle de Merteuil (Laura Hidalgo) and her former lover, Vicomte Sébastien de Valmont (Alexander Idaszak), and the competing games of seduction and petty revenge they play on their immediate social circle.
The tone is set from the ballet's dark and misty opening, as Merteuil is "comforted" by her lover Comte de Gercourt (Jack Lister) on the coffin of her recently deceased husband. This ballet is definitely not one for the kiddies.
Scarlett establishes each of the characters and their complex relationships in the first act with economy and clarity. And while a degree of vigilance is needed to keep abreast, the potent essence of the story is discernible through beautifully crafted movement, articulate gesture, and Scarlett's innate sense of theatricality.
Guest artist Rachael Walsh was charismatic as Madame de Volanges, mother of the virginal Cécile (portrayed with a winsome naivety by Yanela Piñera), while fellow guest Janette Mulligan gave a nuanced interpretation of the effusive Madame de Rosemonde, aunt to Valmont. It is Valmont's bet that, for a night in Merteuil's bed he will seduce Cécile, thus compromising her betrothal to Gercourt, which instigates the ensuing drama.
The QB dancers were all extraordinary, fully invested dramatically in each of their characters. Idaszak gave a powerful performance as the arrogant but charismatic philanderer, Valmont, who falls in love with the self-possessed Madame de Tourvel (Lucy Green), to his surprise and downfall.
Green was exquisite in her role. In a glorious duet of soaring lifts and impossibly difficult throws that collapse into yearning, passionate embraces, she and Idaszak had the audience collectively holding its breath.
All the pas de deux are astonishing in their inventiveness. Rian Thompson, usually noted for his comedic flair, was most convincing as Le Chevalier Raphael de Danceny, the sensitive young piano teacher to Cécile. Their duet, combining a piano lesson with blossoming romance, made a charming interlude in the second act, before the descent into tragedy.
Other minor characters were dramatically well developed. As servants Victoire and Azolan, who enable the scheming, Neneka Yoshida and Kohei Iwamoto provided light relief and also more glorious duet work, while Émilie, one of Valmont's retinue of courtesans, was played with disarming coquetry by Sophie Zoricic.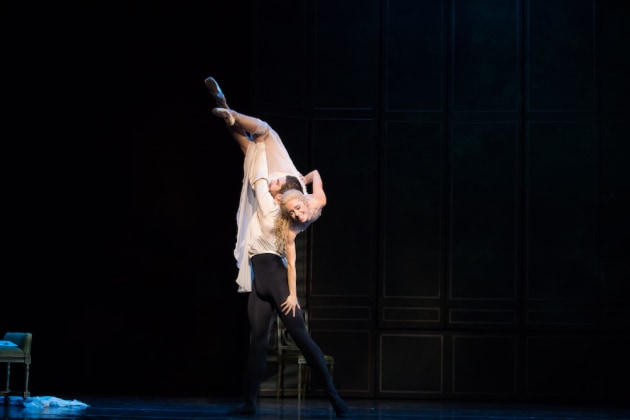 It was, however, Hidalgo's masterful performance as the manipulative, scheming Merteuil that dramatically anchored the ballet. As the dominating force, she commanded the stage, striding with hips thrust forward, long silk skirt rhythmically swishing. Hidalgo and Idaszak's final climactic pas de deux – in which Valmont ruthlessly tosses the now scantily clad Merteuil in a simulation of debauched frenzy – was a tour de force of acrobatic brilliance.
Creatively, this is a collaborative effort, the luscious designs of Tracey Grant Lord supporting Scarlett's vision. Evoking the period, the crisply cut costumes of glamorously coloured silks and brocades, which sometimes peel away to various stages of undress, "pop" against the more subdued setting. This comprises multiple panelled screens that revolve and unfold to mark the changing interiors. Evocatively lit by Kendall Smith, the set successfully denotes the opulence and decadence of the period.
A key to the work's powerful impact is the glorious score, a skilfully orchestrated compilation by British arranger Martin Yates of some of the lesser-known works of Camille Saint-Saëns. Each of the main characters has a recurring theme, and these evocatively underscore the drama as it unfolds. Although solo piano often features, the score has a truly symphonic sound, beautifully played by Queensland's chamber orchestra, Camerata, under Music Director Nigel Gaynor.
Dangerous Liaisons is an extraordinary work, and with it Queensland Ballet has truly come of age.
– DENISE RICHARDSON
Pictured top: Laura Hidalgo and Alexander Idaszak in Queesland Ballet's production of 'Dangerous Liaisons'. Photo: David Kelly.