Perth Festival: West Australian Ballet: "Milky Way: Ballet at the Quarry"
Quarry Amphitheatre, February 9
West Australian Ballet's "Milky Way: Ballet at the Quarry" is an ambitious program of four short contemporary works, three of which are premières. The program's concluding work Milnjiya, Milky Way – River of Stars is the centrepiece of the evening and was conceived in an artistic collaboration between Larrakia man Gary Lang's NT Dance Company, WAB, and renowned operatic soprano and musician, Yorta Yorta woman Deborah Cheetham. The cast includes traditional cultural artists from Yirrkala, bringing together multiple First Nations together with dancers from both companies. Inspired lighting, and re-lighting, by Joseph Mercurio, and the rich surround-sound quality of the recorded music, enhanced all four dance works.
After an on stage acknowledgement and welcome to country from Nyungar Wadjuk cultural leader Walter McGuire, French choreographer Patrick Delcroix's Paradise Within took us into a sort of "day-in-the-life" of a young man (new corps de ballet dancer Ludovico Di Ubaldo) revealed through an abstract, musical response to a recording by the Turin String Quartet of Ezio Bosso's String Quartet No 5 "Music for the Lodger" – IX-XII. The man arises, dresses and sets off on his way, interacting with sundry folk (four females and four males in an array of casual clothing) he encounters. These connections are portrayed choreographically with entangling and coiling bodies partnering in complicated and challenging duos and trios; some compassion is hinted at yet power imbalances and violence are evident. Mostly smoothly performed, this is an intriguing work.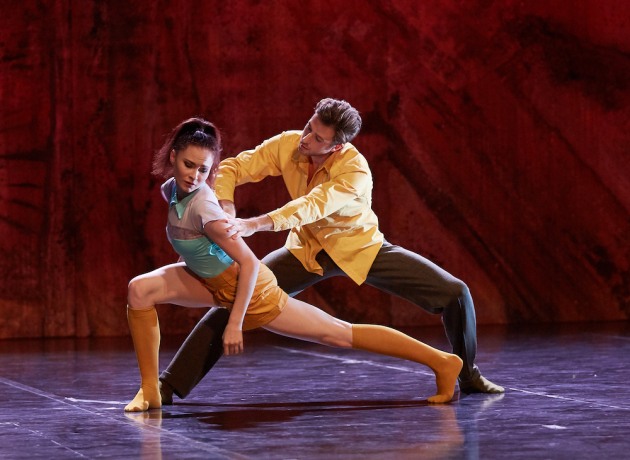 French choreographer Claude Brumachon's engaging duo for two men, Les Indomptés (1992) - 'The Untamed' - is set to a soaring, hypnotic recording of Belgian Wim Mertens's counter-tenor voice in "Darpa," written by Mertens. Matthew Lehmann and Jesse Homes were both outstanding, nailing the work's idiosyncratic style with precision, athleticism, strength, control and musicality in eccentric, razor-sharp, quirky movement, rapid-fire jumps, trust challenges and sustained positions.
After interval, WAB demi-soloist/choreographer Christopher Hill's elegiac new work Ghost Gum explores the relationship between earth and water and features two women, Brooke Widdison-Jacobs (Water) and Polly Hilton (Earth). Hill created and recorded the electronic sound score, devised the costumes and, in collaboration with Mercurio, designed the lighting. Beautiful movable rear screens created by Gav Barbey enhance the imagery in this work. A lyrical, classically-based choreographic style emphasises dancers' silky, flowing skirts and breadth of movement in accomplished performances by Widdison-Jacobs and Hilton, who ultimately dance in symmetry with the swaying gum trees as a backdrop.
The program concludes with Milnjiya, Milky Way – River of Stars lovingly staged and choreographed by Gary Lang to a superb recording of Henryk Górecki's sublime Symphony No 3, Op 36 "Sorrowful Songs" by West Australian Philharmonic Orchestra conducted by Jon Tooby, and sung live by Deborah Cheetham in glorious voice, magnificent in a shimmering, long luminous costume, in the central role of Spirit Caller.
Lang re-tells his mother's Yolngu Milky Way creation story, and the transition of spirits as they leave our realm and became part of Milnjiya, the Yolngu word for "river of stars", the Milky Way, which represents the spirits that have gone before us. In this production, the traditional song cycles represent the physical world and Cheetham and the three NTDC dancers and eight WAB dancers represent the spirit world.
Among Milnjiya's strengths were the traditional cultural artists from Yirrkala: songman Banula Marika, Yidaki player Malngay Yunupingu, and Bunguul dancers Ngalkanbuy Yunupingu and Loretta Yunupingu, and Lang's eloquent, inventive movement for five men, his beautiful, poetic dance for six ladies, and a pas de six blending contemporary, classical and traditional styles.
Ochre Contemporary Dance Company and Marrugeku, along with other groups, have been producing intercultural dance performances and telling Indigenous stories in Western Australia for many years. It is timely that West Australian Ballet dancers and audiences can share and celebrate this immersive, spiritual, uplifting production.
Margaret Mercer