Perth Festival: Vessel & White Spirit
Damien Jalet and Kohei Nawa: Vessel
Heath Ledger Theatre, State Theatre Centre, March 1
Shoof/Ensemble Al Nabolsy/ The Whirling Dervishes of Damascus: White Spirit
His Majesty's Theatre, March 2
Vessel, an Australian exclusive for the Perth Festival, is the product of a rewarding and unusual collaboration between Belgian contemporary choreographer Damien Jalet and Japanese sculptor and professor of Kyoto University of Art and Design Kohei Nawa. The artists arranged to meet in 2015 in Kyoto and began a six-month exploratory process that led to its creation. Vessel impressively unites their differing creative disciplines, ideas and experiences in a unique, sixty-minute, visceral synergy of intriguing complexity and imagination.
Nawa's extraordinary, eerily-beautiful stage design encompasses a large, white, circular floating 'vessel' with a bubbling centre 'crater' and pools of water covering the stage. Vessel's damp, organic, sculptural imagery echoes Nawa and Jalet's shared interest in the human body as an entity both solid yet 60 per cent water.
The remarkable dancers in this corporeally merciless, demanding work – Mirai Moriyama, Aimilios Arapoglou, Nobuyoshi Asai, Mayma Minakawa, Naoko Tozawa, Nicola Leahey – become the 'clay' for the creation of genderless, seemingly headless primordial shapes, creatures, images, 'sculptures' and formations emerging from the watery, dimly lit, murky gloom. Lighting designer Yukiko Yoshimoto's skill and sensitivity complement the poetic otherworldliness crucial
to the abstract concepts in this work, which is set to an ambient and empathetic recorded electronic soundscape by Ryuichi Sakamoto and Marikho Hara.
Barely clad, obscurely lit and hunched over, concealing their faces, the dancers use fists and winged-elbows to cover the back of their heads and, in multiple configurations, are piled together or entwined with unrecognisable limbs in small groupings, often in prolonged, sustained positions reflected in the water on the stage. A jaunty percussive robotic section with the dancers bobbing and cavorting in the water, while still maintaining their hunched, headless stance, assuages the extended, mesmeric ebbs and flows.

The work concludes as the white, apparently solid material surrounding the vessel's crater is transformed miraculously into viscous liquid dripping in the dancers' hands and melting under their feet.
A warmly enthusiastic, appreciative audience greeted the work's creators and the happily upright, delighted, deserving dancers.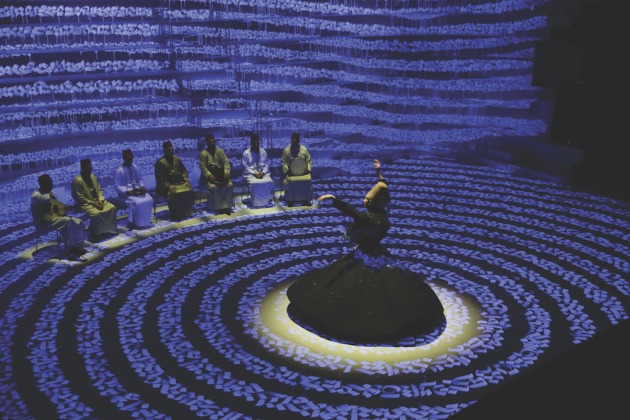 White Spirit, also an Australian exclusive, is an engaging eighty-minute presentation direct from war-torn Syria's Umayyad Mosque, and it takes us on a shared journey into an esoteric, spiritual world, yet a world where the modern-day and the traditional convene.
With a simple stage design of a bridge-like structure spanning across the back of the stage with steep stairs on either side, the work is performed in traditional dress by an all male ensemble of six munshid hymn singers from the Shadhiliyya order who remain seated on white high-backed stools throughout, three dancers, (whirling dervishes), from the Mawlawi order, and also talented, charismatic Tunisian street artist Hosni Hertelli, aka Shoof.
Set to invocations, songs of praise and Sufi poems, the men's powerful voices, led by Noureddine Khourchid, and mesmerising traditional dance rituals, are entrancing. Instruments played by the six singers/musicians include daffs (frame drums and tambourines) played by two of the singers and an oud (stringed instrument) brilliantly played by Mohamad Kadmani.
The three dancers/dervishes achieve an admirable and enviable meditative state and exceptional balance and control whirling for lengthy periods. And Shoof, strolling on stage, sprinting up the stairs, casual in t-shirt and patterned board shorts, lights up His Majesty's Theatre and provides one of the productions many highpoints with his skilful calligraphic white brush strokes against five large, black panels.
Shoof's stylised art is based on Arabic script and he uses it to develop a style "tending towards geometric abstraction." The rhythmic writing is a "kind of self-soothing that is about being in the moment." It is calligraphy as both meditation and highly entertaining performance art. In a stunning finale, as White Spirit concludes, unexpected lighting effects see Shoof's calligraphy lit and projected over the stage and performers.
There was a wonderful audience reaction to this production with many standing in accord and unity with the ensemble and, to borrow Perth Festival artistic director Wendy Martin's words, "reminding us in the most compelling way that human harmony can transcend all division".
Margaret Mercer
Pictured top is Damien Jalet and Kohei Nawa's Vessel.