STRUT Dance and Maxine Doyle with Tura New Music: Sunset
Sunset Heritage Precinct, 8 February, 9.15pm
Ochre Contemporary Dance Company and Daksha Sheth Dance Company: Kwongkan (Sand)
Fremantle Arts Centre South Lawn, 16 February
Two of the local dance offerings featured by Perth Festival, Sunset by STRUT Dance and Maxine Doyle (Punchdrunk, UK), and Kwongkan by Ochre Contemporary Dance Company and Daksha Sheth Dance Company (India), insightfully embrace a sense of place and showcase the outdoor beauty and complex history of WA. Both of these new works have been in the making for considerable time and such depth of process is evident.
Directed by Maxine Doyle, Sunset's premiere season featured a cast of highly articulate dancers and actors, each a character (think nurse in white, man with a suitcase, vagrant, and several camp gleaming-gold demi-gods) in a dreamscape of overlapping vignettes. The work is beautifully sustained by the haunting sound design and composition of Rachel Dease, who performed in the season alongside the accomplished musicians of Tura New Music.
Invited to follow the strains of solo violin competing with the wind rustling treetops, the audience is led too quickly through a corridor with doorways opening to rooms covered in dirt, twigs in mounds of soil spilling into a servery piled with teacups, and into a cavernous old hall with big windows, peeling wall paint, dance hall music and dry ice.

Together with an imagined resident Alfred Ganz (Humphrey Bower) we watch a Burtonesque pantomime on the stage, swivelling in our seats as the servery comes alive in a tightly orchestrated party – eggs cracked, bunting hung, flour strewn and candles lit. The eye is drawn from corner to corner as we are pitched into the world of an incongruous assembly of highly skilled but mostly unconvincing characters and earnest performances.
The creative vision of design, sound and light speaks evocatively but it is the cast of hand-picked dancers who feel eerily disconnected from the work. The performers' names feature only as an alphabetised cast list alongside copious program notes and biographies of the other creatives, a disconcerting decision considering STRUT Dance is WA's flagship platform for independent dance artists.
As the red curtains part on the romance of a sharply attired string quartet, a sense of the last moments aboard the Titanic is overtaken by a yelping finale of circle folk dances, oddly out of place as an upbeat clap-along celebration. Led outside again, we trail down steps to gaze up at the singing cast atop the original oversized SUNSET sign set into the hill. At the work's conclusion we weave back up the stairs  in a silent procession through a field of lights and darkened windows that amplify the setting and the poetic resonance of the event.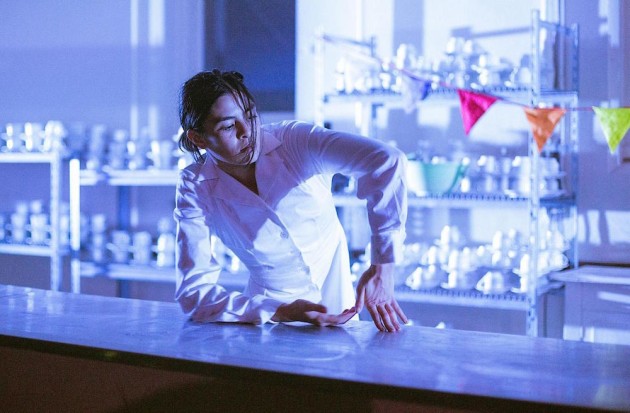 In direct contrast, Kwongkan's didactic approach leaves no room for poetic reverie. Again, a beautiful Perth night was the setting for the opening of this new work created and directed by Mark Howett, with the moon rising above the stage and sun setting behind banks of chairs.
A large screen on the hill of Fremantle Arts Centre shows tourism style images of WA until smoke sweeps through dramatically. A fire alert is projected on the screen and the (planted) audience on the hill is "evacuated". From fire comes the first in a series of video montages featuring destruction of the land and the devastating effects of industry and "progress".
A didgeridoo cuts through the technology and a lone dancer, the indefatigable Ian Wilkes, emerges – a figure of Indigenous earth amid a theatre of trees. An aerialist (Isha Sharvani), sensuously spins, invoking the element of air. A dancer (Kate Harman) manipulates a large piece of water-like plastic. On opening night the trio delivered assured, compelling and committed performances – high energy, articulate limbs, directional shifts, spinning, jumping and spiralling. Live percussion and performance from Tao Issaro masterfully delivered a soundscape of multi-rhythmic layers – a one-man-band of wheelie bins, recycled water coolers and electronic sophistication.
In a theatrical high point, a rabbit-proof style fence unfurls across the bottom of hill. Wilkes enters again, this time mustered by the Akubra wearing, chain-yielding foreman (director Mark Howett). Howett dresses Wilkes in a white shirt as historical black and white footage of early assimilation shows bemused Indigenous children in school rows of white singlets performing Western exercises.
Rubbish strewn on Indian shores is projected on screen amid an increasingly discordant orchestral soundtrack, and culminates in the image of the little boy refugee washed up on shore. Refugees as rubbish? It's a shockingly powerful suggestion and political juxtaposition.
Unfortunately, such visceral currency is upended by an amateurish turn that sees a shouted monologue descend into an emulated rally. The final minutes on opening night felt unfinished – desperate megaphone cries of "We can't eat money" fell flat on a palpably withdrawing audience. That it sounds didactic is because it unashamedly was. The earlier physicality of bodies and breath, images and sound gave way to heavy handed direction that took away from an otherwise deeply felt experience of an Earth in crisis. Here the end tumbles in without clarity, subdued applause makes way for 13 year old Bella to deliver a beautifully written speech on the urgency of climate change. Amid a mixed audience reception I overheard someone say, "Well, they certainly got the message across." True, but perhaps we are at the point where it will take being hit over the head to insist we stop burying it in the kwongkan (sand).
– Jo Pollitt
Pictured top: 'Kwongkan': front Isha Sharvani, middle Kate Harman, back Ian Wilkes. Photo: Daniel Grant.