New Zealand School of Dance, "Graduation Season 2016"
Te Whaea Theatre, Wellington, NZ, 24 & 25 November
This year's program for New Zealand School of Dance's graduation season is appropriately diverse, reflecting the two streams of study (classical and contemporary dance) offered at the school. The contemporary dance students featured in three group works, He Taonga – A Gift (choreographed by Taiaroa Royal and Taana Mete – leaders of Okareka Dance Company), Incant (choreographed by Amber Haines), and in an excerpt of Hofesh Shechter's Political Mother.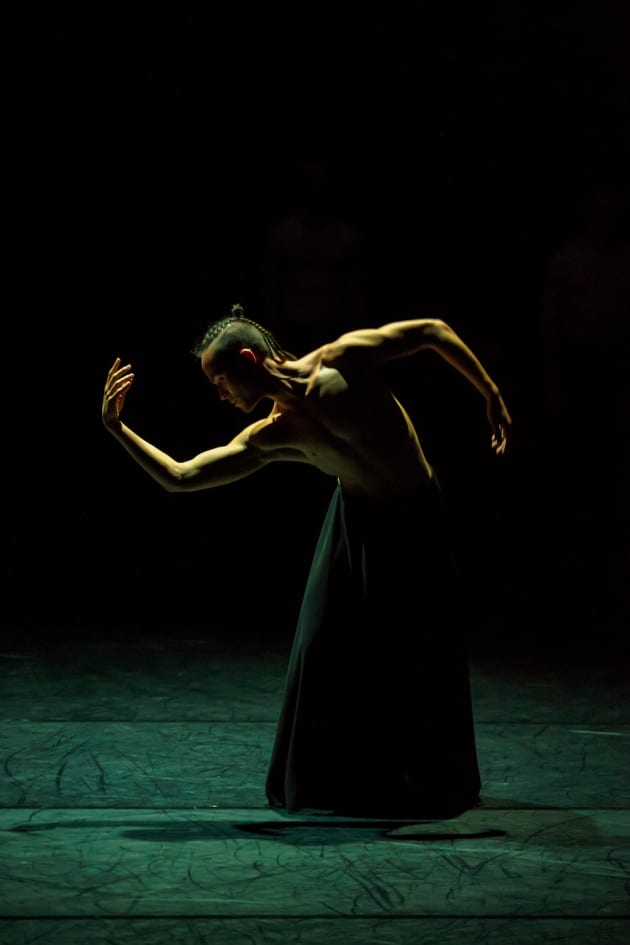 He Taonga – A Gift is a powerful work, both striking in its simplicity and an excellent showcase for the all-male cast. In both performances, soloist Tristan Carter took centre stage with authority and Connor Masseurs was also very good, but it was the shared commitment of the cast as a whole to this work that really impressed. Incant is an intriguing work with an all-female cast. The highlight of this piece comes towards the end when a luminous globe is introduced and slowly passed between the dancers, especially in the way their limbs reach out towards and seemingly respond to this prop. In this way, the dancers appear less as individuals and more as part of a living organism responding to external stimuli. Dancers Christina Guieb and Jessica Newman both stood out in this work.
The excerpt from Hofesh Shechter's Political Mother starts with a bang and is a stark contrast to the much gentler, classical works that precede and follow it. (If any audience members were dozing at this point they would have had a rude awakening!) The movement is fast and furious and the dancers do not hold back. In different casts, Jessica Newman, Tiana Lung and Tristan Carter were all standouts.
The classical dance students featured in three ensemble works. Meistens Mozart (choreographed for San Francisco Ballet in the early 90's by Helgi Tomasson) and Dance Gallantries (choreographed for this year's graduation performance by Jiri Bubenicek) are both quite lyrical, neoclassical works that involve a lot of partnering work. In the second cast of Meistens Mozart, Rebecca Parker stood out for her natural movement quality, musicality and comic timing, Yuri Marques displayed a clarity of technique and an economy of movement that is the hallmark of classical ballet, and Joshua Walsh was also very good. However the first cast was collectively stronger, with some excellent partnering work in the duet between Sophie Arbuckle and Jack Whiter. In Dance Gallantries too, the first cast (which I saw on the second night) had a little more depth. Standout dancers included Jessica Fan, Mali Comlecki and George Liang, and the highlight was a playful duet danced by Laura Crawford and Saul Newport.
As well as the group works, both programs featured a contemporary solo and a classical pas de deux. In the Act III pas de deux from Sleeping Beauty, Laura Crawford and Yuri Marques brought some purely classical polish to the program while on alternate nights Mayuri Hashimoto and Jeremie Gan (well matched both physically and stylistically) delivered a charming performance of Pas de Deux Romantique.
The evening finished on a romantic note with Tempo di Valse, a short work choreographed by Nadine Tyson and set to the well-known "Waltz of the Flowers" from Tchaikovsky's Nutcracker. You can't go wrong with Tchaikovsky and Tempo di Valse brought the New Zealand School of Dance's 2016 graduation performance to a melodious close. Next year is the school's 50th anniversary and as part of the celebrations the 2017 graduation performance will move from the Te Whaea Theatre on the school's campus to St James Theatre in the heart of Wellington.

- GERALDINE HIGGINSON
All photos by Stephen A'Court. Click on top photos for captions.