New Zealand School of Dance: Graduation Season
Te Whaea: National Dance and Drama Centre
Wellington, November 21 & 22
The New Zealand School of Dance's (NZSD) graduation season usually consists of one program presenting students from both the contemporary and classical streams. This year however, to mark the 20th anniversary of director Garry Trinder's leadership, the season was divided into two – a "Tradition" program and an "Innovation" program, with alternating casts for each, drawing from all three levels of students. 
Over the years I have attended the NZSD graduations, the programs have been consistently and impressively ambitious and varied. The students must benefit enormously from the range of choreographic styles they learn – from repertoire pieces to new works by current dance makers. The programs would be challenging for even a professional company to perform, while at the same time being tailored to the students' ability.
For example, the "Tradition" program contained the showpiece Tarantella, by George Balanchine, that wonderfully joyous and exuberant duet to Gottschalk's piano score. The two dancers (second year student Brittany-Jayde Duwner and first year student Rench Soriano on opening night), dressed in crisp red, white and black, handled the intricate, quirky and difficult choreography well, with Soriano in particular tossing off multiple pirouettes and tours with confident ease. He is a star in the making, not just because he is so technically outstanding for his age, but for his dance quality.
Also on the program was the pas de deux from Christopher Wheeldon's After the Rain, staged here by Australian Damian Smith, the new artistic director of the National Theatre Ballet School in Melbourne, and a work that takes pride of place in The Australian Ballet's repertoire. Could this be the world's first student performance of this pas de deux? The choreography ranges from commanding full presage lifts to moments of intense intimacy. The young dancers rose to the acrobatic challenges well, with Isaak McLean showing good strength and steady partnering and Sook Meng Lim showing excellent flexibility. Both are only second year students; they have yet to develop the emotional possibilities of the work.
The program opened, fittingly, with the pas de deux and grand divertissement from La Sylphide. The lead roles of the Sylph and James were performed by third year students Jaidyn Cumming and Bo Hao Zhan and the Queen by second year student Yayoi Sasaki,  with the corps de ballet made up of a mix of first and second year students. They showed a good understanding of the Romantic epaulement and airy style, particularly Zhan, who performed the Bournonville allegro with buoyancy and charm.
Another charming piece was Sfumato, choreographed in 1986 by American Betsy Erickson (balletmaster of San Francisco Ballet) to music by Boccherini.  An ensemble piece for six females and five males (from all years), this involved swiftly moving partnering, dynamics that ranged from lyrical to lively, and moments of pure virtuosity.
The one solo on the program, Emerge, choreographed by Australian Louise Deleur, and was performed on a dark, smokey stage under a single spotlight with intensity and musical responsiveness  by Jordan Lennon.
The final work for the evening was Saltarello, by Christopher Hampson, artistic director of the Scottish Ballet, staged by Turid Revheim. Inpired by Boccaccio's Renaissance masterpiece, Decameron, it has fabulous dance music from the period. Dressed in black shorts and gladiator style tunics and with bare chests (for the men), tunics for the girls, and bathed in golden light, the staging suggests an arena or contest of some kind, with dancers showing off in various configurations. It is an unusual and atmospheric way to showcase the individual dancers' skills.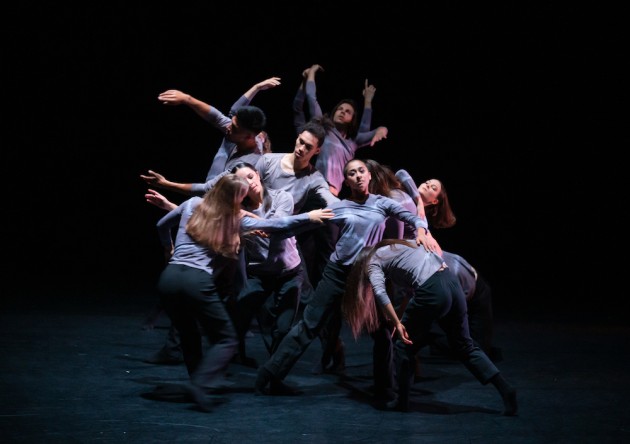 It is truly impressive how this school, even more "down under" than "Down Under", develops connections with the international scene, thereby exposing students to current exciting international repertoire. In the "Innovation" program, for instance, the contemporary dance students performed a work called Wicked Fish, first created by Huang Yi for Cloud Gate 2, the second company of Taiwan's celebrated Cloud Gate Dance Theatre. To a relentlessly climactic score by Xenakis, the mass of dancers spin and eddy and cluster and fragment, spiralling like a constellation of stars, a cosmos in the act of forming and dying – or a shoal of fish on whirling currents, as the title implies. The ensemble of 12 gave a splendid showing of a complex work that must demand great accuracy and speed. It was a performance that would hold its own on a professional company program.
Other highlights of the program however were those of a more local flavour. E Tolu, was choreographed by Victoria Columbus with the performers – first years Chris Clegg, Braedyn Humphries and Layifa Ta'ala. This cheeky all-male trio incorporates break dancing as well as traditional Samoan and was simply a joy to watch.
Similarly, Huri Koaro (Inside Out) by Gabrielle Thomas draws on Maori traditional dance. Costumed in simple but dramatic white gowns with a black stripe drawn from chin to hem, it was performed with effective solemnity and quiet ferocity by the all female cast.
It's Written on the Walls was another ensemble piece, this time by American choreographer Adam Barruch, with unusual compositions of the group lines and formations and a pulsing, throbbing quality of the movement. 
Australian choreographers were also represented. Lauren Langlois created the duo Static (performed by Kia Jewell and Braedyn Humphries). This appears to be an expression of a desperate frustration and trauma, in which the dancers' bodies are consumed by sobs and spasms but not a great deal of danced movement. Damien Jalet's Les Meduses (Volk Version), is a group work, with the dancers dressed in odd white tassled costumes and performing staccato movements to hard rythmical score, and was a somewhat anticlimatic finale given its uncertain ending. 
Last year was the NZSD's 50th anniversary. This graduation showed the students are well trained and versatile and have teachers clearly committed to their welfare. It also boasted an unusually large number of male students. Here's to another 50 years! 
- KAREN VAN ULZEN
(The Graduation Season continues to December 1)