Michelle Heaven: In Plan
Workshop, Malthouse Theatre, 18 October
Mette Ingvartsen: 7 Pleasures
Playhouse, Arts Centre, 18 October
Philip Adams BalletLab: Ever
Temperance Hall, South Melbourne, 10 October
Melbourne Festival is over for another year and we've had time to reflect on the dance that was showcased for 2017. It was nice to see epic and large scale international productions (Under Siege and Tree of Codes) sitting beside local independent or hybrid dance theatre (In Plan, Ever and the wonderful Backbone).
In Plan is an intriguing and captivating work by Michelle Heaven and attendees loved its unexpectedness. Saying "what it's about" doesn't come close to describing the experience. However, the narrative concerns two families of East Berliners fashioning a hot air balloon out of fabric remnants in order to cross to the West. The provocation "An investigation into above, below and beyond" indeed explains what the work does.
An intimate audience of 20 is escorted into an elevated space in a Malthouse workshop. We take our places on the periphery of a circle where evenly spaced felt mats direct us into a lying position with heads toward the centre. The dance is seen in reflection as we place our heads beneath heavy blackout cloth and look upwards into a mirrored aperture. This gives a bird's eye view and provides perspectives that elongate or truncate limbs allowing arms to become propellers and for figures to merge or multiply. The subtle demarcation between the east and western halves of the aperture creates visual and symbolic tension and allows for distortions of perspective.
In Plan was an unexpected treat meticulously designed by Ben Cobham and performed by Caroline Meaden and Tra Mi Dinh.
Part dance work, part art installation, Phillip Adams' Ever is a work that challenged audiences on a number of levels. Design for the early part is an arresting and relentless white paddock bordered by a picket fence. We sit on three sides observing the space as dancers arrive frolicking in a loose swinging ecstatic dance. They are costumed in free-flowing, voluminous garments designed by Akira Isogawa that evocatively cross boundaries between period dress, shirt and nightwear but incorporate an asymmetry and individualism that speaks of modernity. The dance has a sense of endless continuity to it and seldom pauses but is punctuated by duets and shifting formations between the six dancers. One section is performed on roller-skates and is slow and graceful. Lassos, shaker style chairs and an ominous figure in black situate the work in an imagining of the early American west.
Having entered into this landscape, another two sections pull us abruptly out of it and leave us in a rather different world. A video projection unfolds a slow dance between Adams and brightly coloured paint pigment. It bleeds and merges in a viscous flow along strands of hanging tape and over hands. It is almost eroticised. This was too close to an undergraduate art school video for me and I found it pretentious, especially coupled with the swelling romanticism of Richard Strauss's Metamorphosen. At the same time, a giant blue mattress or cloud inflates in the space, the hissing sound of the air wheezing under the music. Once fully inflated, a slow procession of dancers wrapped in vivid body bags, roll slowly along its length. This is interrupted only briefly as a large catapulting apparatus is noisily wheeled into the space from which a set of highly coloured cushions are spewed - hard pigment droplets.
Although Ever could be read as an audacious dreamscape, the components felt forced and of unequal quality.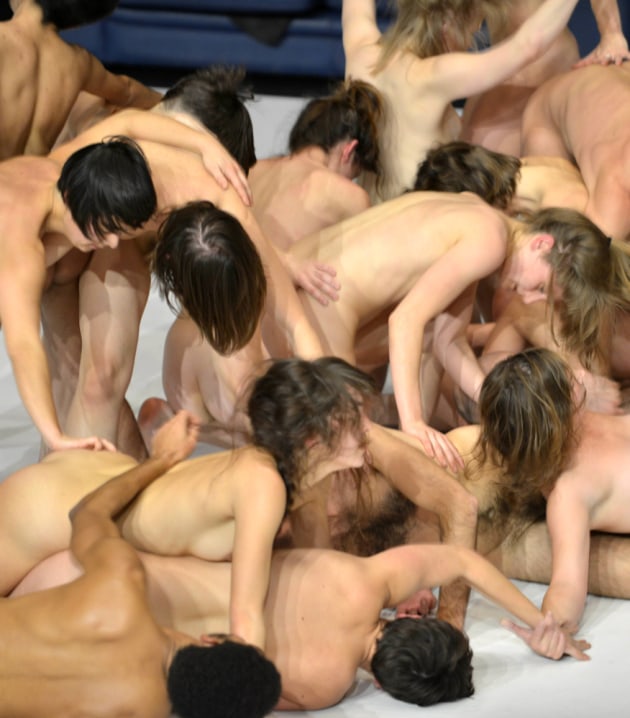 Danish choreographer Mette Ingvartsen's 7 Pleasures pursues a rejection of the erotic body as it is often represented in two-dimensional flatness and uses sculptural forms and "spillage" of performers into the audience space to literally give body to the work. Its first section is slow and gentle as 12 naked performers writhe and roll over one another and the objects and furniture onstage. This is the most engaging part of 7 Pleasures and reveals multiple perspectives on the human form in unison groupings and as atomised parts; exploring tactility and intimacy.
A second section channels plain silliness as the dancers enter a protracted vibrational trance-dance of ecstatic shaking which at times extends into the audience. The work also starts to become quite prop-driven as the performers commune with objects and furniture. A further section becomes fetishistic, involving ropes, lassos and the like. It is meant to critique sexual power politics but feels gimmicky and unsophisticated.
7 Pleasures is overly long at around 90 minutes and doesn't have enough to say nor is it tightly crafted enough to command attention over this timeframe. It quickly became tedious and was a great disappointment. I wasn't around for the "happenings" of the 1960s but it turns out that it doesn't matter because I got to experience one at the 2017 Melbourne Festival.
- SUSAN BENDALL
Top:  A giant blue mattress or cloud inflates in the space in 'Ever'. Photo: James Wright.