Limosani Projekts and Al Seed Productions: The Spinners
The Space theatre, Adelaide Festival Centre
Adelaide Dance Festival, July 12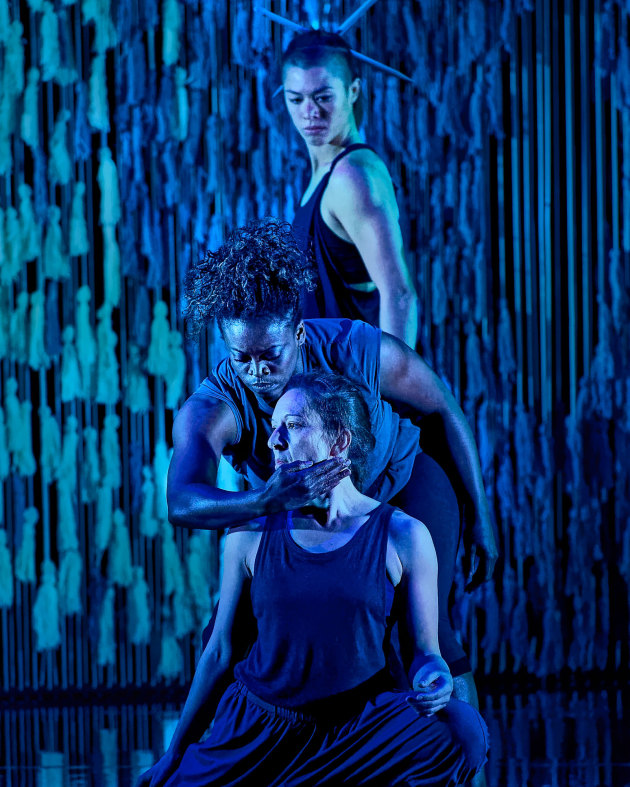 The program notes state that the ancient myth has been transposed into "a sprawling urban setting - a kind of sweatshop", but Wendy Todd's tactile set is timeless rather than evoking anything contemporary. Two mesh screens, joined at an angle, are covered in thousands of tassels; in front of them stands a giant metallic cauldron and a single chair. A tense and somewhat ominous mood is established, aided greatly by Nigel Levings's lighting design, which bathes the knobbly screens in blues and reds, and casts the rest of the performance space in darkness. Guy Veale's deliberately repetitive electronic score adds to the sense of oppression and claustrophobia, as human fates are endlessly determined.
Much of the action revolves around the manipulation of the tassels, clearly representations of the thread of life. Initially one is revealed in the hands of the Moirai, later tassels are taken down from the screens and immersed in the cauldron, which emits flashes of light and beeping noises as passes are made over it by the Fates, making it appear a tool of divination or prophecy. The tassels are variously retrieved from the screens, unwound into long continuous threads and rewound by the trio in ingenious ways. Giant knitting needles are employed, scissors cut the thread into segments, which is used to truss the dancers, to manipulate them like the strings of a marionette, and so forth. One astonishing passage has the thread pulled out of Limosani's mouth and then deftly crocheted by the dancers' whole bodies in movements of extraordinary complexity and speed. The relationship between the three Fates shifts, with conflicts giving way to unity as they become a single organism that gives birth to itself. From time to time they part the threads of the screen to look beyond, at the end exiting through it - to freedom from the endless cycle, perhaps, which is as oppressive to them as it is to those they whose fates they determine?
This is a strong and very original work, although it could profitably be shortened by ten minutes or so. It will be appearing at the Edinburgh Fringe straight after the Adelaide season, and deserves a long life thereafter, like the Fates themselves.
- MAGGIE TONKIN