Arts Centre Melbourne, State Theatre, 28 June
Jean-Christophe Maillot's Lac invites audiences to challenge their expectations about Swan Lake. There are many versions of this ballet that bring different perspectives to the well-loved work but in some ways, this one managed to jolt my perception in quite a different direction than others have. This is not because of changes in narrative but because of Maillot's striking reimagining of a physical aesthetic that seems, at first, to be at odds with the work itself.
From the start we find sharp, jagged movement that resists the lyricism of the music. Arms take on a determined strength and where the music is driving upward toward high suspended leg extensions, instead it offers fierce stabbing kicks that refuse to linger at the top of the phrase. The choreography is disconcertingly choppy and jerky, again clashing with the music. Similarly, pedestrian sequences are often delivered in place of the anticipated spectacle of well-known solos and pas de deux. It is also quite exhilarating.
The ballet starts with a silent movie prelude – this establishes an aesthetic that persists through the first act. It is all high melodrama, masked characters and threat. We are then swept into the first act. Costuming is colourful and slightly gaudy and discordant – fruity brightness, interesting combinations; very theatrical. Dramatic metallics are maintained for the royals and the Queen's screen-siren golden gown is dramatic and moves gloriously. The first act has an early cinema look – striking, strident and hard-edged in its glamour.
In Lac the von Rothbart figure is transformed into the Queen's dark counterpart, Her Majesty the Night. She is flanked by silken-winged protectors who envelop her in their caped arms. She is immediately positioned as the power of the narrative and is far more interesting and central than any of the other characters. This recasting of the story is really strong. In most versions, von Rothbart is a shadowy figure who lurks in the shadows. Her Majesty the Night, by contrast is powerful and present. Danced by Anna Blackwell, she is potent and commanding.
One challenge for me in the first act was how the movement vocabulary (somehow both dismissive and confrontational) led to a feeling of parody or tongue in cheek commentary on more traditional Swan Lakes. I found myself half enthralled and half questioning the sincerity of the interpretation, while thoroughly enjoying the dancing.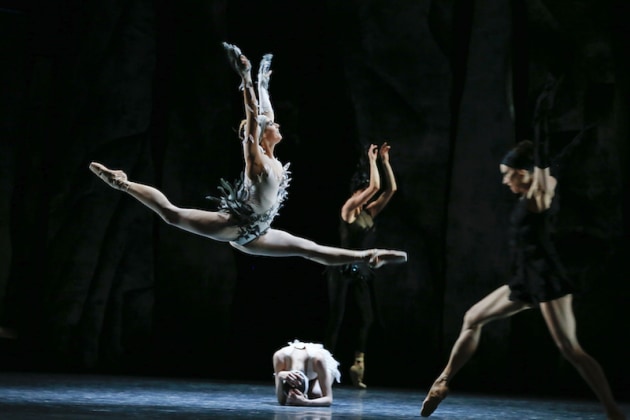 The second act dissolves the vision of the first. As with traditional versions of Swan Lake, it is another world entirely and we really get to digest the nature of Maillot's swan-emblem in the form of the White and Black Swans and the Chimera – a slightly messed-up flock of bird-like creatures. Both Black and White Swans are ungainly, awkward and quivering hatchlings that never seem to quite fledge. Awkward contortions of the arm/wings draw attention to a strange angularity and give them a top-heavy look. Trailing feathered fingers are disproportionate. All of this gives vulnerability to the roles – they are both merely helpless things of Her Majesty the Night. The Chimera are not at all ethereal. They are tall, strong and strapping dancers, their deconstructed tutu/feathers have a touch of sullied showgirl about them. Their unformed-formations are effective and the relative small number enhances the differences between them.
Maillot's Lac is likely to divide audiences but there are wonderful things about this production – it is super-tight and somewhat aggressive in its attack. Apart from the film scenes (which I didn't care for much) the traditional mime aspects are gone, giving it a directness and fast pace. The dancing is terrific throughout. We are lucky to have The Australian Ballet hosting this work as part of its season.
Jean-Christophe's Maillot's Lac for Les Ballets de Monte Carlo is a top recommendation for this year's dance viewing. Approach this work afresh and put aside your Swan Lake baggage to really enter its world and you will be intrigued, stimulated and invigorated.
- SUSAN BENDALL
Pictured top is Mimoza Koike as the Queen. Photo: Jeff Busby.