Cremorne, QPAC, 10 May
Programming for 2019 was already in place when Amy Hollingsworth was appointed artistic director of Expressions Dance Company (EDC) last year. Therefore, Natalie Weir's The Dinner Party, is not an indicator of future directions for the company. Instead it is a work rooted firmly in EDC's past, with several previous incarnations, the most recent being in 2015 and titled The Host.
The social construct of a dinner party is a concise framework in which to explore the human psyche, and Weir is more than adept at it. An exploration of "manipulation and desire for status and wealth", The Dinner Party has six instead of the previous seven characters at the table, a large black octagonal piece that mostly sits centre stage. With its six chairs, the table is used as a literal platform for the work, with the dancers performing on, around and under it.
The work has been adapted to suit the current cohort of dancers and therefore the character of The Has-Been is no longer evident. But we still have the dominating Host and long suffering Hostess, The Rival, who flirts with The Insecure Party Girl, The Wannabe, desperate to climb the social scale, and The Lover who has an affair with her host. Individual personalities are explored through solos, duets and trios, using broad but clearly articulated movement of the upper body and arms in particular, that is at times profoundly expressive.
A black and white colour palette of costumes and décor is simple and effective, with a black lamé backcloth adding a degree of sparkle. And just as jackets and ties are removed as the work progresses, so each of the characters reveals more of their personality. Lighting designer Ben Hughes uses single overhead spots for a more intimate focus.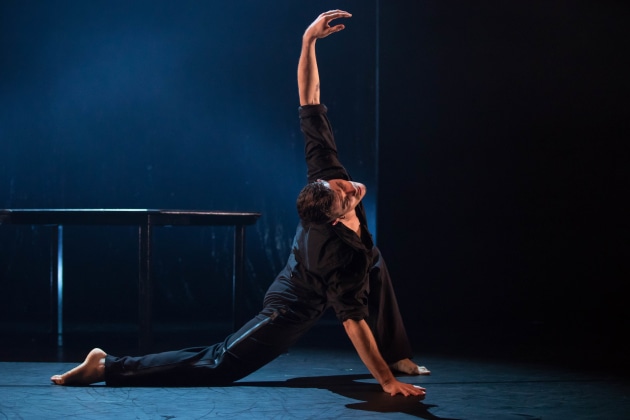 The work opens with The Host (Jake McLarnon), standing centre stage on the table. He commands his guests to perform to his whim, callously manipulating arms, heads and legs into various positions with a brutish snap of his fingers. It is a powerful start to a compelling performance by McLarnon who has a fluid, weightless quality to his movement, and a persuasive ability to convey the dramatic.
In fact all three men were quite superb. Jag Popham, as The Wannabe, showed deft skill as his body was folded and unfolded by McLarnon, in a cleverly constructed and impeccably timed duet. As The Rival, Bernhard Knauer was equally impressive as he and McLarnon fought for supremacy in a duet of raw aggression.
Josephine Weise was sultry and flirty as The Insecure Party Girl in a short frilly black dress, and showed vulnerability in her duet with Knauer, as he tried to dominate.  Though Isabella Hood's role, The Lover, is probably the least complex of the characters, she nevertheless radiated sensuality in a trio with McLarnon and Lizzie Vilmanis (The Hostess) that skillfully explored the tensions of the relationship triangle.
In a finely nuanced portrayal of the betrayed Hostess, Vilmanis was quite mesmerising. This is her second recent guest appearance with the company, of which she was a member in the early 2000s. Her capacity to convey complex emotions continues to grow; her beautifully expressive arms, and still glorious legs and feet, helped make her final poignant solo quite riveting. The multi-faceted tensions of her relationship with The Host were also well revealed in two intense duets of broad movement and controlled lifts.
Played by the Southern Cross Soloists, the score was a recorded (rather than live) accompaniment this time around. An eclectic mix of classical string pieces, it is evocative except for Prokofiev's powerful Romeo and Juliet theme for the Montagues and Capulets. While thematically apt, this has always leapt out as a rather clichéd pick.
The Dinner Party is a well-crafted work that has stood the test of time. The cohort of dancers positively sparkled with energy, and we can only wait with anticipation to see what Hollingsworth will bring to the table in 2020.
– Denise Richardson
'The Dinner Party' is playing in Brisbane until May 18, before touring to Qld, NT and NSW in May and June.