Expressions Dance Company: PROPEL
Judith Wright Centre
March 3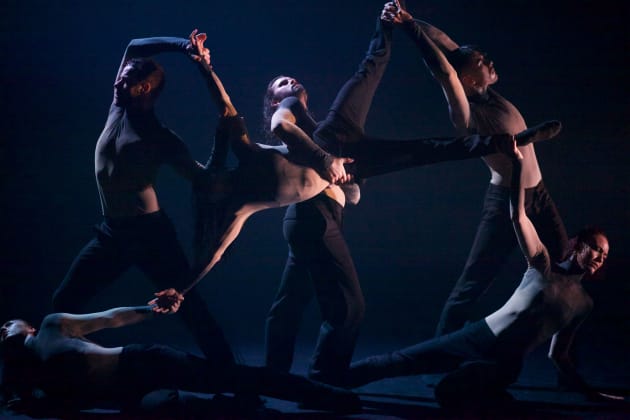 Expressions Dance Company (EDC) conceived "Propel" in 2014 as a platform for both emerging and established choreographers to create works within the supportive environment of its company structure. It is a luxury not often afforded independent artists, and will hopefully return, as planned, on a more regular bi-annual basis.
Often such programs, by their very nature, can be unbalanced in composition and patchy in quality. This program was neither, featuring four works by four different choreographers, interspersed by two intervals, to create a very satisfying evening of contemporary dance.
Hollow Lands, Lisa Wilson's response to visual artist Etta Lilienthal's light installation Through Hollow Lands, made a strong opening. A floor to ceiling fluorescent framework of tube lighting, downstage left, acknowledges Lilienthal and is also a reference point for the movement.
Wilson's exploration of the precariousness of our existence, living "on the brink of the void", is clearly articulated in movement that segues from the energetic and complex to the serenely controlled. The work begins with a mesmerising solo of intricate complexity performed by Alana Sargent (formerly of Sydney Dance Company), who delivered with a laser-like clarity.
Elise May's Written on the Body has as its premise a preoccupation with human perception and the subliminal imprinting of external influences. Although perhaps too complex a theme to be clearly expressed here, it was nevertheless an intriguing work. May showed the influence of her years working under artistic director Natalie Weir, with cleverly conceived group and partnering work. The movement was delicate in the upper body, with twisting tentacle-like arms and articulating fingers – qualities that transferred also to the articulation of the shoulders and head.
A particularly arresting section has all five dancers randomly seated on the floor downstage, their heads turning irregularly from side to side, (indicating 'no' perhaps), in a clear and compelling demonstration that, in dance, less is sometimes more.
Xu Yiming (Beijing Dance/LDTX) allowed each of the male EDC dancers who alternately performed his short, self-created solo work Waiting Alone to inject their own interpretation onto the original's exploration of despair and a search for freedom. It is a powerful and beautifully hewn piece.
A quiet reflective beginning, where a side-lit Richard Causer stands with hands slowly wrapping around his face in an expression of suppressed anguish, suddenly explodes with both movement and sound – that of Beethoven's Moonlight Serenade dissonantly overlaid with hellish screams and groans. It was a tour de force by Causer, as in dark suit and socks, he propelled himself from one side of the stage to the other, sliding and flying through the space. Again the arms are used to express – pushing, pulling, or sometimes suspended in crucifix stillness. Redemption or peace finally arrives, to the sounds of the sea and the wailing of gulls.
The final work, called Deeper Than Ink, was a dense, sometimes dark exploration by Amy Hollingsworth of the exhilarating, all consuming, and occasionally debilitating power of love. Hollingsworth's keen eye for cohesion of movement, light and sound is clearly apparent in this well crafted work. Costumes of black pants over flesh coloured leotards, which are 'inked' on parts of the dancers' torsos, also tie in thematically.
Lighting punctures the haze-filled space to effectively capture various amorphous formations of the dancers' bodies in the work's early moments. The movement is sinuous (the dancers at times silently sliding across the space), but it always described anguish, fear and hope with originality and clarity. A soaring duet with Michelle Barnett and Benjamin Chapman, also clearly captures the push and pull of relationships.
Both the lighting design by Ben Hughes and Alana Sargent's costume design enhanced the visual and interpretative power of these works, which all had a different but equally compelling take on what it is to be human.
– DENISE RICHARDSON