Book review: Dancer Wellness
Editors: M. Virginia Wilmerding and Donna H. Krasnow
International Association for Dance Medicine and Science
Publisher: Human Kinetics
Dance is a profession that requires both physical and mental resilience. As Dancer Wellness editors Donna H. Krasnow and M.Virigina Wilmerding point out, in 2017, the dancer is far more interested in and curious about caring for both the body and mind than dancers of generations past. Aimed at both professional dancers and dance students, Dancer Wellness has been written in response to that spirit of enquiry.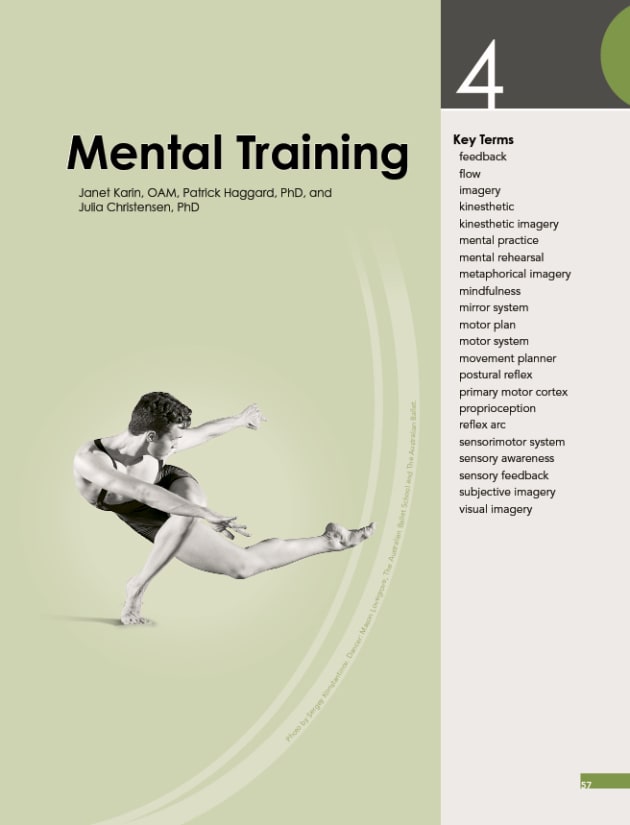 When it comes to dancer health and well-being, the area of mental health is the one that has seen the most change in recent years, in line with a growing awareness in society more generally of the prevalence of mental health issues. Part II, "Mental Components of Dancer Wellness", will, no doubt, be of particular interest to dancers and teachers, as this is a relatively new area of research. This section begins by looking at the role of the brain in dance, how to develop and use sensory awareness, and using imagery, mental rehearsal and mindfulness to improve performance. A chapter entitled "Psychological Wellness" examines motivation and factors that influence dancing and motivation; stress and performance anxiety, and how to deal with these pressures. The final chapter in the section, "Rest and recovery" discusses the important of getting enough rest, optimising your training schedule, and avoiding overuse, overtraining and burnout.Dancer Wellness is divided into four parts. The first, "Foundations of Dancer Wellness" includes three chapters, "The Dance Environment", "Dance Training and Technique" and "Cross-Training and Conditioning". While the content of this section of the book is mostly information that is readily available, the advantage here is that the information is gathered together in one place. In addition, topics such as anatomy, motor learning, building strength, power and endurance, flexibility training and more, are all discussed specifically in relation to dance.
In addition to the main content, extra material to supplement each chapter is available online, including activities, extra readings and web links.The third section of the book, "Physical Components of Dancer Training" covers topics such as nutrition for dancers, bone health and injury prevention. As with the first section, the advantage of this section of the book is that the material is conveniently collated and presented from a dance perspective, with dance-related examples. Lastly the fourth part of the book looks at how to assess dancer wellness and create your own plan for wellness.
Impressively thorough, Dancer Wellness reads like a dancer's handbook, a guide or manual to operating oneself. Each chapter is organized in a way that is easy to navigate and the writing style is accessible without feeling over-simplified. Although some areas are explored in less detail than others, the inclusion of supplementary material online, including extra readings, web links and activities enables the reader to find out more with minimal effort. While the language of the book speaks directly to dancers and students, the book is also recommended for teachers.
Dancer Wellness may be purchased from the Human Kinetics website.
Human Kinetics is pleased to offer Dance Australia readers 30% off books. Join Human Kinetics Rewards for free and enter the code DANCE30 at the cart.