DANCE MASSIVE: 'SPLIT' and 'ANTI-GRAVITY'
SPLIT
Lucy Guerin Inc.
Artshouse, North Melbourne Town Hall
March 17
Anti-Gravity
Chunky Move
Malthouse
March 18
Dance Massive is here again and this 10-day biennial festival is always cause for anticipation and excitement.
Absolutely worth the wait was Lucy Guerin's Split, danced by Melanie Lane and Lilian Steiner. Everything about this work commanded attention -- the humming beat of the musical score, the intricate and mesmerising movement sequences and, above all, the two thrilling dancers. 
Lane and Steiner led us compellingly on a journey through incrementally contracted space, time and movement. They are at once synonymous and completely separate in their journey. At first the two figures dance the same movements in parallel with one another, carving out diagonals in the  space, bending rhythmically, pulsing, swinging and leaping.
We comprehend the movements differently, however, since Lane is clothed quite modestly in a sleeved t-shirt and longish skirt. Her movements are understood broadly, the sweeps, jerks and twirls reveal little of the body beneath. Steiner, by contrast, is naked and every sinew contributes an added layer of meaning to the dance.
The bare performance space is bounded by a white tape rectangle. This is the dancers' available world. The work unfolds into sections; segments of time that get shorter, space that is halved, then quartered, and on and on un
The movement responds to the shrinking space, becoming cowered, collapsing in on itself, grotesque, animalistic, annihilating. Even so, together with its vulnerability, the work retains a witty self-knowledge. The cycles of movement phrases are often slightly self-mocking, sometimes made silly with repetition.
With Split, Lucy Guerin has achieved a wonderful balance of lightness and intensity, of contrast and one-ness, of breadth and constriction. The dancers are wonderful and compelling. I found myself leaning forward, scrutinising each moment, unwilling to let a second escape me.
Anouk van Dijk's Anti-Gravity, made in collaboration with Singaporean visual artist Ho Tsu Nyen, considers the space between gravity and elevation as a concept to be explored on the bodies of her dancers. Clouds are taken as a central image, melding vapours in an array of mutable and unstable forms. The human body is subjected to the capriciousness and changeability of clouds. The concept has real potential for pushing choreography in all sorts of directions and with six dancers of the calibre of those performing in Anti-Gravity, anything would have been possible.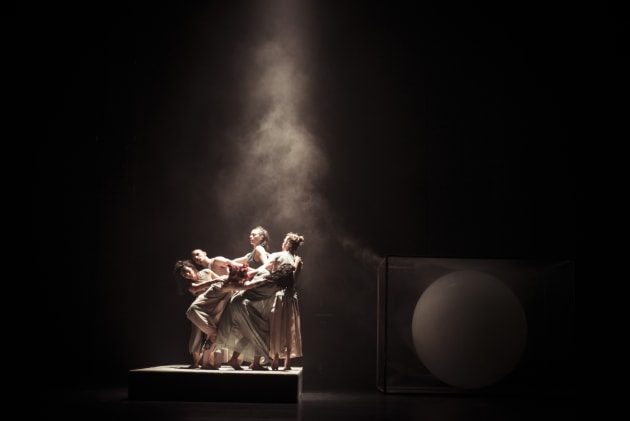 Unfortunately, the dancers were often side-lined in favour of a rather ungainly, fragmented and obstructive design. The dance felt very prop-driven and, rather than foregrounding the dancers, the machinery of the design was the most prominent element. There was smoke being pumped from a huge hose, projections of clouds, mirrors that became transparent, a mirrored rectangular pool, a huge speaker, a fork lift, plinths, a giant inflatable orb, a reflective fire-blanket, a pile of rocks ... it goes on. The design dictated to the dancers. They served it rather than it serving them. A kind of "round robin" played out with dancers interacting with the design elements and only rarely breaking out to explore what the notion of anti-gravity meant for their bodies.
The result was a work that contained both too much and not enough. The design was busy and the meaning elusive. The structure of the work felt unsophisticated. It begins and ends with the recitation of words related to clouds, moisture, vapour and related concepts -- in Italian. I wondered why. It ended with a shorter recitation of English words. I'm not sure that anything developed or changed in between.
Split achieved something sublime with two bodies in space, lighting and a roll of masking tape. For all its production values, distillation of ideas and great dancers, Anti-Gravity felt awkward, self-conscious and forced. It was literally smoke and mirrors. 
- SUSAN BENDALL
'Split' and 'Anti-Gravity' continue till March 26.