Stephanie Lake Company: Skeleton Tree
Beckett Theatre, Malthouse, 16 March
Melanie Lane: Nightdance
Meat Market, Arts House, 21 March
Skeleton Tree is Stephanie Lake's newest work and takes the theme of death rituals and grief as its central motif, translating this through a series of thirteen meditations. Named for a Nick Cave album, it is structurally different from her previous pieces in that each meditation is anchored by a sharply contrasted piece of music or song and loosely interpreted or inspired by melody, words or abstract sound. Lake's work tends to traverse quite a range of mood and movement language with a sound score developing alongside. In Skeleton Tree, the moods change from episode to episode and original sound by Robin Fox is interspersed with a playlist that references endings and loss, though all is not bleak.
Dancers James O'Hara, Nicola Leahey and Marlo Benjamin were wonderful; subtle and intricate transmitters of the moods and phases of death, dying and grief. The acting was remarkably affecting too, especially from Leahey whose facial expressions conveyed so much.
The emphasis of Skeleton Tree is very much on process, meditation and almost suspending the moment and exploring its richness. The meditations vary in length from extended musings to brief statements. Starting with a final bow and a roar of acclaim for performers taking their curtain call, the celebratory riot subsides to a smoky grey dusk and dancers forming a series of holds, twists; reaching and retracting in a stop-start, quick-slow unfolding of movement. The almost sprightly first song sets a contrast to the apprehensive tone of the movement. A tangle of bodies responds to the glitchy, crackling sound of the next meditation with motifs of busy, exploring fingers, almost animalistic in their scratching tactility.
Moving on, a single dancer spasms and contorts, later winding herself in circles. Next, two dancers partner the third and move in a frenzy accompanied by pink light, discord and din. It is quickly extinguished. There are meditations that feature the music of breath, panting and the scratching of finger-nails – bodily percussive effects that draw attention to the elements and minutiae of living. Others are more descriptive of ritual – the careful, loving cleansing of a body that is limp or in repose, the partnering of a lifeless form into the space as if in a dance. One episode feels akin to humans in warfare under attack – explosions, crackling fireworks or bombshells. Terror and flinching is evoked in the bodies of the dancers.
Full-circle and there is a return to the theatrical with a version of The Dying Swan, reminding us that these are meditations around the construct of death and dying and, however involving the constituent parts have been, they are also at an artistic remove. Whether making on a large group, a couple or a small cluster of bodies, Lake retains a beautifully intricate sense of utilising everything available, spatially, anatomically, sonically and emotionally. Here she succeeds again.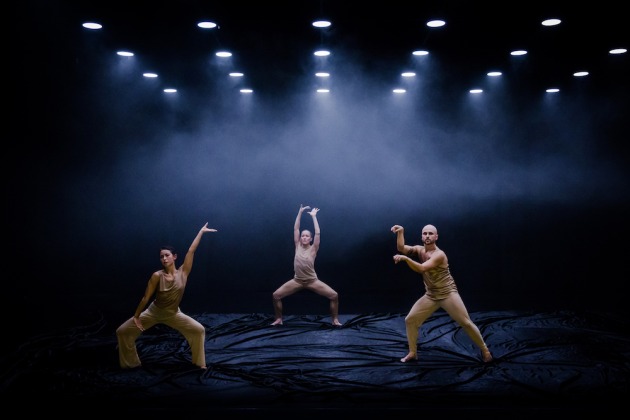 Melanie Lane's Nightdance was first seen in 2017 and has toured widely since. The work is an intriguing journey that builds in stages. Nightdance also gives us some imagery that has already become iconic – Benjamin Hancock's glittering, statuesque essence of icy, immaculate glamour made appearances at the 2017 Australian Dance Awards as a silent but articulate co-compere. In another iteration, the figure led an art and dance tour at the National Gallery of Victoria.
The work operates in phases that build into different explorations of performative spaces that generally activate during darkness. Theatre, club and cabaret-style venues are referenced and played out. Given that, the early phase of Nightdance is the part that resonated most with me. Three bodies in darkness, make individual, slow and mesmerising progress from floor to grounded reaching, to upright movement and finally interaction and dispersal. This felt like a very satisfying evolution. Dancers Melanie Lane, Lilian Steiner and Gregory Lorenzutti were excellent as they morphed from instinctive creatures into knowing social players.
Once the dancers find the accoutrements of theatricality, the subtlety ebbs and all becomes bold and blatant and more literal. Other characters enter to play out aspects of the milieu. There are many arresting images in Lane's work, but I found myself longing for the simplicity of the early section. 
SUSAN BENDALL
Pictured top: James O'Hara, Marlo Benjamin and Nicola Leahey in 'Skeleton Tree' by Stephanie Lake. Photo: Pippa Samaya.