Luke George and collaborators: Public Actions
Arts House, North Melbourne Town Hall, March 12
Lucy Guerin Inc: Make Your Own World
Arts House, North Melbourne Town Hall, March 12
Antony Hamilton Projects: Universal Estate
Arts House, North Melbourne Town Hall, March 12
Paea Leach and Alexandra Harrison: The Difficult Comedown
Arts House, Meat Market, March 13
Paul White and Narelle Benjamin: Cella
Arts House, Meat Market, March 13
Melbourne's Dance Massive festival has become an important showcase for challenging work since its inaugural season in 2009. Not only does it host work from both emerging and mature artists but it has persisted as an inclusive space for audiences to immerse themselves in a torrent of dance or to gingerly dip a toe in and be refreshed. This year sees an even bigger program than previously together with very healthy ticket sales, and many shows sold out.
Although it is not reasonable to make too many generalisations across such a rich program of offerings, I noticed quite a few two-handers being shown as well as works that focus on the dynamics and relationships between individuals within groupings.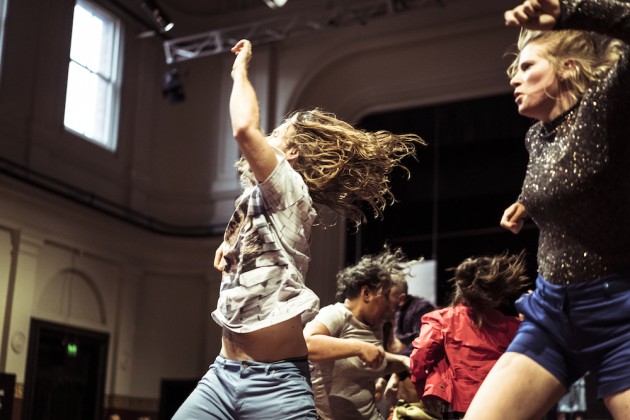 Public Actions, by Luke George and collaborators, saw the movement of a group en masse. The work dissolves the audience-performer divide as a provocation for inclusion and unified agency. It also succeeds in subverting audience expectations without being intimidating. Safely seated, our attention is drawn to the screening of a video, in which an audience sits attentively. Quickly we realise that the audience is composed of multiples of the same individuals, dispersed throughout its seats. Slowly, our space in the "live" audience is taken over by incursions from performers entering one by one. They gently and quietly take over seats and commence a forward movement, demolishing the chairs that stand in their way. They slide over chairs, over one another, roll and tangle in slow motion and progress ever-so-slowly to the front of the space. Meanwhile the videoed audience is clenched into a brace position. Many of us abandon our seats to view in ragged groupings. Performers and chairs laboriously make their way beyond the video curtain. A public action is in progress.
A second part sees the seven dancers perform synchronised versions of walks and runs – as whole groups and as splinter groups. Purposeful patterns form, shift, dissolve. It is then time for the audience to be recruited to join in this group action. We are asked quietly and individually to participate in recreating the space as we see fit. This sees individuals assuming the stage, contributing to a soundscape, taking a stance.
Public Actions is an effective and fun piece of relational theatre and found an appreciative group of audience-participants on opening night.
The movement of a group through set and improvised choreographies informs Lucy Guerin's Make Your Own World. It is more conventionally made, in a sense, than Public Actions, but has less tangible shape. It comments on the uniformity of set choreography pitted against the individual expressive body making its own movement. Although it includes some tightly structured choreographic moments, conceptually the work felt rather loose and free flowing. This is not a bad thing in itself but left me feeling that I wanted a greater sense of purpose from it. This is especially true since Guerin has assembled some of the best contemporary dancers in the country. There is not much limit to what they could achieve.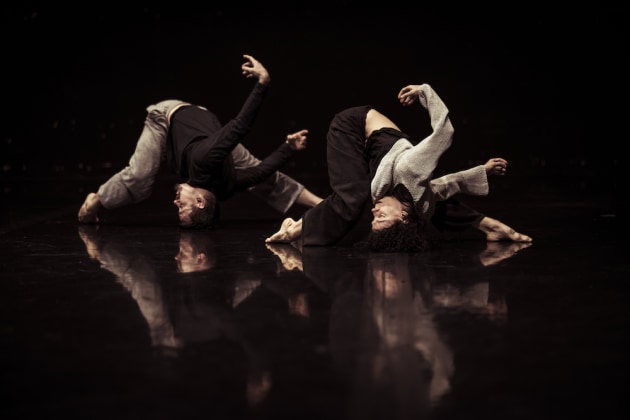 As mentioned, two-handers abound in this year's Dance Massive. The first two nights brought Cella, Universal Estate and The Difficult Comedown. Cella is a finessed work, originally made in 2014-15 and choreographed and danced by Paul White and Narelle Benjamin. It has been widely performed internationally. Two bodies enact the patterns and movements of cellular structures, shifting and morphing from moment to moment and recreating and replenishing themselves. The effect is kaleidoscopic and at times the bodies really do seem to be something "other". It was great to see two artists with such embedded body-knowledge create a meticulous and dynamic physical language of symbiosis.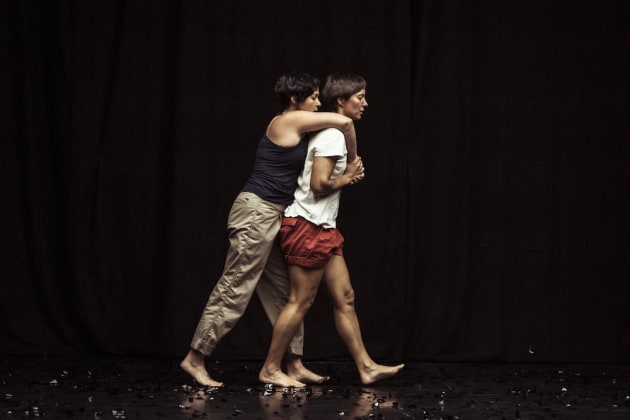 The Difficult Comedown by Paea Leach and Alexandra Harrison is much more pedestrian and weighted in its physical language. The women carry each other, sack-like around the space. They negotiate laboursome interactions that emphasise resistance and difficulty. Although there were some strong moments in this work, it felt rather cumbersome. There was a clear depth of intention to the piece but perhaps it would benefit from slightly more development.
Antony Hamilton, journeying rapidly toward his new role as artistic director of Chunky Move, presented Universal Estate. It is a durational installation for two dancers and various configurations of screens and static, through which communication of sorts is channelled. As is often the case with Hamilton, there is a playfulness in the motif of humans mediated by technologies. Here the humans seek to transcend their own physical and mental limitations through a quasi-paranormal connection with retro screen assemblages. Movements are both mechanistic and depleting, as the humans end up exhausting themselves in the service of the machines.
SUSAN BENDALL
Pictured top: 'Make Your Own World' by Lucy Guerin Inc. Photo: Pippa Samaya.