Hawthorn Arts Centre, 26 July
Imagine a large, gracious Art Deco hall set up with a series of round, white-clothed tables. Seated at them below stage level, an audience looks up to a small stage set up with segments of shiny chrome track. We see this reflected in four mirrored panels, angled to capture parts of the stage floor that we are unable to see. Four dancers and three musicians walk on and move around the space. The set-up is intriguing but this production of Desirelines was plagued with issues of poor sight-lines, a cramped stage and a lack of meaningful unity in some of its elements.
Collusion describes itself as a "fine art music and dance ensemble". Together for 15 years, it combines the talents of chamber musicians (led by Benjamin Greaves), dancers, choreographer Gareth Belling and composers. Desirelines is an ambitious melding of live music, dance and concept which expresses itself as "an electric chamber work". However, approaching it primarily from a dance perspective, the whole felt scattered and lacking centre. I am sure that if I had attended with other expectations, I may have been less critical of the overall performance.
The "desirelines" of the title references the urge to stray from predetermined paths in pursuit of one's passions. It investigates the consequences of these emotional transgressions. Yet it does so in quite a literal way; a cellist seated on a trolley is pushed along metal tracks, the quite effective costumes predictably reference lines.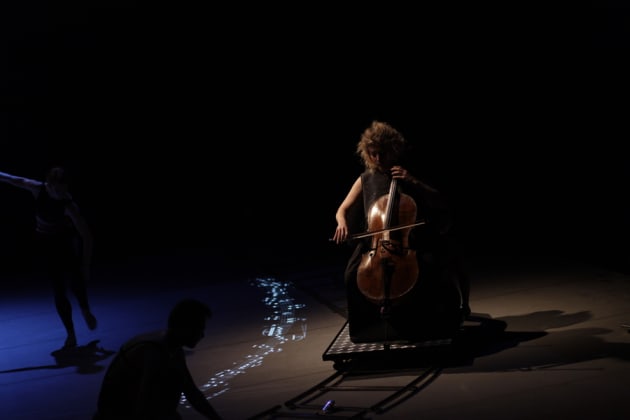 The musicians were excellent and the compositions, many by local composer Susan Hawkins are wonderful but there is a disjointedness between the elements that jarred. There seems to be little progression in the playing out of the concept and choreographically, the work seems to have relatively little range and breadth.
The movement vocabulary has a lack of agency in its quality. There is a lot of upper body gesturing and a soft, floating feeling to much of the work but not a great deal of dynamic variation or attack. The dancers were also not equally equipped and one of them was notably weaker in technique and unfortunately was given some of the most technical ballet choreography in the work. This was especially at odds with the strength and power of the music and standard of playing that really did traverse an emotional landscape.
The design, although ambitious in a way, is not realised in terms of a total integration into the work. The concept of having dancers carrying and reconfiguring segments of track around the stage is distracting and looks like a series of scene changes. This element really does not add to the visual interest of the piece although it is central. It is not enough to have a number of components in a work even if they are strong and interesting. The elements need to talk to one another rather than just co-exist. It was also never clear why audience was seated at conference tables.
Desirelines premiered at the Brisbane Festival in 2015 and appears to have been staged more sympathetically there - reviews mention floor projections of the musical score which I could not see. The stage of the Hawthorn Arts Centre is small and set in a cavernous space and I have not yet experienced suitable seating that allows for a complete view of the dance there. As a result, there were design elements in Desirelines that went unnoticed, taking away further from the integrity of the overall work. There is also an irony that performers seeking to follow their desirelines are confined and contained while the audience is dispersed loosely in the vastness of the hall. It was not really a chamber experience.
It is surprising, given these issues with the venue, that dance productions do not take advantage of the wonderful hall space itself as an alternative to the stage, allowing far greater participation and enjoyment of the audience and greater connection with the works performed there. As it was, Desirelines looked cluttered and busy and the balance between dancers and musicians onstage tipped toward a focus on the latter.
- SUSAN BENDALL
Pictured top: Amelia Stokes in a 2015 production of Desirelines. Please note that both photos used here were taken in a different venue to the show reviewed here. Photo: FenLan Chuang.
For a review of the 2015 version of Desirelines at the Brisbane Festival head to http://www.danceaustralia.com.au/review/collusion-desirelines