Melbourne International Arts Festival
Meat Market, Arts House, Melbourne, 16 October
Token Armies is Antony Hamilton's debut as artistic director of Melbourne's premiere contemporary dance company Chunky Move. He has always been an audacious breaker of new ground, working at the intersection between meticulously executed and tightly disciplined works involving humans and mechanisation and the controlled chaos of dystopian landscapes. His interest lies in hybridity – of performance form but also in dissolving distinctions between human and other sentient creatures, and machine. Here, in Token Armies, budget and resources, including a large cast, have allowed Hamilton to take his vision to the next level. However, in taking that large leap, some of the crisp, sharp particularity of many of his previous works seems to have softened at the edges. There is a resulting slackening of shape. Hamilton's rejection of a narrative arc to drive this show also left a sense that it needed something stronger than a series of events to give it form.
Token Armies is a grim parade – of animals, hybrid human-machines, floating tank-like vessels and wearable sculpture (designed by renowned Creature Technology Co.). It is easy to see war and dystopia in the grey, smoky setting – filling the vast cavern of the Meat Market. Yet Hamilton's stated intention for this work is to emphasise "cooperation and refuge". The vast spacial scale of the work is also more reminiscent of a film set than a live theatre event and felt (perhaps deliberately) alienating. This is in spite of the fact that the audience is co-opted into black-hooded plastic raincoats to match the industrial/militaristic aesthetic of the performers and to blend with them. Certainly queuing outside the venue and entering singly to be "processed" and de-individualised might have the potential for a strong experiential or transitional effect but really, it seemed largely to lack significance, since there was a very clear demarcation between performer and audience. Token Armies also contains multiple warnings and trigger-alerts – fur, feathers, smoke effects, pollen, nudity and strobe lighting – all leading to a definite sense that this was no cooperative refuge.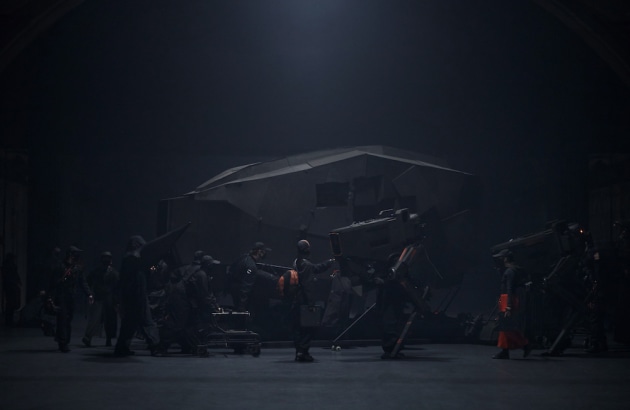 There are two distinct phases in Token Armies. The first has a cast of human/hybrid/machines working both purposefully and chaotically in groups or swarms. They tremble at the alter of a huge hovering tank-like machine (that reminded me of a garbage truck); they run, drag limp bodies, swerve. A horse is ridden through the landscape, a woman runs with a bird of prey, a tethered dog is patrolled around the vast arena, human/machine hybrids are guided through the havoc. A more concrete or clearly declared sense of purpose or shared effort might have helped create suspense or intrigue in the audience during this section. As it was, this was a very extended episode that didn't contain enough development.
A second phase focuses more on human interaction. Costumes are shed and pairings formed. Dancers carry their dead-weight partners seemingly endlessly across the vast space. Interesting variations do emerge within the general uniformity with some break-away flights of fancy, some gestures toward unison dancing and some dramatic as well as touching encounters that bloom into larger tangles and groupings. 23 performers are listed in the program and this is an astonishing number for a Chunky Move production. I hope that it heralds the beginning of a greater commitment to employ dancers than has been the case previously for this company. The tail-end of the production featured a pair of ninja-like dancers engaging in some precision but playfully combative manoeuvres. This is more familiar territory for Hamilton fans and was refreshingly immediate.
There are a few elements to Token Armies that formed barriers to me entering its world. I am passionately opposed to the use of animals in performance and saw the inclusion of a horse, dog and eagle as simply a grandiose gesture and an empty reflection of a fat budget. Animals can be connoted artistically in so many other ways, and live creatures should never be used as props. The setting of the show at the Meat Market had a particularly disturbing resonance.
And do we really have to "exit through the gift shop"?
- SUSAN BENDALL
Photos: Zan Wimberley