Joel Bray, Biladurang
Johnson Hotel, September 12
Dancenorth, Dust
Brisbane Powerhouse, September 20
This year's Brisbane Festival, while densely packed with wonderful cutting edge theatre, circus and music events, again offered slim pickings for contemporary dance enthusiasts. Only two works were programmed; Dancenorth (a feature of the Festival the past three years) premiered Dust, and Joel Bray presented his Melbourne Fringe Festival hit, Biladurang.
Bray conceived this one-man, site-specific work during a time of transition, after breaking up with his long-time partner and leaving Israel, his home for nearly a decade. Biladurang is, therefore, a self-reflective questioning of his identity as a Wiradjuri man – nearly middle-aged, gay and newly single – and as a dancer.
Specifically sited in a hotel room, because much of the work's conception was in similarly androgynous surroundings, Biladurang is in turn provocatively candid and engaging.
Nervous laughter, as a near-naked Bray greeted our tiny audience at the door, dissipated on the offer of champagne, and directions for everyone to don a white towelling bathrobe before settling into armchairs.
Bray was firmly in command in this intimate setting. In a conversational manner, which was nevertheless tightly scripted, he drew the audience into his world, which was at times confronting in its rawness, but counterbalanced with a disarming humour.
Divided into small scenes, including a video screening of a soapsuds-covered Bray in a bathtub, the hour-long work was securely constructed, and underpinned by an evocative soundscape by Kate Carr. Bray directed audience members to make lighting changes on occasion, to alter the mood, and – in spite of the limited space – the little movement he did perform showed an engaging physicality.
By the work's end, Bray had the audience in the palm of his hand.
Dust is a true collaboration between the Dancenorth creative team of choreographers, sound, set and lighting designers, and the dancers, and it reflects that cohesion of vision – strikingly beautiful, with sound that demands attention, and movement that intrigues.
In an ambitious exploration of the architecture of inheritance, Artistic and Associate Directors, Kyle Page and Amber Haines, together with the Dancenorth dancers, use the medium of dance to question which of these inherited characteristics, intimate and universal, we unconsciously assimilate into our lives.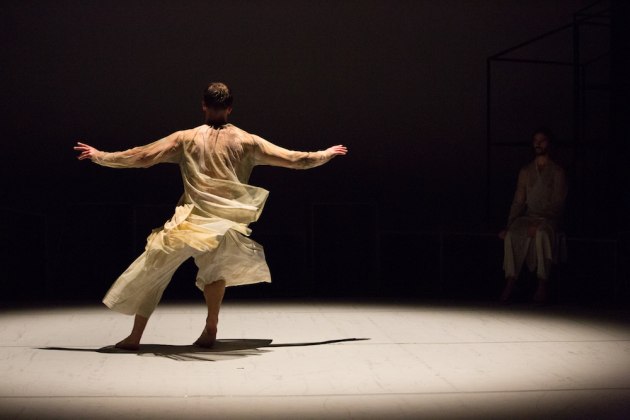 The work begins slowly; one dancer is separated from the other six by a large screen evenly dividing the space, front to back. The dancers are in semi-transparent, loose fitting shirts and pants, in various shades of soft greys and browns. A softly robotic style of movement predominates, where the feet are more firmly planted while the torso, arms and head wave and undulate, like seagrass in water.
The work develops with the unpacking of the screen, its cloth skin removed to reveal its construction of grey wooden blocks of various shapes and sizes, that are then moved into different configurations around the stage by the dancers. These could signify DNA perhaps, as the building blocks of life.
It is a densely layered work, intellectual in its construct, but at times difficult to fathom. Page undoubtedly had plenty to express on his subject, but at 70 minutes it felt too long. The repetitive reconfiguring of the blocks by the dancers also became, ultimately,  a distraction. Dust takes off when the dancers really move – and they do, with luscious fluidity. These are seven formidable artists. Ashley McLellan, Felix Sampson and Samantha Hines were especially spellbinding. I just wanted more of it.
The soundscape (Alisdair Macindoe) is formidable in its range and power, sometimes almost subverting the movement, and Niklas Pajanti's lighting provides a particularly striking moment when, against a blood red cyclorama, the dancers stand transfixed, on the piled up blocks centre stage. The set design, by Liminal Studio, is also an impressive piece of architectural construction.
Again Page and Haines have shown they have a strong artistic partnership, and Dust is a thought-provoking addition to their body of work.

– DENISE RICHARDSON
Pictured top: "Dust" takes off when the dancers really move - and they do, with luscious fluidity. In the foreground is Samantha Hines. Photo: Courtesy of Dancenorth.