Bangarra Dance Theatre: Dubboo - Life of a Songman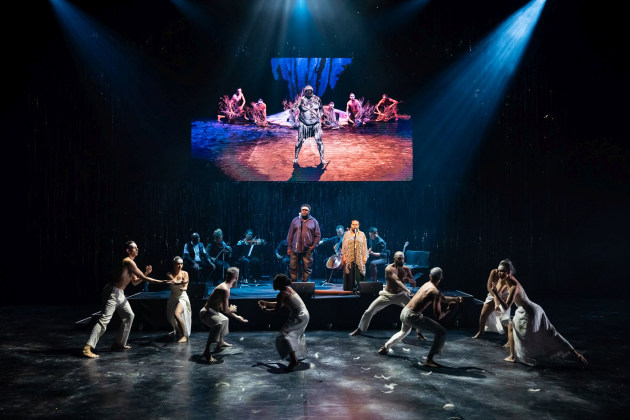 Bay 17, Carriageworks, Sydney
December 6
Dubboo – life of a songman is a tribute and a memorial, but most of all an overwhelmingly joyous celebration of the life of David Page, whose sudden death in 2016 left the Australian arts scene and Bangarra Dance Theatre in shock.


Roy David Page (or Dubboo as his family knew him) was artistic director Stephen Page's older brother and an integral part of Bangarra Dance Theatre through his original musical compositions for so many new works. According to the program, David composed scores for no fewer than 27 of the company's major works. He pioneered a genre-crossing mix of traditional Indigenous music and songs (sung in their original indigenous languages) with contemporary electronic and popular music influences which has come to define Bangarra's style of performance every bit as much as their choreographic blend of contemporary and indigenous dance.


But he had so many more strings to his bow. A talented singer and performer from an early age, he had two hit singles at the age of 13, marketed as Little Davey Page by the recording behemoth Atlantic (the first and only Australian performer ever signed to this iconic American label). He was also a talented actor, female impersonator and the creator/performer of his award-winning solo show Page 8 (co-written with Louis Nowra) based on his real-life story.


With so many achievements to pay tribute to, this performance was divided into two distinct halves. The first, Songman, paid tribute to his musical achievements and work with Bangarra, with brief excerpts from earlier Bangarra works performed by company dancers and accompanied by his music. These were interspersed with personal reflections from and musical tributes by colleagues like Archie Roach, Ursula Yovich and Djakapurra Munyarryun. Dance highlights included solos by Beau Dean Riley Smith (Brother – Skin/Spear 2000) and Tara Gower (Feather – Bush 2003). It's interesting to note that with a company with Bangarra that focuses primarily on the creation of new work there are few opportunities to revisit older works so this memorial was also a welcome opportunity to see excerpts from them.


David's nephew Hunter Page-Lochard (a talented actor and performer in his own right) was a compere of sorts throughout the two works and delivered his own personal tribute/reflection in the first act. I was particularly interested to learn about the distinction between songman and composer and to learn why those close to him felt that songman was a better description of David's musical creativity. In summary, as I understand it, a composer in the Western tradition composes music in the abstract – these scores are written, then performed by musicians who read and play his music (often under the direction of a conductor). In contrast, songman implies a connection to country and indigenous musical traditions of the past as well as an intuitive sense that this music is "sung" into life by its creator and the inheritors of this lineage.


The second act, Showman, featured filmed excerpts from David Page's performances of Page 8 and paid tribute to his career outside Bangarra, as a pop star, actor and female impersonator. This act was humorously compered by two female impersonators (initially in competition with each other) known as Miss Ellaneous and the god-daughter of Davina Cha-Cha (Hunter Lochard-Page). With Bangarra dancers performing karaoke style renditions of the late 70s pop musicians that were part of Little Davey Page's milieu - complete with wigs and sequins, this second act had a raucous atmosphere of extroverted fun which was fully embraced by the audience who shouted and whistled their approval. It's easy to forget how diverse Bangarra's dancers are when much of what they perform has such a distinctive style and approach. This second act was a welcome reminder, and it would be really interesting to see more musical theatre/popular culture/comedy from Bangarra Dance Theatre, although there are obviously limited resources for making new works and presumably this sort of thing is not Bangarra Dance Theatre's main priority.


Hunter Page-Lochard did an outstanding job throughout. I should also mention guest performer Brendan Boney (the second recipient of the annual David Page Music Fellowship set up following his death) who was instrumental in co-ordinating the different elements of Dubboo – life of a showman. It was a short run and I'm not sure if this show will ever come back but I feel fortunate to have witnessed it.
- GERALDINE HIGGINSON