Drama Theatre, Sydney Opera House, 13 June
"Bangarra: 30 years of sixty five thousand" is a triple-bill, the centrepiece of which is Stamping Ground, choreographed by internationally renowned Czech choreographer Jiri Kylian in the early eighties, in response to Aboriginal and Torres Strait Islander people and their cultures. Making a return is 2004 work Unaipon, by Bangarra Dance Theatre's recently appointed associate artistic director Frances Rings, while the third work in the program, to make fire, is a collection of highlights from a number of previous works, curated by the company's artistic director, Stephen Page.
At around two and a half hours (with only one interval) this is a much longer show than is typical of Bangarra. Importantly, it gives viewers a sense of the breadth of Aboriginal and Torres Strait Islander dance that has been created and performed by the company, while giving us a chance to see its dancers in Kylian's particular style of contemporary ballet. Despite being inspired by the dance of Aboriginal and Torres Strait Islander people, Stamping Ground is a world away from the blend of contemporary and traditional movement that Bangarra has pioneered and made its own.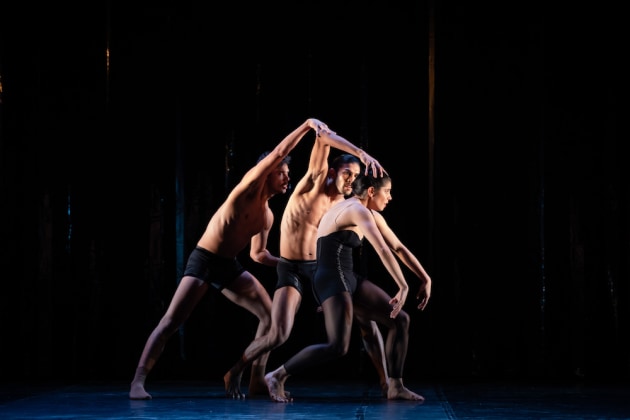 First there are the design elements of Stamping Ground. The original set and costume designs (by Kylian and Heidi da Raad respectively) are starkly minimalist and unadorned, a complete contrast from the evocative sets and costumes that usually accompany Bangarra productions. The bodies of Tara Gower, Baden Hitchcock, Rika Hamaguchi, Tyrel Dulvarie, Ryan Pearson and Ella Havelka were clearly delineated in skin-tight leotards and tights for the females, and black shorts for the men. Though not unusual for Kylian's catalogue of works, this look is very different from the textured, layered costumes that usually adorn Bangarra's dancers. And then there is Kylian's distinctive movement style; sharp and precise, with long extended lines broken up by the sudden return to a full plie in 2nd position. The dancers acquitted themselves well here, with guest artist Ella Havelka (formerly of Bangarra, currently Australian Ballet) a standout. One of my favourite parts saw Havelka use her arms and hands to mime a long-necked bird with a snapping beak, backing away in apparent fear when "it" turned around to face her!
Unaipon was also very good. I marvelled at the complexity of a section called "String Games" danced by a cast of five male dancers who not only had to get their steps right but navigate their way through and around elasticated strands that crisscrossed the stage without getting entangled. Later in the work, Rika Hamaguchi, as Walkund (North Wind) also impressed.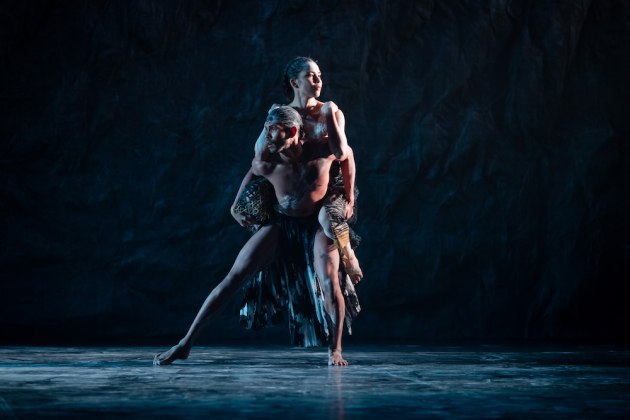 Highlights of to make fire included Beau Dean Riley Smith's Wiradjuri solo and a graceful trio choreographed by Elma Kris (from About, which premiered in 2011's "Belong" program) that was danced by Ella Havelka, Courtney Radford and Rika Hamaguchi. Although shown only as a fragment from the larger work, I found the adoption scene from Mathinna a fine piece of dramatic storytelling, danced by Lilian Banks, Rikki Mason and Tara Gower.
In its 30th anniversary year, Bangarra Dance Theatre is bringing this program of dance to audiences right around the country. Highly recommended.
- GERALDINE HIGGINSON
Pictured top is Tara Gower in Frances Rings' 'Unaipon'. Photo: Daniel Boud.
Bangarra: 30 years of sixty five thousand is playing in Sydney until July 13, and then touring to Canberra, Perth, Darwin, Brisbane, Melbourne, Adelaide and Hobart, July - October.