Asia TOPA
Tao Dance Theater:  6 and 8
Playhouse, Arts Centre, Melbourne, 22 February
Dancenorth, Lucy Guerin Inc, and Senyawa: Attractor
Arts Centre, Melbourne, 24 February
The Asia-Pacific Triennial of Performing Arts (Asia TOPA) is currently running in Melbourne and offering a diverse range of contemporary performance experiences by hosting guest artists from our region as well as giving a platform for collaborations between artists from different cultures.
6 and 8, by Tao Ye, of China's Tao Dance Theater, and Attractor, a collaboration between Townsville based Dancenorth, Melbourne's Lucy Guerin Inc. and Indonesian musicians Senyawa provided an interesting counterpoint for one another. They both make reference to trance and ritual but their treatment of these themes and how movement is manifested through each are starkly different. So too, I think is how successfully each work connects to its audience and the basis for that connection.
The two works on the Tao Dance Theater program are exercises in discipline, minimalism and repetition. All extraneous elements are eliminated to reveal the minutiae of each movement. In 6, six dancers are faintly revealed in very low light - or rather flashes of darting heads are registered. Dancers proceed to complete a series of repeated sequences, uniform, precise and complex. Hands firmly grasp a squared 'skirt' or apron that creates additional sculptural form but further obscures the bodies. Feet remain planted for most of the dance, shoulders, spine and head create the patterns of movement. The dance makes its statement, and with only subtle variation reiterates its theme.
In 8, eight dancers repeat another ritual of movement and do not leave the floor. Again exaggerated articulations of head, neck and spine create the movement language. Ribs, necks, shoulders and hips are made prominent through dancers' prone positions and non-use of arms. 8 is also enacted in a black space with sharply lit white floor. The figures lie in a row and play out the ritual movements in complete synchronicity. Never do they reference one another or interact. They are also expressionless throughout. It is like eight organisms driven by design rather than agency.
Tao Dance Theater's performers execute their moves with exemplary precision and the ideas that have germinated both are interesting. As performance, 6 and 8 ultimately felt rather academic and I wasn't captivated in spite of the skill. Although meditative, the works resisted development and so lacked something that I could fully connect with.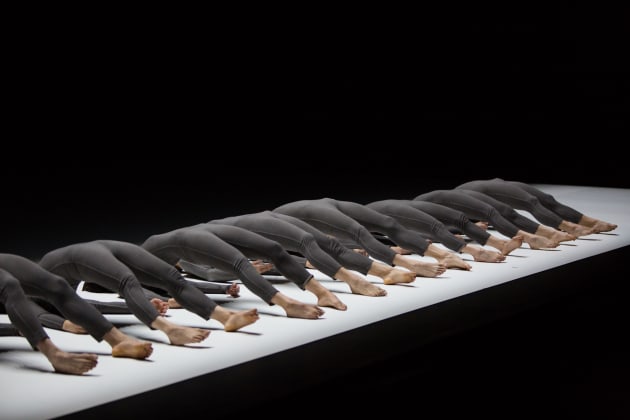 In complete contrast Attractor is an absorbing whirlwind. It draws the audience in from its first moment. It is also an incredibly tight work but in a very different way to the Tao pieces. The work is truly an interplay between dancers and audience in a way that runs far deeper than its inclusion of audience members in the latter part of the performance.
Embodied conversations occur at first between dancers and musicians. Dancers echo the rhythms of Senyawa; their bodies charged and driven by the sound. The pace flies along with episodes playing out and moving on. Sometimes the lead is taken by the dancers - one moment has the two musicians being dragged in swirling patterns by their feet while comically continuing to provide accompaniment.
Choreographically, Attractor channels a sense of frenzied possession - with dancers' flailing limbs and rubbery torsos endlessly energised by the music, by one another and by the dynamic of the group. The dancers are brilliant - free and technically wonderful. The music incorporates deep, human sounds as well as alienating cacophonies and blood curdling shrieks.
Alongside the eight dancers, 20 audience members join in the dance, following along in sequences of movements, running, dispersing, free-styling and at times overwhelming the performers with the weight of their energy and numbers. This was really effectively incorporated and the participants genuinely added to the work and were given quite a lot to do. The setting of the State Theatre stage for both dancers and audience felt rather special and the opening of the curtains at the end to reveal the auditorium intensified the sense of a shared journey.
The overall tone of Attractor is light and playful and it also delivers powerful emotional connection. A great strength in the work is in taking a territory that can be treated with earnestness, as trance, shamanism and religiously charged ritual often is, and avoiding being overly reverential. In program notes, Gideon Obarzanek states "Making Attractor comes from a shared interest to construct rituals for non-believers". The collaborators on this work have given us a ritual that is wonderful to watch, hear, participate in and remember.
- SUSAN BENDALL
Top photo: Gregory Lorenzutti