Adelaide Festival 2019: Meryl Tankard's double act
Meryl Tankard: Two Feet, Adelaide Festival Centre – Dunstan Playhouse, 1 March
Meryl Tankard/Restless Dance Theatre: Zizanie, Adelaide Festival Centre – Space Theatre, 14 March
Meryl Tankard helped open the 2019 Adelaide Festival with a revised version of her 1988 solo Two Feet, and helped close it with a new work, Zizanie, created for Restless Dance Theatre, Adelaide's company for dancers with and without disability.
Tankard became fascinated with the brilliant Russian ballerina Olga Spessivtseva, who in 1934 had a mental breakdown in Sydney when touring. Although she did dance again, giving her last performance in Buenos Aires in 1939, the depression she had long suffered led to an asylum in 1943. From 1963 until she died in 1991 aged 96, she lived in a farming community near New York run by Tolstoy's daughter Alexandra.
Spessivtseva danced Giselle for 20 years, becoming obsessed with it, as well as with constant practising. In this 2019 version of Two Feet, Tankard was fortunate enough to cast a great (some say the greatest) Giselle of today, Natalia (Natasha) Osipova, star of the Bolshoi but since 2013 a Royal Ballet principal.
In two acts and 19 scenes mostly against Régis Lansac's evocative photographic backdrops, Act I offers cinematic glimpses of Spessivtseva and Osipova when young, Osipova as dance student Mepsie (Tankard's juvenile nickname) and, most importantly, as Spessivtseva. We see her practising at the barre – "So beautiful", said a friend, "I could watch it all day". We see her as Giselle, and begin to know why she is so special in the role. She dances Tankard's formidable choreography for the sacrificial virgin in Le Sacre du printemps, though Spessivtseva never took the role.
Act II opens with Osipova in a flowing blue dress, bare feet and supple arms suggesting Isadora Duncan. But then a mistake. Mepsie sets a Christmas table, overeats, throws up, takes pills, weighs herself, reflecting, Tankard says, dancers' obsession with food. Intended to be funny, instead it detracts from the beauty and drama of the Act. Water thinly covers the stage, perhaps symbolising Olga's decaying mind. She does her last barre, the movement becoming frenetic, but is drawn into Giselle's mad scene, which intensifies. Several times she falls, to rise and fall again, until a last time, when she fails to rise.
Two Feet is an excellent vehicle for showing Osipova's versatility. As Mepsie she even becomes a contortionist, putting a foot behind an ear. As Olga her deceptively easy technique ensures clarity of emotional expression. We have been given a glimpse of this superb artist in a great role. It is time for her to return in a full production.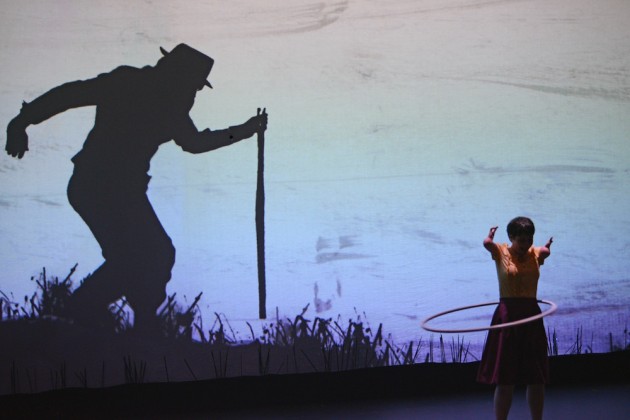 Zizanie, choreographed for Restless Dance Theatre, Adelaide's company for dancers with and without a disability, could hardly be more different. This French title can mean discord, strife, chaos, even a weed – something out of place, not wanted. Transfer that to people, and you can get intolerance and hatred. Tankard had the idea from Robbie Cameron's book The Fun Funnel, where a grumpy chap wants to rid the world of fun because he doesn't know how to laugh. Some children educate him, but not before he tries to stop them playing games outside his house.
In the mysterious opening scene, a rabbit and dog make friends, a cat scares a mouse, but does no more, and a bull (or a cow?) joins them. When they leave ghosts appear, projected on Régis Lansac's backdrop. A man in a hat (Michael Noble) walks across the stage, and then five children (played by adult performers) enter, turning the stage into a playground. One (Chris Dyke) has a ball, another (Dana Nance) a hula hoop, and another (Kathryn Evans) a doll; a boy (Michael Hodyl) reads a book, a girl (Jianna Georgiou) plays hopscotch. Though individuals, together they form a group, like the animals in the first scene.
The Man, whose house is now upper stage left, won't have it, and tries several methods to drive them away. A grey brick wall appears at the back; he comes on with a noisy lawnmower and a windy leaf blower. But the kids keep on, Evans even singing to everybody "I love you". Later, Dyke stands centre stage, and begins slow, sweeping arm movements. Nance (who loves drawing) starts filling the house's wall with happy figures, but Grumpy washes them off. She weeps, friends bring tissues until she is standing in a white pool. Lo and behold! Grumpy brings her a real white handkerchief. She wipes her eyes and throws her arms around his waist. Hesitantly, he embraces her. The wall begins to fall. She leaves, and he goes centre stage and begins big arm movements similar to Dyke's. Later, in a delightful coup, he suddenly appears at his door, in drag as a housemaid, singing "If I'd known you were coming I'd have baked a cake", and as the words roll up on the backdrop soon everyone in cast and audience is singing.
A joyous end to an imaginative show.
- Alan Brissenden
Pictured top: The superb Natalia Osipova in 'Two Feet'. Photo: Regis Lansac.