Antony Hamilton's Meeting has met with critical acclaim both at home and overseas. Ahead of the work's season at the 2017 Perth International Arts Festival, Margaret Mercer finds out more about this intriguing Australian choreographer.
IN-DEMAND dancer/choreographer Antony Hamilton has earned his reputation as an original thinker with an imaginative and inquiring mind. His prolific creative output of unique, experimental work draws applause across Australia and internationally.
Hamilton's 2015 work Meeting will be part of the 2017 Perth International Arts Festival. Since opening in Melbourne, Meeting has toured to Budapest, Berlin, Helsinki, Paris, London and venues in Indonesia and the Netherlands, and in 2017 tours to North America and Canada. It is a collaboration between Hamilton and dancer, composer and sound engineer Alisdair Macindoe, and is performed by the pair.
I caught up with Hamilton, (ironically by telephone), to chat with him about Meeting, among other things. "Meeting shares features from my other work and is a study of the vocabulary and not thematic," Hamilton explains. "Alisdair designed the sound, creating a sonic representation of my movement ideas. He is the best proponent of the singular choreographic concept I'm trying to create."
Meeting incorporates a circle of 64 miniature, pre-programmed robots producing differing sounds by means of a component that strikes the floor and, Hamilton says, "the foundation of the sound score functions like an expanded metronome." Meeting won three 2016 Green Room Awards.
A Balmain-boy from Sydney, Hamilton's background includes classical ballet, contemporary dance, breakdancing and hip hop. He confesses, "[My mother] decided to send me to ballet lessons when I was eight years old because I was an 'active' child with no interest in sport and of a creative persuasion. She recognised ballet as both active and disciplined and two of my older male cousins had been dancers in the Australian Ballet. I trained with the Hallidays in Sydney, which was extremely strict, then at the McDonald College, then at WAAPA (the Western Australian Academy of Performing Arts) in Perth."
His first professional contract as a dancer was with Australian Dance Theatre, under Garry Stewart, in 1999. From there he went on to work with Kage Physical Theatre, Chunky Move and Lucy Guerin Inc. In 2008, while continuing to dance on short-term contracts, he formed Antony Hamilton Projects to create his own work, producing his first major work, blazeblue oneline, that year.
Acknowledging the inspiration, support and encouragement he has received along the way, Hamilton singles out Melanie Lane (who was a student with him at WAAPA) as a co-creator; his WAAPA teachers, Gideon Obarzanek and Lucy Guerin as mentors and supporters; and the work of Ivo Dimchev, Ohad Naharin and Bruno Falcon aka Poppin Taco.
Industry recognition has come in the form of the inaugural Russell Page Fellowship (2004), the 2009 Tanja Liedtke Fellowship (see story page p54) and a Creative Australia Fellowship in 2012. In 2014 Hamilton was dance curator at the National Gallery of Victoria, honorary resident director of Lucy Guerin Inc. and also a Sidney Myer creative fellow. As a dancer and as a choreographer he has received several Green Room Awards, a Helpmann Award for Best Male Dancer and a Canada Dancemakers' residency to spend three periods over three years based in Toronto.
Hamilton believes he has had a "lucky run," with encouraging parents and his brother Julian (the Presets) a successful musician. "We grew up in a household with a piano, surrounded by music, art books and art, and design is central to all my work." He also tells me he has "the best, most supportive partner in the world. We have three children under six, including twins, and things can get hectic!"
His career in dance seems to read as an effortless trajectory from student to the top of his profession. Yet nothing comes easily in the dance world and there are always challenges to face. I ask him what motivated him in the difficult times. "My resilience I suppose. At my all-boys school I kept a fairly low profile about my ballet training."
Then he reveals he once had "a strong desire and intention" to become a classical dancer. "I auditioned for the Australian Ballet School and got to the final selections but was not offered a place, which at the time was shattering for me, but turned out to be the best thing that could have happened. I researched other options and discovered Lucette Aldous and Alan Alder were teaching at WAAPA so I auditioned and was accepted. This opened up a world I didn't know about, with dance, drama, music and production and design courses sharing the spaces, creating a stimulating, fertile performing arts landscape. And I learnt so much from the late Maggi Phillips who taught us the history and context of dance and the various ways it could become a non-narrative mode of conveying information. I also went on a six-month exchange program with the State University of New York's Purchase College."
Asked if he has any advice for young dancers today, Hamilton doesn't hesitate: "Don't be picky - grab every opportunity, grow from there and make sure you have a good arsenal of skills."
- Margaret Mercer
Top photo by Gregory Lorenzutti,
The 2017 Perth International Arts Festival, 10 February - 5 March
As well as Meeting, the Perth International Arts Festival (PIAF) dance program also includes the much anticipated Betroffenheit, a collaboration between Canadian choreographer Crystal Pite and Canadian director, writer and performer Jonathan Young. Bringing together Pite's company, Kidd Pivot and Young's Electric Company Theatre, Betroffenheit takes its title from the German word for post-traumatic shock and bewilderment.
Bereft of words after Young's 14-year old daughter was killed in a cabin fire with two of her cousins, Young turned to Pite to use the language of dance to express the emotional rollercoaster ride between escapism and anguish. In Betroffenheit, Young plays a man struggling with addiction as five virtuosic dancers represent his inner demons in a frenzied and perverse cabaret show that delivers the distraction he craves.
Also inspired by a personal story is Gregory Maqoma's Exit/Exist to PIAF, but South African Maqoma turns to his ancestral past. The performance follows Chief Maqoma, a 19th Century warrior who fought to maintain Xhosa cultural traditions in the face of colonial uprising. Exit/Exist brings to light this forgotten history with Maqoma's solo performance, merging storytelling with contemporary dance and live music.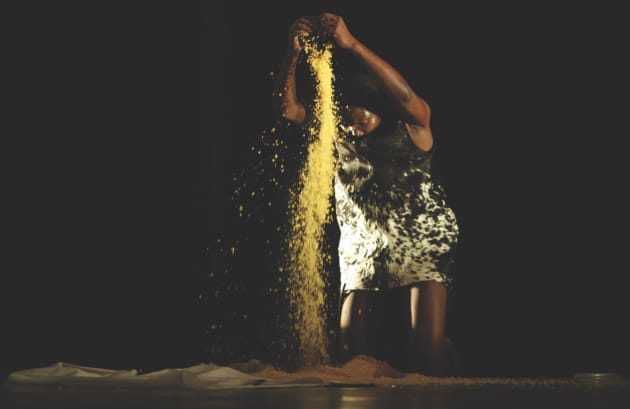 As always, West Australian Ballet will present its annual "Ballet at the Quarry" season as part of PIAF. This year's season is entitled "Takuto" and you can read more about it here.