The Queensland Ballet's world premiere of 'Dangerous Liaisons' is the result of fruitful collaboration with one of the world's most sought after classical choreographers, writes Denise Richardson.

Choreographer Liam Scarlett is currently one of the hottest properties in dance. Appointed Artist-in-Residence of the Royal Ballet in 2012 at the tender age of 26, (giving up his dancing career as First Artist with the company), Scarlett has been choreographing since his student years at the Royal Ballet School. There he won both the Kenneth Macmillan and Ursula Moreton Choreographic Awards, and was the first recipient of the De Valois Trust Fund Choreographers' Award, presented by Sir Peter Wright and Lady Deborah Macmillan.
The youngest choreographer ever commissioned to create a three-act ballet for the Royal Ballet – Frankenstein in 2016 – Scarlett has crafted a prodigious number of works for the company since his appointment, including a new production of Swan Lake, which opened to rave reviews in 2018, and replaced Anthony Dowell's 1987 version. Scarlett is also in demand globally, and is regularly commissioned to create works for other major international companies, like New York City Ballet, San Francisco Ballet and English National Ballet.
It was, therefore, something of a coup when Scarlett joined Queensland Ballet (QB) as Artistic Associate in 2017. Audiences here have been lucky enough to see four of Scarlett's works – A Midsummer Night's Dream (a co-production with Royal New Zealand Ballet), No Man's Land (created in 2014 for English National Ballet), The Firebird (created for Norwegian National Ballet in 2013), and this year, on March 22, the world premiere of Dangerous Liaisons, a co-production with Texas Ballet Theatre in the US.
I caught up with the softly spoken Scarlett in between rehearsals at the QB studios. He had only been in Brisbane 10 days, apart from some time with the dancers a month earlier working on a few of the pas de deux. Even after little more than two weeks, he thought rehearsals were going well, with the foundations of the ballet established.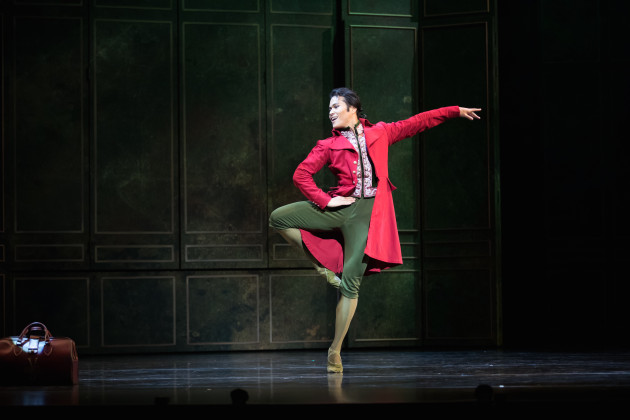 "Now we're going into the detail," he explains. "Segments (of movement) might sit beautifully alone, but when you start putting them together in terms of where they fit in the narrative, that's where the story telling might possibly be edited."
Based on Pierre Choderlos de Laclos' sultry 18th century novel of the same name, which is set amongst the aristocratic elite of pre-revolutionary France, Dangerous Liaisons seems, at first glance, to be the least likely choice for a ballet. Propelled only by a series of letters, the narrative should logically be resistant to the more ephemeral medium of dance. But as Scarlett admits, he's never shied from a challenge.
"Yes I haven't learnt to go the simple route!" he laughs; agreeing that what makes the story difficult is its epistolary value, with its multiple viewpoints. Scarlett is therefore drawing on Christopher Hampton's successful play adaptation (which was also the basis for the Glenn Close/John Malkovich film) as well as the novel to navigate the story. "What's wonderful about the book is that the characters either never meet, or if they do, then it's only correspondence about that meeting. So you get to imagine what that meeting might actually have been like. You have a certain amount of artistic license to play with it. And," he adds, "Having just done Frankenstein, which was written in exactly the same format, I've learnt a lot about how to interpret those letters."
The appeal of Scarlett's work is the innate musicality of the movement he creates, and the drama he subsequently conjures from that movement, even from the smallest of gestures. Music, he insists is therefore vitally important. "No matter whether it's a simple drumbeat, white noise, or a Tchaikovsky symphony. It doesn't matter. It's vital!" he declares. "And it's imperative that it works with whatever you're doing on stage. It doesn't always have to go hand in hand. It can juxtapose the movement, but there has to be an intention with it."
Scarlett attributes his sense of musicality to his training. "I was brought up with (Frederick) Ashton and (Jiri) Kylian, who was a master at making music and dance fit together – all of those greats. It's when you hear a piece of music, and you know that no other step will do, apart from the one that's been choreographed, that you know you've hit the nail on the head!"
His musical authority is notable in The Firebird, where the memorable Stravinsky score audibly propels the drama. Having danced Fokine's Firebird in the corps, and having an intense passion and reverence for all the Diaghilev works created with the likes of Massine, Bakst and Picasso, the musical challenge for Scarlett must have been immeasurable.
"It was going to be either sink or swim," he agrees, "because you have to compete with that score. I was going back to it and thinking 'what is this music telling me narratively? What is it saying?' And the more I listened to it, the more I could hear the bird; I could hear Koschei, and the Prince and the Princesses. It was fun to get involved with it because it's such a fabulous score!"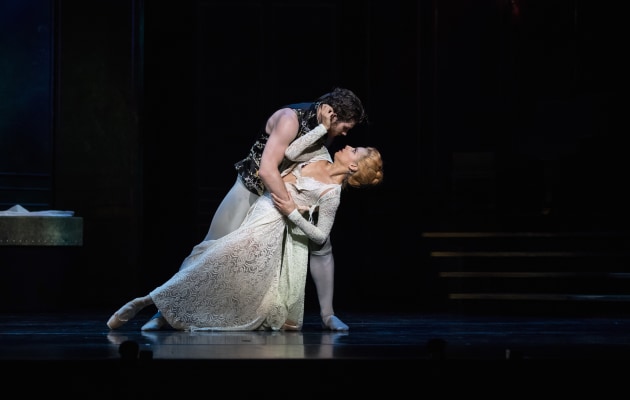 The musical challenges were also there with Dangerous Liaisons. Scarlett and British arranger Martin Yates chose another French master, the 19th century composer, Camille Saint-Saëns, for the score, digging through the archives for music of his that wasn't easily recognisable, including old operas, piano pieces, and works that hadn't been published or recorded before. According to Scarlett there were some real gems to be found. Even the odd couple of bars, if they suited, were pulled and arranged to fit.
Therefore with Scarlett, the music definitely comes before the movement. "And then I won't really choreograph until I get into the studio. I do listen to (the music) a lot, but I hate choreographing on myself. It's just a waste of time."
Scarlett's range of choreographic style, while grounded firmly in the classical technique, is nevertheless broad, and he attributes this in part to the diverse repertoire he danced while in the Royal Ballet. The greater the wealth of performance experience you have had, he believes, whether or not it was an enjoyable experience, feeds inspiration in some way. However, his decision to start choreographing wasn't a conscious one, which Scarlett thinks has also been, in part, a key to his success.
"The school used to have choreography classes, but I must admit I didn't pay much attention," he confesses. "Even now when I'm asked to do workshops, I'm very reluctant, because I think you just need to explore, not necessarily teach. There is a way of facilitating choreography, not teaching it, but it's a very tricky thing. You can have an experienced choreographer come in, but then they have to be very unbiased about their own work and very selfless when teaching others. Or you can have someone who's not a prolific choreographer, but has the knowledge to make people think in different ways. As far as a rulebook for choreography – there isn't one."
I get to witness a little of this intuitiveness in a rehearsal where the atmosphere is one of calm focus. Scarlett works quickly and decisively, with the score always to hand, consulting often with the repetiteur. The dancers are encouraged frequently with a quiet, "Good, that was good," from Scarlett, before he leaps up to suggest a change of hold in a lift, or perhaps a change of direction, or the addition in one dramatic section, of a slow backward glance.
Scarlett will often demonstrate to make a point – male and female parts alike, pas de deux or otherwise – and has such an innate ability to breathe life into the characters he's creating, that watching the process is fascinating. He uses demonstration as a way of delivering both instruction and inspiration.
"There's only a certain amount of talking that you can do in terms of corrections," Scarlett explains. "At the end of the day what you need is a visual representation of what you want, and so I always try and demonstrate as much as I can, even if it's badly, and with the music, so the two marry together from the very beginning. There's so much more you can show through movement, through dance, and I think that it is sometimes easier to convey this without words, because it's what the dancer is going to end up doing in the performance."
Scarlett likes to keep stimulated, travelling from one company to the next, and trying to mix the style of work as well. "For instance I've just done The Cunning Little Vixen, (for the Royal Ballet School), which had woodland creatures running around being very happy, very cute, then here to deal with decadence and the French aristocracy!" he laughs. He was flying to California after the premiere of Dangerous Liaisons to create a new ballet for San Francisco Ballet to Rachmaninoff's symphonic poem, Isle of the Dead, due to open mid April.

And what about days off, I ask?
"I'm a big foodie, especially while travelling," he offers. "Finding really good restaurants and different cuisines. But I try not to think too much about work. When I started this job I wanted to go and see absolutely everything, but it gets to the point where sometimes you just don't want to step inside a theatre. And I don't want this job to become normal. I still come to work and enjoy every single day. It's special. If it was becoming mundane, that would be when I stopped."
 Dangerous Liaisons continues to April 6. 
 Pictured top is company artist Sophie Zoricic with artists of Queensland Ballet. Photo: David Kelly.