Sydney Folk Festival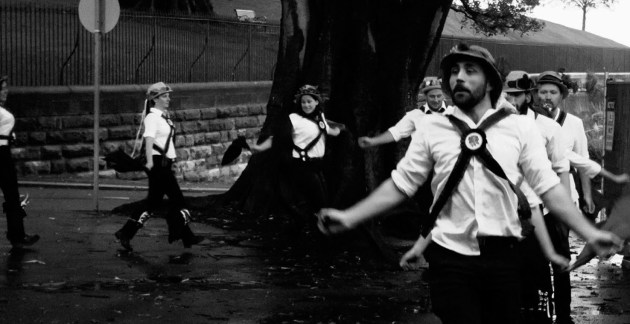 Sydney's first ever 'urban' Folk Festival... the next generation of folk!
Music of all genres comes to town... no need to get your feet wet! And there's a major dance element: In addition to huge number of groups featuring dance music from all sorts of cultures... there are special dance sessions for participation! Among them are: Dancing Feet Our Birrung Ballroom in the City Tatts will have a dance program where you can learn set dances, contra and many other social dances of yesterday like the polka, mazurka, schottische and waltz.
Sydney's own Morris Dance team, Black Joak, will also be performing at various venues across the festival – you'll hear the jingling of the feet before you see them; don't miss this continuation of an old tradition.
Feeling energetic? Dance to world music rhythms at our Sunday afternoon World Dance with Sirocco and Balkanski Bus – this will be quite something! We will have a full dance program. These allow people to participate by learning the dances…. they are old style dancing… everything from set dances to bush dances….. great fun.
Dance Historian, Heather Clarke, has much to say about 'dancing for health'... the big interest in helping people overcome depression etc by participating.
Alex Bishop (father of Chaika members Laura and Susie) is coordinating the dance program! and more!
The key to this fest and its point of difference is not only that folk 'comes to town' (hence "no wet feet!") but also it's 'the next generation of folk'. Wide interest! Indigenous, multicultural, young, old... not just old white men with beards! And heaps of participation!